Rudy Giuliani's Daughter, Endorsing Biden, Says Corruption 'Starts With Yes Men' and Calls Dad President's Personal Bulldog
In endorsing Democratic nominee Joe Biden for president, Caroline Giuliani characterized her father, Rudy Giuliani, as President Donald Trump's personal bulldog.
In a Vanity Fair op-ed published on Thursday, she said that being the former New York City mayor's daughter has taught her that "corruption starts with 'yes-men' and women."
"If being the daughter of a polarizing mayor who became the president's personal bulldog has taught me anything, it is that corruption starts with 'yes-men' and women, the cronies who create an echo chamber of lies and subservience to maintain their proximity to power," she wrote. "We've seen this ad nauseam with Trump and his cadre of high-level sycophants (the ones who weren't convicted, anyway)."
Her father Rudy has been an avid supporter of Trump since Trump ran for president in 2016. He was also named Trump's informal cybersecurity adviser before joining the president's legal team in 2018.
Caroline Giuliani said because she has spent most of her life distancing herself from her family name, "publicly declaring [herself] as a 'Giuliani' feels counterintuitive." However she argued that the stakes are too high and "none of us can afford to be silent right now."
"As a child, I saw firsthand the kind of cruel, selfish politics that Donald Trump has now inflicted on our country," Giuliani wrote.
"It's taken persistence and nerve to find my voice in politics, and I'm using it now to ask you to stand with me in the fight to end Donald Trump's reign of terror," she added.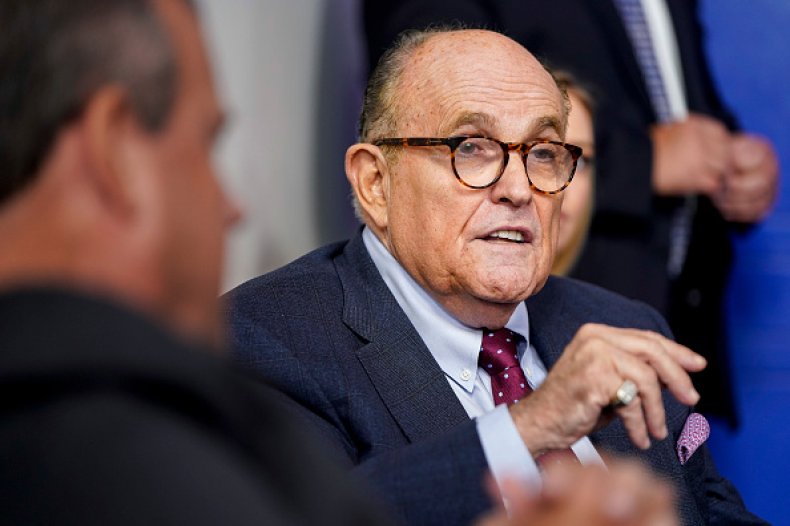 Giuliani said that a second term of the Trump administration would irrevocably hurt many communities across the nation, including those in the LGBTQ community, women, immigrants, people with disabilities, and people of color.
"Trump and his enablers have used his presidency to stoke the injustice that already permeated our society, taking it to dramatically new, Bond-villain heights," she wrote.
Giuliani argued that these groups were not only discriminated by Trump's policy but also his judicial appointments, including recent Supreme Court nominee Judge Amy Coney Barrett.
She said that unlike Trump's "echo chamber of lies," Biden inspires her because "he is not afraid to surround himself with people who disagree with him." She referred to Biden's selection of Senator Kamala Harris as his running mate and the incorporation of Senator Bernie Sanders and Senator Elizabeth Warren's platforms into his campaign. Harris, Sanders and Warren all ran against Biden during the Democratic primaries.
"In Joe Biden, we'll have a leader who prioritizes common ground and civility over alienation, bullying, and scorched-earth tactics," Giuliani wrote.
"The only way to end this nightmare is to vote. There is hope on the horizon, but we'll only grasp it if we elect Joe Biden and Kamala Harris," she added.
She also publicly supported Hillary Clinton in the 2016 election.
Newsweek reached out to Rudy Giuliani's team for comment, but did not hear back before publication.