Typhoon Hagibis Update: Which Rugby World Cup Games are Cancelled? Will Japan vs. Scotland Still Go Ahead?
Two Rugby World Cup games scheduled for this weekend have been called off as one of the most powerful typhoons in decades is set to hit Japan.
On Thursday, World Rugby confirmed it had taken the unprecedented step of cancelling England's clash against France in Yokohama and New Zealand's match against Italy in Toyota, both of which were scheduled to take place on Saturday.
Super Typhoon Hagibis, described as the biggest of the year, was initially expected to land on the southern island of Kyushu but is now zeroing in on Tokyo and Yokohama since changing direction earlier this week.
According to the Joint Typhoon Warning, Hagibis stretches for hundreds of miles away from its center and on Tuesday it had sustained wind speeds of 120 miles per hour, with gusts of up to 170 mph.
"The decision to cancel matches has not been taken lightly," said tournament director Alan Gilpin. "It has been made with the best interest of team, public, and tournament volunteer safety as a priority based on expert advice."
Any games canceled because of weather conditions are registered as 0-0 draw, with two points awarded to each team.
That means England and France, who had both already qualified for the quarterfinals, will finish Pool C with 17 and 15 points respectively.
Bar any major upsets in the final group games in Pool D—where Australia play Georgia and Wales takes on Uruguay—England will in all likelihood play Australia in the quarterfinals.
The Wallabies game against Georgia on Friday is expected to go ahead and the two-time winners look set to finish second behind Wales in their group.
The reigning Six Nations champions, meanwhile, will take on France in a remake of the 2011 semifinal.
The decision to cancel New Zealand's game against Italy, meanwhile, is more significant as it effectively eliminates the Azzurri from the tournament.
Italy retained a mathematic hope of qualifying, although it would have had to beat the All Blacks for the first time in its history to progress to the knockout stage.
The draw means New Zealand tops Pool A with 16 points, with South Africa finishing second on 15 and Italy third a further three points adrift.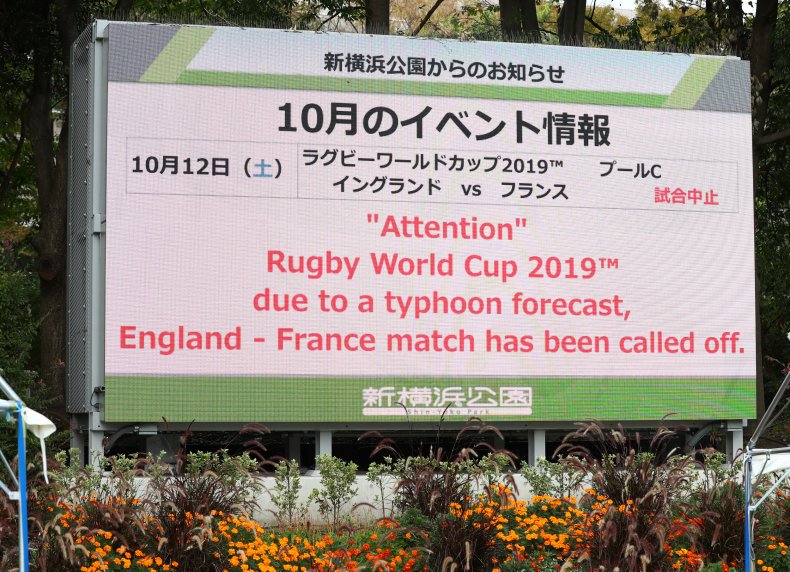 World Rugby added Ireland's game against Samoa on Saturday is expected to go ahead as planned, but Scotland's game against Japan in Yokohama on Sunday hangs in the balance and a decision will only be made on the morning of the game.
Assuming Ireland beat Samoa on Saturday, Scotland would be eliminated if the game against Japan is called off as it currently sits in third place in Pool A, four points behind the hosts.
Should Ireland, the No.1 ranked team in the world, lose to Samoa, however, Scotland would progress with a draw.
"We are in regular dialogue with World Rugby at all levels to work to ensure our fixture against Japan on Sunday can be played as planned," a Scottish Rugby spokesman said. "Public safety is the clear priority."
Gilpin dismissed the suggestion the integrity of the tournament had been compromised by the decision to stage the World Cup in Japan in the middle of typhoon season.
"We always knew there would be risks but it's rare for there to be a typhoon of this size at this stage of the year," he added. "We have no regrets. [...] The tournament rules are not new. We've never had to implement them before."
Earlier this week, World Rugby had indicated contingency plans were in place to deal with extreme weather, which included potentially relocating some of the games affected. On Thursday, however, Gilpin hinted that was no longer the case.
"Italy are in exactly the same position Scotland are in," he explained. "We won't be treating that match, if it can't be played, any differently."
Some 72,000 fans are expected to attend the game between Japan and Scotland on Sunday, which could see the hosts qualify for the knockout stage of a Rugby World Cup for the first time.
Akira Shimazu, the chief executive of the organizing committee, admitted cancelling the game would be a huge disappointment for supporters across the country but added safety was the number one priority.
"We will look at the typhoon damage and consider its impact, but we would also like to consider the safety of the spectators," he explained. "I know people really want to see the match so we will do our best to make sure they are able to do that."