Rugby World Cup Typhoon Hagibis Update, Path Map As Japan vs. Scotland, England vs. France Likely to Be Disrupted by Storm
Crucial Rugby World Cup games are set to be canceled as one of the most violent typhoons in years looks set to wreak havoc on Japan.
England's final Pool C against France on Saturday is under threat, as is Japan's fixture against Scotland a day later, as Typhoon Hagibis heads towards the Yokohama area.
Hagibis was initially expected to land further south, threatening Ireland's game against Samoa in Fukuoka on Saturday.
The southern island of Kyushu, where Fukuoka is located, is now expected to be spared as the typhoon has changed direction and is now heading straight for Tokyo and Yokohama.
The Japanese Meteorological Agency has described the typhoon has the strongest to hit Japan this year, after it rapidly developed from a tropical storm into a super typhoon—the equivalent of a Category 5 hurricane.
According to the Joint Typhoon Warning, Hagibis stretches for hundreds of miles away from its center and on Tuesday it had sustained wind speeds of 120 mph, with gusts of up to 170 mph.
"The impacts of Hagibis will be felt over a large area of Japan with strong winds and flooding rain expected," BBC weather analyst Simon King said.
"There's an increasing likelihood of some damage and certainly travel disruption as authorities prepare for the arrival of the typhoon."
Inclement weather at this time of the year isn't a surprise as October falls in the typhoon season in Japan, but it could cause severe disruption and prove a major headache for the Rugby World Cup organizers.
England's game against France and Japan's final Pool A game against Scotland are both scheduled to take place in Yokohama, with approximately 140,000 fans expected to attend.
In a statement released on Tuesday, World Rugby explained contingency plans were in place—including relocating both games to different venues—but a decision was yet to be made.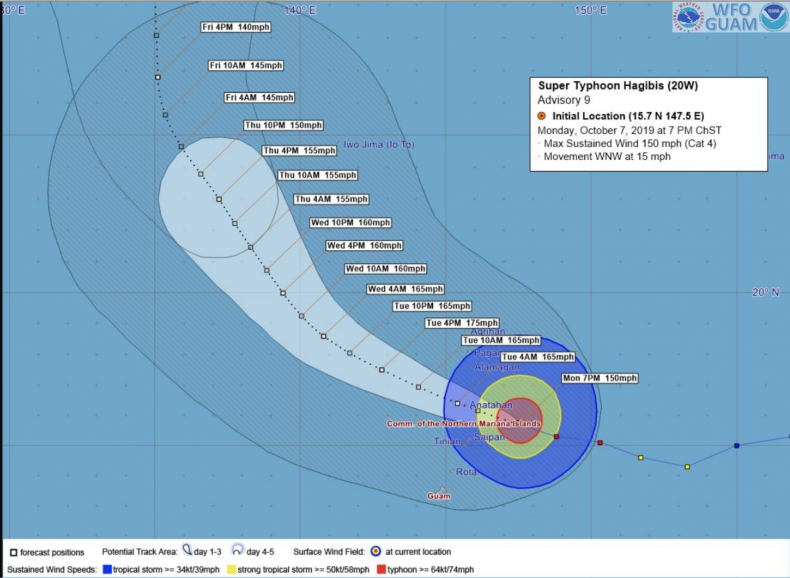 "Public and team safety is our No 1 priority," it said. "While we have robust contingency plans in place for pool matches, such plans, if required, will only be actioned if the safety of teams, fans and workforce can be guaranteed.
"It would be inappropriate to comment on any contingency plans at this stage. We will continue to closely monitor this developing situation [...] fans are advised to monitor official Rugby World Cup channels for any updates."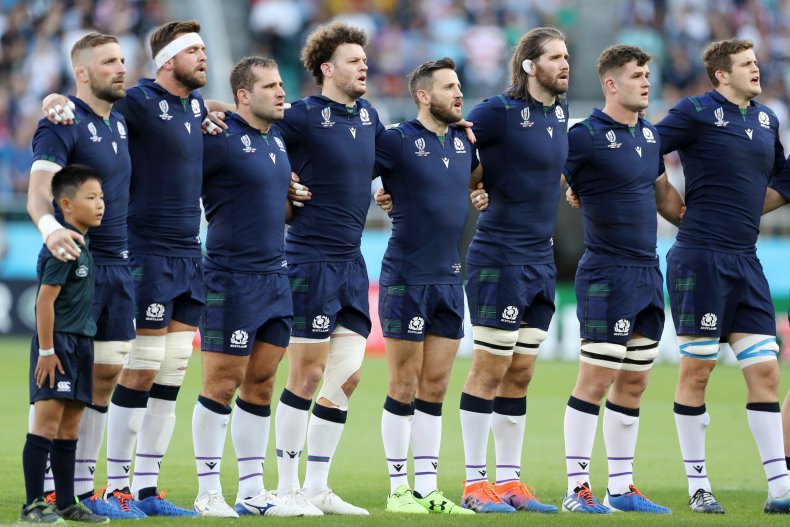 Aside from disruption for fans, the typhoon could force World Rugby into the unprecedented move of canceling some games.
Any games canceled because of weather conditions will be registered as 0-0 draw, with two points awarded to each team.
That, however, could have huge implications for the tournament.
While England and France have already qualified from Pool C, Ireland, Scotland and Japan can all still qualify from Pool A.
Scotland would move to nine points if it beats Russia as expected on Wednesday, leaving it five points adrift of Japan and two points behind Ireland.
Assuming the latter, the No. 1 ranked team in the world, beats Samoa in its final group game on Saturday, Scotland would be eliminated if the game against Japan is called off.
Should the game go ahead, Scotland will in all likelihood need to beat Japan by scoring four tries to earn a winning bonus point and it will also need to win by a margin bigger than seven points to deny the host a losing bonus points.