Rugged Outdoor Speakers Compared: Turtlebox Shines Through Loudly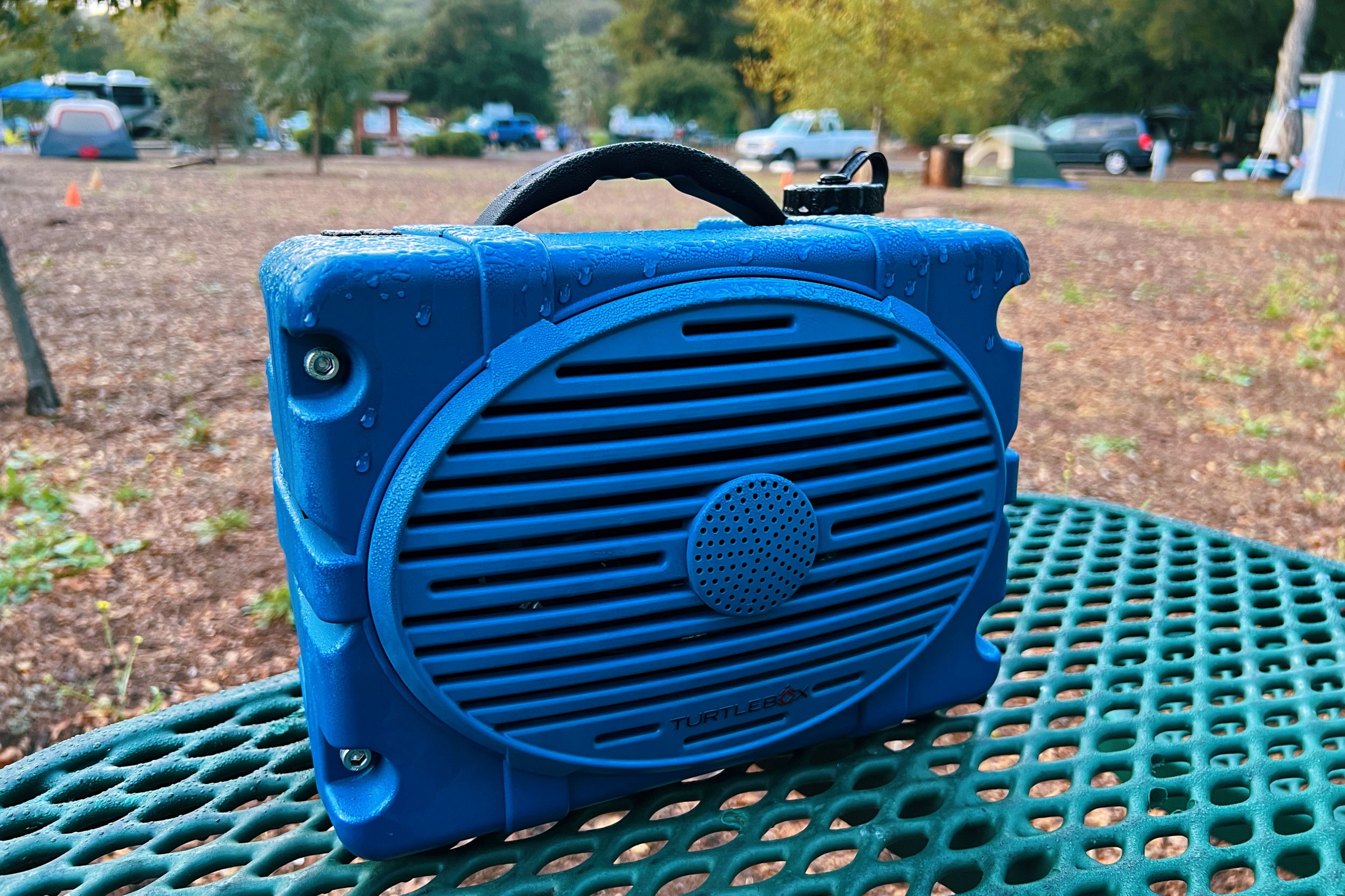 The way a speaker sounds indoors is very different from how it sounds outdoors. A small, portable Bluetooth speaker that has an overall full sound sitting on a coffee table or nightstand likely can't muster that same quality while out camping or even in the backyard. Outside, sound dissipates in every direction, with no walls or a ceiling for it to bounce off of. To overcome this issue, a speaker usually needs to be quite large. Turtlebox isn't small, but it does employ a substantial size speaker along with other tricks to make it qualified to host good times outdoors.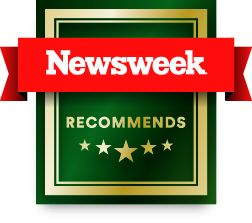 Sure, the Turtlebox Bluetooth speaker can be used as a general-purpose speaker indoors, but it's really made to be outside. It's for people who head out on the water or into the wilderness regularly. It's even a speaker for more mundane use in the backyard or on a tailgate.
Anyone who has ever found themselves disappointed with other Bluetooth speakers for a lack of bass or a distorted sound when the volume gets too loud should really be considering a purpose-built speaker like the Turtlebox.
TL;DR
Pros:
USB-C charging (in and out)
Waterproof (IP67 rating)
Loud volume
Cons:
Heavier than similar-size speakers
Buy at Amazon.
A Truly Outdoor Speaker
The Turtlebox speaker gave off a bold first impression after I unboxed it and started listening to it in my living room. Even at low volumes, its sound is strong. The highs of a falsetto voice are sharp, and the lows of a kick drum are tight and distinct. If you wanted to buy one Bluetooth speaker to use everywhere, this one could be it. But the Turtlebox speaker is really one that's made to be used in an outdoor setting. That's why its sound is so punchy. It's tuned to overcome the vast space of nature, and it worked to cut through the wind.
It's not just its sound that works well outside. The speaker is fully waterproof, with a rating of IP67. It's also impact-resistant to work in tough environments.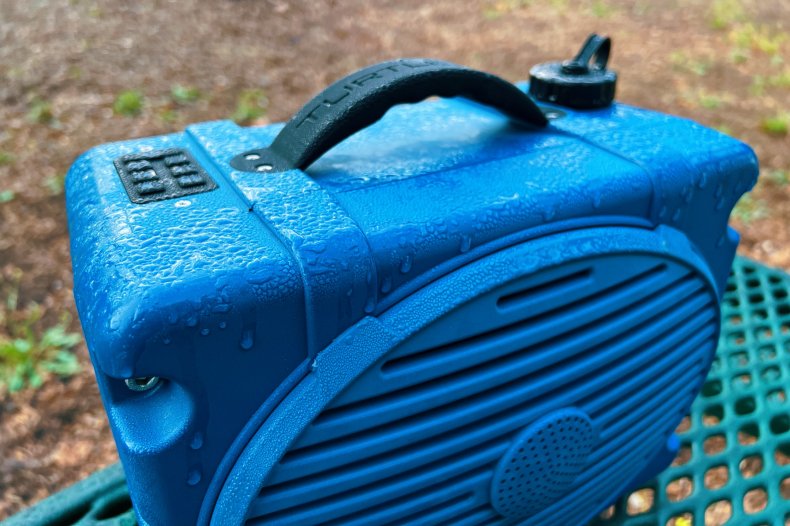 I took the speaker camping to test it outdoors. It got as loud as it needed to and even survived just fine sitting outside on a chilly night that resulted in lots of moisture in the morning. The large rubber buttons are geared toward these situations where there might be water or extreme temperatures. The controls are easy to press and read in those times.
There's a screw-on cap to keep the ports dry. I really like that the speaker can charge via a USB-C cable and has a second USB-C port to charge other electric devices.
Rugged Outdoor Speaker Comparison
At $375, the Turtlebox might seem expensive. If what you're looking for is a rugged outdoor speaker, however, it's reasonably priced.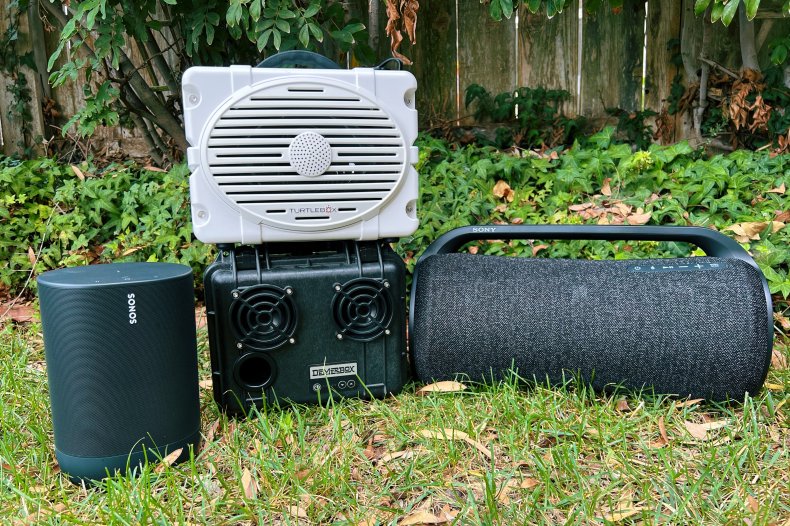 There is a special market for adventure speakers ready to travel anywhere. Since I had a few of these available, I put them up against the Turtlebox to see how they each sounded. I lined them all up on one side of my yard and stood about 75 feet away and switched between the speakers as I listened to different songs. Most of them needed to be at about 75 percent volume to reach me comfortably.
The Sony SRS-XG500 is the best speaker in the group I tested. Its two 4.3-inch woofers and two 0.98 inch tweeters give it an impressively full sound, including a robust mid-range frequency. In terms of outdoor use, it has an IP66 rating, so it's dustproof and water-resistant. It's not even that heavy, but it is large for a portable speaker. It retails for around $450.
People considering the Turtlebox have probably also given the DemerBox DB2 a look. The major difference is that the DB2 is, like the Turtlebox, also a dry box. Its shell is made out of a crush-proof Pelican case. It uses two smaller speakers, so at the upper volumes it can sound like it's struggling more than the other speakers. It sounded the most distorted at its top volume. At a closer range, despite being on the smaller size, it can pump out decent bass, just nowhere near the XG500 and not quite to the level of the Turtlebox. The DB2 retails for $400.
The Sonos Move isn't a rugged speaker and isn't advertised as such, but I included it mostly for price comparison. It costs $400 and can be used indoors on Wi-Fi or anywhere with Bluetooth. It has an IP56 rating, for some water resistance. Outdoors, across my yard, its sound was probably the least desirable. In a patio setting, the Move is nice, but it's dense and probably not the best boating or camping speaker.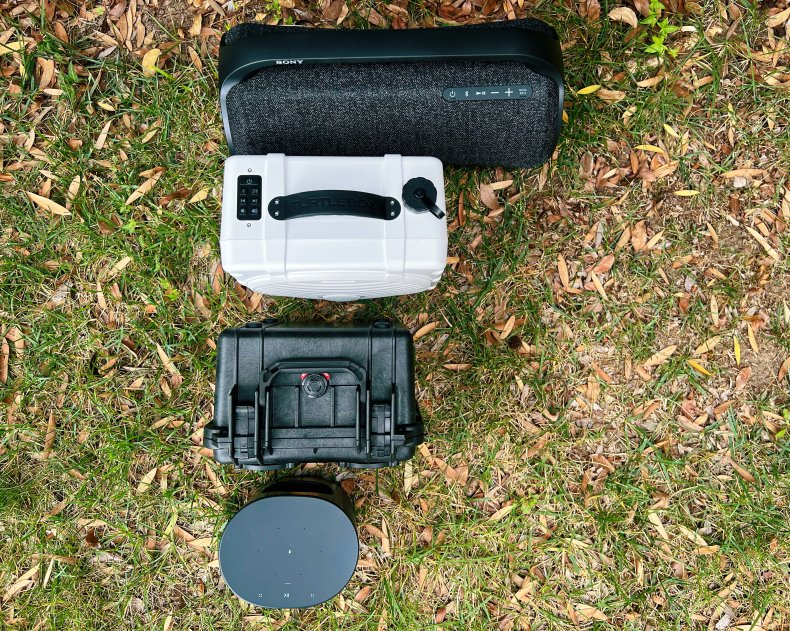 Comparing other outdoor speakers made me appreciate what the Turtlebox has to offer. It's the least expensive, at $374. It's compact yet able to push out a big sound. It seems like part of its audio tuning for outdoor use also cuts out most of the mid-range frequencies. This was only obvious when comparing it directly with other speakers. Vocals cut through open space really well, so they're easy to hear in all kinds of environments.
Should You Buy the Turtlebox Speaker?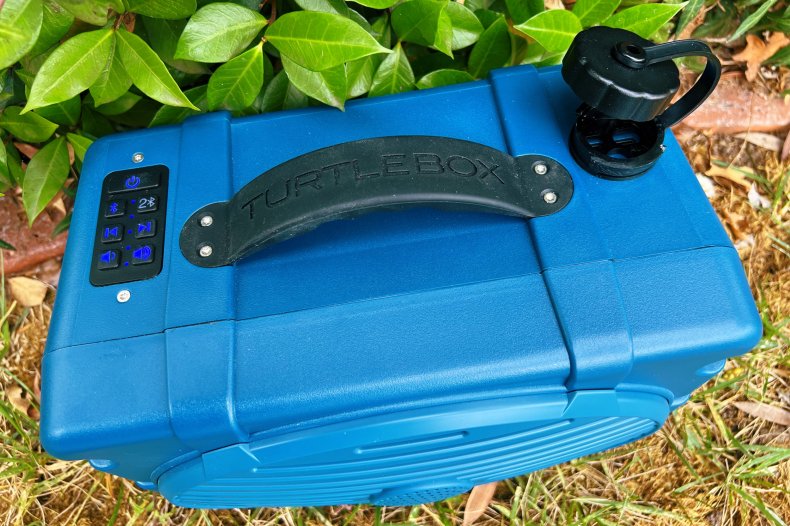 There is some heft to the rugged Turtlebox speaker, but the little extra weight isn't prohibitive. I did also notice a tiny bit of a hissing noise floor while music was playing; it stopped when audio was paused. It's faint and hardly worth mentioning, but it's there.
There are few downsides here. Mostly they're just trade-offs for a rugged speaker. The Turtlebox is purpose built to be used in less than ideal conditions. And so if the plan is to take a speaker outdoors to listen to music, this is the one I would pick.
Buy at Turtlebox for $374.
Newsweek may earn a commission from links on this page, but we only recommend products we back. We participate in various affiliate marketing programs, which means we may get paid commissions on editorially chosen products purchased through our links to retailer sites.