'Rugrats' Revival Sparks Wave of Nostalgia, Memes
News that the beloved 1990s cartoon Rugrats is getting a reboot has prompted a wave of nostalgia among fans.
A new player in the streaming world, Paramount+, has announced dozens of shows including updates of the animated favorite and the iconic sitcom Frasier.
Rugrats fans can look forward to a CGI reimagining of the show—with the original voice cast. The series will once again star E.G. Daily as Tommy, Nancy Cartwright as Chuckie, Cheryl Chase as Angelica, Cree Summer as Susie and Kath Soucie as Phil and Lil.
Paramount has shared a first look at the show featuring Angelica, Chuckie and Tommy.
While the voices, sounds and general ambience will transport 90s kids straight back to their days watching Nickelodeon on their parents' couch, the CGI renderings of the characters are a little bizarre.
One fan tweeted: "ngl this looks solid," while another added: "i did not know how much i needed a rugrats reboot until now."
Another Twitter user posted an image of an adult and a child fighting, with the caption: "Me fighting my niece for the remote when they drop that Rugrats reboot."
"That Rugrats picture is just making me appreciate the wonderful, alienating ugly weirdness of [animation studio] Klasky-Csupo in their prime," wrote one fan, who shared stills from The Wild Thornberrys and Aaahh!!! Real Monsters as well as an early drawing of Bart Simpson.
Some social media users are on the fence about the reboot, with one tweeting: "The new Rugrats looks cool, but I don't think that's a show that belongs outside of the 90s."
Others are even more skeptical. "This looks f***ing horrifying," tweeted one person. "My eyes burn just looking at this!" wrote another.
"Rugrats is one of the most iconic cartoons recognized by fans around the globe, and this original version is one we are taking great care and pride in creating for a brand-new audience," said Ramsey Naito, president of Nickelodeon Animation.
"Having the voice cast behind these special characters come together is one of the essential pieces to making the show recognizable and we can't wait to watch this talented group bring them to life again."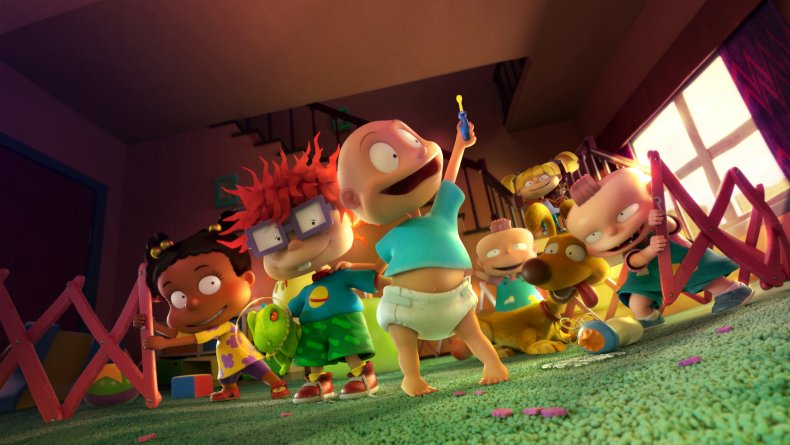 Rugrats first aired in 1991 and went on to spawn three theatrical films, nine seasons on TV and four Daytime Emmys—as well as merchandise including 27 video games.
Paramount+ is also set to launch live-action versions of the animated shows Dora the Explorer and Fairly Odd Parents, plus a revival of the sketch series Inside Amy Schumer and an animated Star Trek spin-off.
Paramount+ launches in the U.S. on March 4.