Run the Jewels Just Released 'RTJ4' a Couple Days Early—These Are the New Album's Best Lines
On Wedneday, rap super-duo Run The Jewels surprise released their fourth album RTJ4 two days ahead of the planned June 5 release date.
The first full-length release from rappers Killer Mike (Michael Render) and El-P (Jaime Meline) is available for free download through the their website and on streaming services. Fans can also choose to add a donation to the National Lawyer's Guild Mass Defense Fund.
"The world is infested with bulls**t so here's something raw to listen to while you deal with it all. We hope it brings you some joy," the duo wrote in a statement with the surprise drop announcement, released on El-P's Twitter. "Stay safe and hopeful out there and thank you for giving 2 friends the chance to be heard and do what they love."
Few musical artists are as well equipped to speak to the unrest in the United States right now quite as well as Run the Jewels, just look to Killer Mike's emotional speech in Atlanta following protests after George Floyd's death. On their most musically diverse and star-studded album, they give voice to so many emotions with raw, fist-in-your-face lyrics.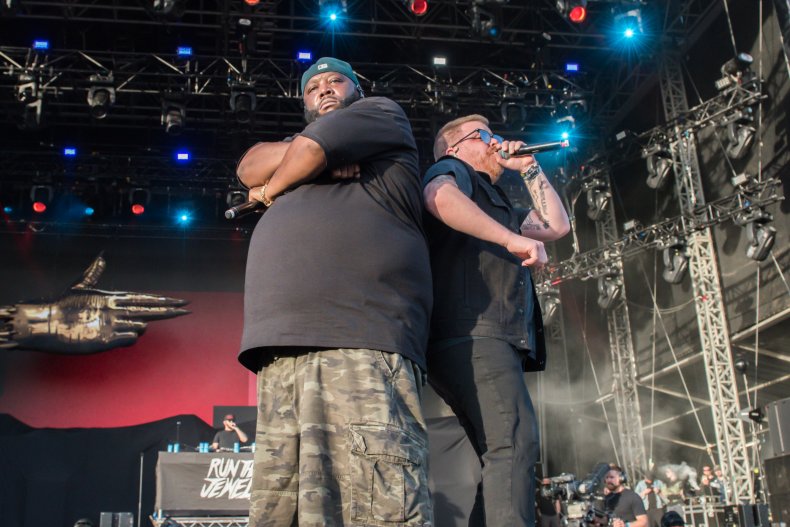 These are the best lines from RTJ4.
"walking in the snow"
"And everyday on evening news they feed you fear for free/And you so numb you watch the cops choke out a man like me/And 'til my voice goes from a shriek to whisper, 'I can't breathe'/And you sit there in the house on couch and watch it on TV/The most you give's a Twitter rant and call it a tragedy"
Killer Mike's whole verse on "walking in the snow" is easily the biggest standout moment on the album, as it speaks so vividly to the current moment in wake of George Floyd's death. Rapping about getting choked by a police officer while saying, "I can't breathe" is eerie as the album was released in the middle of protests across the country after Floyd was killed. The verse closes with a similarly powerful line: "Never forget in the story of Jesus, the hero was killed by the state."
"JU$T"
"This is New York City/The X on the map where the pain keep hitting/Just us ducks here sitting/Where murderous chokehold cops still earnin' a livin'/Funny how some say money don't matter/That's rich now, isn't it, get it? Comedy/Try to sell a pack a smokes to get food/Get killed and it's not an anomaly"
The mid-album cut, which features Pharrell Williams and Rage Against the Machine's Zack de la Rocha, has some of the best performances from both RTJ rappers and de la Rocha. Like Mike's verse in "waking the snow," El-P rapping about Eric Garner's death is all too relevant.
"goonies vs. E.T."
"Now I understand that woke folk be playin'/Ain't no revolution is televised and digitized/You've been hypnotized and twitter-ized by silly guys/Cues to the evenin' news, make sure you ill-advised/Got you celebratin' the generators of genocide"
Mike's verse on the album's energetic standout track is loaded with classic hip hop references, but naturally, the rapper still drops some criticisms for people that virtue signal and take place in performative activism. It's an eye-opening moment in an otherwise frantic track.
"pulling the pin"
"Now I see that its the same moment in history back to haunt us/And here we are again/Hello void, long time watcher, first time callin' in"
On the album's penultimate song, which features Mavis Staples and Queens of the Stone Age's Josh Homme, El-P gets existential. The clever play on the old adage, "Those who don't learn history are doomed to repeat it," shows the bleakness of getting caught in history's cycle. In one of the album's most somber songs, both rappers focus more on spiritual themes and death.
"the ground below"
"Not a holy man but I'm moral in my perverseness/So I support the sex workers unionizing their services"
In one of the album's loudest songs, Mike shows off some of his virtuosic lyrical skills. In the final couplet of "the ground below's" opening verse, the rapper reminds that chastity is not a virtue that a rap god needs to concern himself with, and on top of that, he shows support for sex workers.
"holy calamaf**k"
"Reality sucks d**k, how's that for wisdom?"
We were all thinking it. El-P just happened to say it.
"ooh la la"
"I used to love Bruce, but livin' my vida loca/Helped me understand I'm probably more of a Joker/When we usher in chaos, just know that we did it smiling"
In one of the album's first singles and most fun songs, Mike shows off his affinity for superhero movies, but likens the excitement the group causes to a classic comic book villain.
"a few words for the firing squad (radiation)"
"Go hard, last words to the firing squad was, 'F**k you too'"
A final, middle finger kiss-off before the album cycles back on it's "Yankee and the Brave" theme. Even staring down death, Mike is not someone to mess with. Remaining resolute until the album's closer, the closing line from Mike is one final reminder that RTJ are a group who will sure as hell stand up for what they believe in, until the very end.