'RuPaul's Drag Race All Stars' Season 7, Episode 2 Recap: A Game of Two Snatches
All Stars 7's decision to go into Snatch Game this early in the season is an interesting one. Perhaps enough people tuned out of the endless Season 14 that they needed to bring them back as soon as possible. Plus, when the first episode of the season was kind of middling, you need to keep people watching, especially when you are on a service that not everyone has like Paramount+.
Snatch Game, after all, is most RuPaul's Drag Race viewers' favorite challenge. So what better for Episode 2 of its winners season to raise the stakes and have the eight queens impersonate two celebrities each?
RuPaul's Drag Race All Stars has experimented with the Snatch Game formula before, but here we are back to the classic game—with some all-time classic competitors. For the most part, they did not disappoint.
RuPaul's Drag Race All Stars Season 7, Episode 2 recap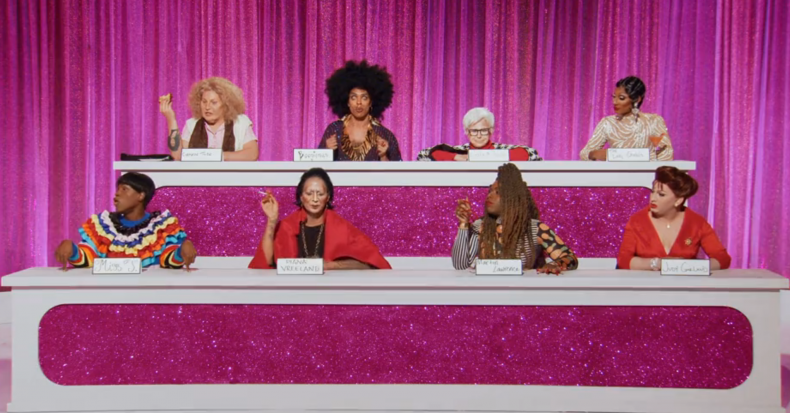 Unlike Episode 1, which took 40 minutes to get to the challenge, we get straight on with it this time—with two Snatch Games to fit in, there is no time to have 20 minutes of people just walking.
In recent seasons, Ru has become somewhat of an agent of chaos on Snatch Game. She seems to take perverse glee in getting people who have planned a character for months to change at the last minute, with predictable results. The low of this was UK Season 3, when Ru couldn't admit she did not know the British celebs to play, and so got poor Scarlett Harlett to play Macaulay Culkin—a character she clearly knew nothing about.
We are not here, however, to relitigate what a missed opportunity Drag Race UK Season 3 was. For All Stars 7, everyone made pretty good character choices. We are just going to have to accept that people are going to be playing TikTok celebrities on Snatch Game now, even if it makes us feel that our aging bodies are turning into dust while we watch.
The queens decide to do the following:
Shea: TikToker Elsa Majimbo and J. Alexander from America's Next Top Model
Jinkx: Natasha Lyonne and Judy Garland
Yvie: Rico Nasty and the Boogeyman
The Vivienne: Catherine Tate (as her Nan character) and Joanna Lumley (as Patsy)
Trinity: Leslie Jordan and Satan
Raja: Madame (as in Wayland Flowers' puppet) and former Vogue editor Diana Vreeland
Monet: Mike Tyson and Martin Lawrence (as Sheneneh Jenkins)
Jaida: Prince and club performer Lady Chablis
Before anyone over the age of 21 has the chance to look up Rico Nasty (and anyone under that age looks up Madame), the first Snatch Game round is upon us.
Highlights of round one: Monet's Mike Tyson, with his lisp and malapropism, which prove you only need one really funny Snatch Game bit if you sell it well enough; Trinity's Satan, which she plays as exactly the sort of obnoxious twink she has presumably had to deal with at every meet and greet; Raja's horrifying and hilarious Madame look, complete with puppet strings; and Jaida's Prince, which is not really Prince, but sure is funny.
No one really bombs, though Yvie is clearly not on the same level as the murderer's of Snatch Gamers here. If this was a normal All Stars season, she might be in trouble. A few queens also run out of steam by the end, like Jaida and Vivienne. This is the problem with doing two Snatch Games: You are asking people to prepare two characters in time time it takes to do one, and sometimes it shows.
Unless, of course, you are Jinkx Monsoon. Snatch Game was always hers to lose. Not only is her Little Edie an all-timer, but her Snatch Game performances of people like Bette Davis on various Drag Race tours have also been stellar.
Once she begins doing Judy, the game's over. Many Drag Race queens manage to be very funny comedians on Snatch Game, but Jinkx is an actress. Her laughs do not come from pure jokes: They come because she fully inhabits the character. Even throwaway moments like calling RuPaul "Broom" are better than other contestant's best jokes. By the time she calls back to Dave, the guy who famously said he killed Judy Garland on Jinkx's season, everyone else might as well have headed straight to the Untucked Lounge.
Had Jinkx not been there, however, Trinity would also have been a clear winner. Her Snatch Game choices are a mix of great selection and fearless characterization. Her Leslie Jordan was a joke machine—jokes were thrown so fast and so hard that all other contestants could do was duck out of her way.
The pair together dominate the second round. Viv's Catherine Tate would have killed in the UK, but the character may not translate well overseas (see Tate's career as an example of this). Yvie's Boogeyman was also a canny choice for her—if impersonation is not your thing, why not make up a character that compliments all your weird instincts.
Going into the runway, however, the top two is pretty obvious, but another winner should also be called out. That is whatever makes Daphne Guinness look that good in her mid-50s (money, the answer is lots of money).
This week's runway is The Pleather Principle (oh, oh, oh, the principle of pleather). It's a better pun than it is a category. Pleather is not the easiest fabric to look flattering, and a lot of outfits suffer by being too tight in some places and too boxy in others. The best looks manage to ride this too-tight/too-loose line, like Raja's glam rock look, Vivienne's big red shoulders and Jaida's Aaliyah-inspired ensemble (Queen of the Damned? More that Queen of the Dammmmn, Girl).
Surprise, surprise, it's Trinity and Jinkx at the top. Like last episode, interesting to see who changes into a lipsync costume. This time, everyone but Raja changes. And this is why Raja is a potential G.O.A.T. on Drag Race. She's changing for nobody.
This week's track is Adele's "Rumor Has It," and it was Jinkx's song to lose the moment she stepped out in that perfect Adele half-beehive. It is not as perfect a match for her as her legendary "Malambo No. 1" lip-sync, but she delivers everything that her fans love about her. And Trinity delivers the goods too, though she must at this point know that it would be a travesty for anyone else to win the Snatch Game episode than Jinkx.
And so it proves. Jinkx becomes our second winner, deciding to block Shea. She's a canny one, that Jinkx: Blocking people who already have badges is the way to go. You can already see a storyline developing where Shea gets constantly blocked because she's such strong competition, but that's not Jinkx's concern right now. We will see how things develop, but right now Jinkx, Shea and Monet are the only one with badges thanks to Shea's block of Trinity. And that's not not a trio you could see in the final...
RuPaul's Drag Race All Stars 7 airs Fridays on Paramount+.