Comedian and actor Russell Brand has been accused by four women of rape, sexual assault and emotional abuse during a seven-year period, according to a joint investigation by The Sunday Times, The Times and Channel 4 Dispatches.
The women have alleged the sexual assaults occurred between 2006 and 2013 while Brand was a presenter for BBC Radio 2 and Channel 4 as well as when he was an actor in Hollywood. Meanwhile in a Friday video posted to X, formerly Twitter, Brand denied the allegations leveled against him.
According to the investigation article published by The Sunday Times on Saturday, one woman alleged that Brand raped her against a wall in his Los Angeles home and that she was treated at a rape crisis center on the same day. The Times says it has also seen medical records to support the allegation.
A second woman alleged that the comedian assaulted her when he was in his early 30s and she was 16 and still in school. She alleged he referred to her as "the child" during an emotionally abusive and controlling relationship that lasted for about three months.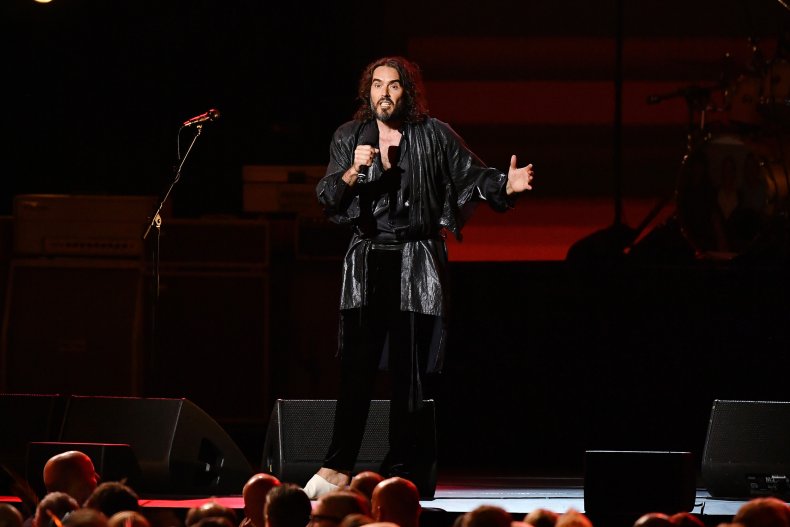 A third woman claimed that Brand sexually assaulted her while she worked with him in Los Angeles, and that he threatened to take legal action if she told anyone else about her allegation. Meanwhile, the fourth woman alleged being sexually assaulted by Brand and him being physically and emotionally abusive towards her.
In his video that was posted to X, Brand said his relationships have been "always consensual" and that he strongly denies "these very serious criminal allegations."
Brand maintained that he has been transparent about his previous relationships being consensual and wants to continue being transparent. He continued his response by also suggesting the two "mainstream media outlets are making a coordinated attack" against him.
"These allegations pertain to the time when I was working in the mainstream, when I was in the newspapers all the time, when I was in the movies, and as I've written about extensively in my books I was very, very promiscuous," he said.
These allegations come after the women, who do not know each other and have chosen to remain anonymous, have said they felt ready to speak up against Brand.
According to the article, the investigations have been developing over the past few years with reporters interviewing hundreds of sources who knew or worked with Brand such as ex-girlfriends and their friends and family, comedians, celebrities, people who worked with him in radio and TV, and senior staff at the BBC, Channel 4 and other media organizations.
To corroborate these allegations, The Sunday Times wrote that reporters have also seen private emails and text messages, submitted freedom of information requests, viewed medical and therapists' notes, and Brand's books and interviews.
The article also notes the many details and stories of the women, whose names have been changed, who all recall their allegations of sexual assault, rape and inappropriate behaviors from Brand.
When describing her encounter with Brand, one woman referred to as Nadia, alleged that she did not want to be intimate with Brand and instructed him to get off her during an interaction at his home in Los Angeles.
"I'm like, no, that's not happening, I don't care, that's not happening, we're not doing that," Nadia said. "I tried to get away from him and I slipped away from the wall."
According to The Times and The Sunday Times, it gave Brand eight days to respond to the allegations. However, lawyers for Brand initially said that they were not in a position to provide any response to the allegations due to "large litany of questions," The Sunday Times reported.
When reached for comment by Newsweek, The Sunday Times had no further comment. Newsweek also reached out to Brand via his official website's contact page for comment.
Online Reaction to Brand's Allegations
Meanwhile, some high profile social media personalities were quick to weigh in, appearing to side with Brand in the face of the accusations.
Billionaire Elon Musk, the owner of X, commented in response to Brand's video shared on the social media platform. "Of course. They don't like competition," Musk wrote, appearing to suggest traditional media was trying to shutdown the comedian.
Former Fox News host Tucker Carlson, who now hosts a show on X, suggested that there was an effort to bring Brand down because his views are considered controversial by many. "Criticize the drug companies, question the war in Ukraine, and you can be pretty sure this is going to happen," Carlson wrote.
Andrew Tate, a controversial influencer who was arrested and charged with human trafficking and forming a criminal gang to sexually exploit women in Romania last December, responded to Carlson's post with a simple, "Yep."
Other X users came to the alleged victims defense.
"just before anyone starts asking why women are only accusing russell brand now... last month a spanish footballer was assaulted on live tv in front of millions and there are still people defending the man in that instance. so that's why," user SiobhanMoore90 wrote.
User izzymks added: "It is SO important to understand the rigorous investigation and reporting that goes into a story like these #RussellBrand allegations. Media has to abide by laws, and to get to this stage, there is solid evidence. Believe women."
"Russell Brand was the most obviously trash human in the world. Naturally he gained a huge audience of contrarian, conspiratorial Trumpists. Good rule of thumb: if a person tells you everyone in the world is corrupt except them, they are probably s******* kids (or equivalent)," writer Tim Miller wrote.