Russia Has 97 Percent of Army Deployed in Ukraine: U.K.
Russia has nearly its entire army deployed in Ukraine, according to United Kingdom Defense Secretary Ben Wallace.
"We now estimate 97 percent of the Russian army, the whole Russian Army, is in Ukraine," Wallace said Wednesday on the BBC's Today radio show.
Wallace made the comments from Brussels, where he was present for a NATO meeting of defense ministers. NATO Secretary General Jens Stoltenberg also attended the meeting, telling reporters gathered there that he had urged alliance members to increase defense spending as the war in Ukraine has cut into NATO's military spending.
Speaking with Today host Nick Robinson, Wallace said Britain's support for Ukraine is not coming at a detriment to his country's own defense.
"Helping Ukraine defeat Russia in Ukraine actually adds to our own security at home," he said.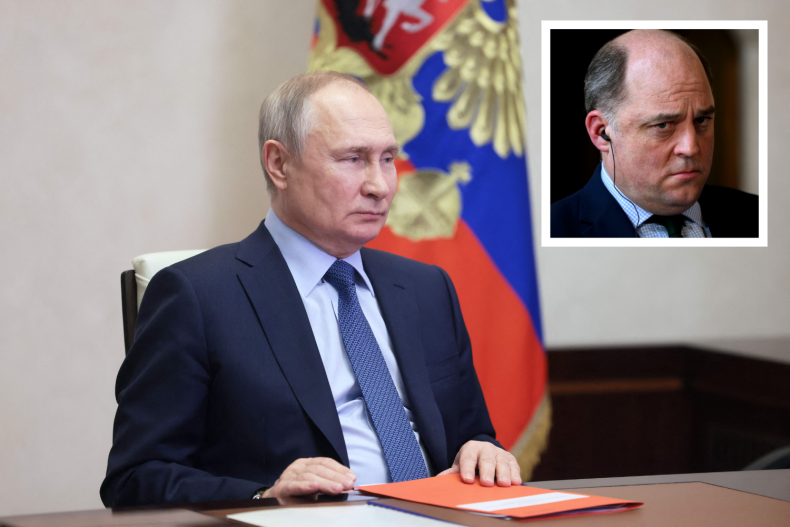 "If 97 percent of the Russian Army is now committed to Ukraine, with an attrition rate very, very high, and potentially their combat effectiveness depleted by 40 percent, and nearly two-thirds of their tanks destroyed or broken, that has a direct impact on the security of Europe," Wallace added.
The defense secretary also spoke about setbacks he said Russian President Vladimir Putin's military has faced, including suffering large personnel losses while attempting to make advances on multiple fronts in Ukraine.
"We haven't actually seen this massing of a single force to punch through in a big offensive," Wallace said. "We've just seen an effort to advance, and that has come at a huge cost to the Russian Army."
Earlier on Wednesday, Wallace also appeared on the BBC's Breakfast television program and spoke of how the U.K. would likely not provide fighter jets to Ukrainian President Volodymyr Zelensky's military in the near future.
"I don't think it's going to be in the next few months or even years that we are going to necessarily hand over fighter jets," Wallace said, noting fighter jets require a "substantial pit crew" to operate.
"They come with hundreds of engineers and pilots, and that's not something you can just generate in a few months," he said. "We're not going to deploy, you know, 200 RAF [Royal Air Force] personnel into Ukraine in the time of a war."
Wallace said the U.K. is taking more of a big-picture approach in terms of its aid to Ukraine.
"We have to plan not only for the fight at the moment, where we help Ukraine through seeing off Russia's illegal invasion, but we have to help Ukraine with its long-term resilience," he said.
Newsweek reached out to the U.K. Ministry of Defense and Russia's Ministry of Defense for comment.