Western Fighter Jets Face These Four Major Problems in Ukraine
Zelensky has amped up the pressure on Ukraine's Western allies for NATO-standard fighter jets
The American F-16, the Swedish Gripen, the F-35 stealth jet and the Typhoon are among the potential candidates
There are drawbacks to the different aircraft, with one deemed "off the table"
Ukraine could be inching towards Western commitments of advanced fighter jets, but there may be turbulence ahead for President Volodymyr Zelensky's plans.
On Thursday, the Ukrainian leader arrived in Brussels for a renewed plea for European leaders to donate fighter jets to Ukraine. As he ramped up his appeals, Andriy Yermak, the head of Zelensky's office, said the "issue of long-range weapons and fighter jets for Ukraine seems like it can be resolved."
"We have to enhance the dynamics of our cooperation, we have to do it faster than the aggressor," Zelensky told EU politicians. The visit followed a trip to London and Paris, where he was greeted by French President Emmanuel Macron and German Chancellor Olaf Scholz.
France and Germany could be "game-changers," Zelensky said after a photo-op at the Élysée Palace. Macron reaffirmed Paris' support for Kyiv, adding: "As long as Russia continues to attack, we will continue to adapt and moderate the necessary military support to preserve Ukraine and its future."
Just hours before, British Prime Minister Rishi Sunak had welcomed Zelensky to London with a commitment to expanding the U.K.'s training program for Ukrainian personnel to include fighter jet pilots for the first time.
The program will "ensure pilots are able to fly sophisticated NATO-standard fighter jets in the future," Downing Street said. Sending F-16, F-35 and Typhoon fighter jets had previously been ruled out by the U.K. and U.S., deemed a "red line" for Ukraine's international supporters.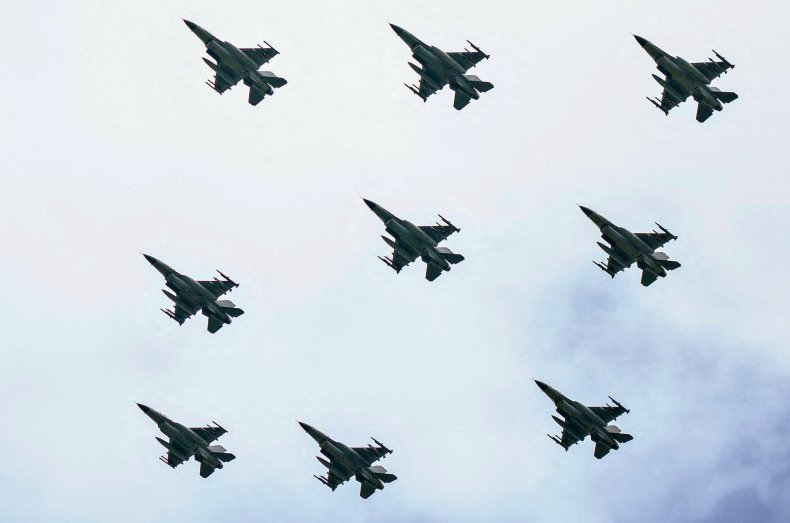 The move was significant because "it is a further step down the road" for Ukraine's Western partners, retired Air Commodore Andrew Curtis told Newsweek. "It's sending a message to the U.K.'s allies, that it is still supporting [Kyiv] and intends to continue to do so."
Later on Wednesday, Sunak said "nothing was off the table," and that advanced fighter jets were "part of the conversation."
The pledge was "made to set an example," according to former British military intelligence officer Frank Ledwidge. Speaking to military experts, Newsweek has broken down what hurdles are in Kyiv's path to NATO-supplied jets taking to Ukraine's skies.
Which Jets Would Be Sent?
Experts believe one of the very first issues could be deciding precisely which aircraft to send. The U.K.'s announcement on Wednesday was not an offer of specific fighter jets—or any jets at all—but a promise of some form of training on NATO-standard aircraft.
"What I think the U.K. is probably offering is ground-based training and structured education, to effectively make the Ukrainian pilots better fighter pilots, without actually putting them in a cockpit and getting them in the air," Curtis said. But the training, as yet, is not specific to any particular NATO-standard fast jet.
"At the end of the day, you would only want to train a pilot on an aircraft type that they are then going to be given to operate," Curtis added."It makes no sense for the U.K. to put a Ukrainian pilot in a Typhoon, if then, in a few months' time, the Ukrainian pilot is going to get an F-16. That is just a complete waste of time."
Each jet—whether it be an F-16, F-35, Typhoon, Gripen or the French Rafale—requires some aircraft-specific training.
"You need to be trained and cleared for each aircraft," Ledwidge told Newsweek. But this is not insurmountable."If you can fly an F-16, you can certainly fly a Typhoon," he said.
Likely to be off-limits are the U.K.'s stocks of F-35 stealth aircraft, experts argue. They're "off the table," Ledwidge said, adding the U.K. doesn't "have enough" and certainly "can't afford to lose any."
"That's a definite non-starter," Curtis added. The multi-role aircraft, made by U.S. defense manufacturer Lockheed Martin, are the British Air Force's most advanced fighter jets. The F-35Bs are "out of the question," wrote Justin Bronk of the Royal United Services Institute think tank based in London.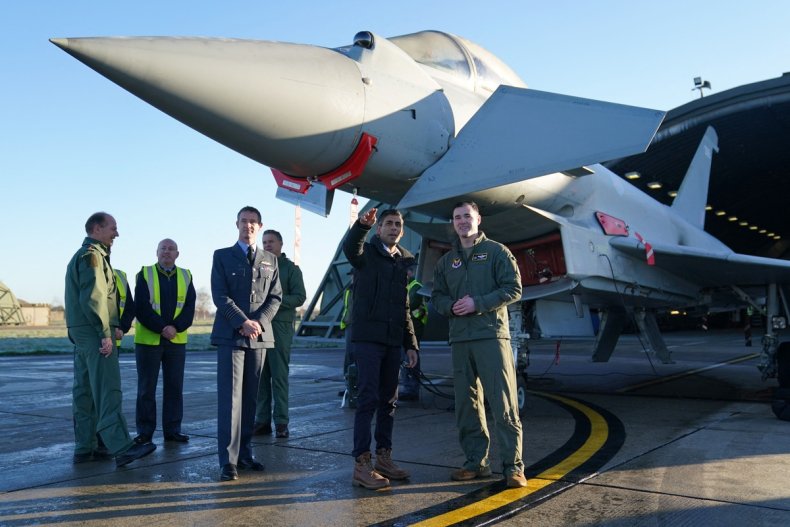 The only realistic choice for the U.K. would be to offer Kyiv its Tranche 1 Typhoon jets, experts say. Phased out in favor of newer Typhoons kitted out with more advanced avionics, the older Typhoons, set to be retired in two years' time, are the more obvious choice, according to Bronk.
But, he argued, they are mismatched to Ukraine's needs. Complicated to maintain and not suited for low-level flight, the Typhoons would need U.K. contractors to set up shop in Ukraine to assist with maintenance.
Length of Time To Train
A spokesperson for Sunak said late January that the "extremely sophisticated" fighter jets "take months to learn how to fly." The timescale of this training program meant it was "not practical" to commit those jets to Kyiv, they added.
But it's not just about training the pilots; it's about the ground crew, supply chains, how easy it is to service the jets and how weapons can be used alongside them, as well as the specifics of Ukraine's landscape.
"To get all of that in place, is going to take weeks and months, not days and weeks," Curtis said.
"Realistically, even if, for example, President Biden said today that Poland could supply a squadron of F-16s, and the U.S. perhaps would provide an element of logistics support, by the time you've got that package together—you've trained the air crew, you've trained the ground—you're probably talking six months."
But training is not just putting a pilot in a fighter aircraft and getting them airborne. Curtis stressed that Ukrainian pilots could learn NATO strategies and tactics without getting anywhere near a fast jet, and Ledwidge added simulator training is likely to make up much of the training regime.
"What I think the U.K. is probably offering is ground-based training, and structured education, to effectively make the Ukrainian pilots better fighter pilots without actually putting them in a cockpit and getting them in the air," said Curtis.
"There's a lot that could be taught to pilots in a classroom, rather than in a cockpit," Curtis said.
A Logistical Nightmare
The Typhoon has a "very large logistical footprint," in Ledwidge's words. The aircraft need a high level of support, which likely amounts to more logistical arrangements than an F-16.
Ukraine needs fast jets to avoid being destroyed by long-range missiles heading towards them, Bronk said. Both Typhoons and F-16s would struggle to meet this need; their maintenance operations are often run from fixed, centralized bases with smooth runways that will be few and far between in war-torn areas of Ukraine.
The Typhoon is "designed for operations from relatively smooth runways and is not optimized for short-field landings on rough surfaces," Bronk said.
On top of this, the British pilot training program could struggle to cope with an influx of Ukrainian pilots on top of the already long training times, experts warn.
"We can't produce enough pilots ourselves," Ledwidge said.
The Political Side
The U.K.'s pledge is "not a practical proposition, it's a political one," Ledwidge said. "The purpose of this is to provide a lead—same as for the tanks—for other nations to start thinking about Gripens, or even F-16s."
The Typhoon is a joint project by Britain, Germany, Italy and Spain, and each country would need to confirm its consent to sending the fast jets to Ukraine.
But with the likes of F-16s, the same argument applies as with the longer-range missile systems: previously, Western allies have hesitated to give Ukraine weapons that could strike into Russian territory.
"That, I think, is still probably a red line for most Western countries," Curtis said. "For it to be seen that they have provided the way for the Ukrainians to take the fight deep into the heart of Russia; I think that's something that will make most, if not all, Western leaders extremely uncomfortable."