Zelensky Pushes Europe to Cross Another Red Line
Ukrainian President Volodymyr Zelensky has arrived in Brussels for a visit widely expected to focus on pleas for fighter jets following his trip to the U.K. and France.
During a surprise visit to London on Wednesday, Zelensky told Britain's politicians that Ukraine was petitioning for "wings for freedom."
"I appeal to you and the world with simple and yet most important words: combat aircraft for Ukraine, wings for freedom," he said in an address in the capital. "Two years ago, I left parliament thanking you for the delicious English tea. Today I will leave parliament today thanking all of you in advance for powerful English planes."
During the visit, Prime Minister Rishi Sunak said the U.K.'s training program for Ukrainian military personnel would be expanded to include fighter jet pilots for the first time.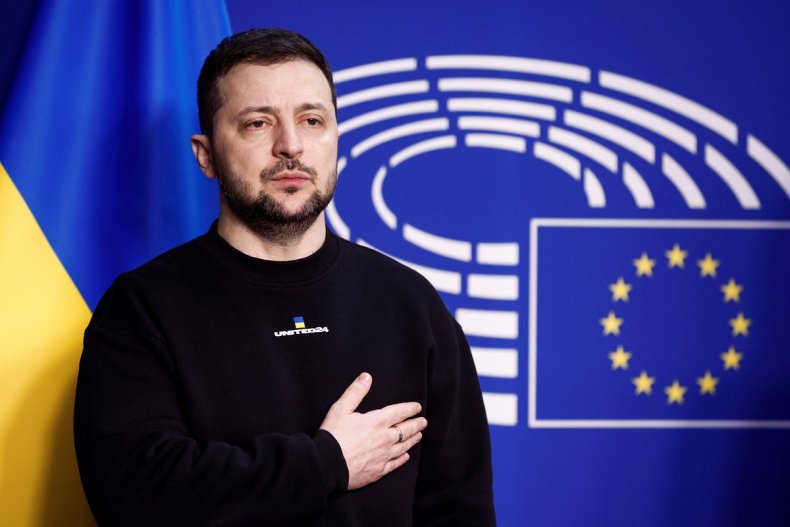 The program will "ensure pilots are able to fly sophisticated NATO-standard fighter jets in the future," Downing Street said. The U.K., along with the U.S., has previously refused to provide Ukraine with the Western F-16, F-35 and Typhoon fighter jets that were considered by many analysts to be a "red line" for Ukraine's international supporters.
A Downing Street spokesperson said last month the "extremely sophisticated" fighter jets "take months to learn how to fly," and it was therefore "not practical" to commit those jets to Kyiv. The U.K. doesn't fly the F-16 jets Ukraine has previously mentioned, but does have F-35 and Typhoon aircraft.
Later on Wednesday, Sunak said "nothing was off the table," and that advanced fighter jets were "part of the conversation."
A spokesperson for the U.K. leader said Ben Wallace, the British defense secretary, was "actively looking at" the options around fighter jets for Ukraine.
"We are investigating in terms of what jets we may be able to give, but emphasising the long term nature of the training involved in this complex issue," they said.
Russia's London embassy said Moscow "will know how to respond to any unfriendly actions by the British side," warning that providing fighter jets would be an escalation "on the United Kingdom's hands."
Arriving in Paris on Wednesday evening to meet French President Emmanuel Macron and German Chancellor Olaf Scholz, Zelensky said the two European nations have the opportunity to be "game changers."
Macron told the Ukrainian leader that Russia "cannot and must not win this war," adding: "As long as Russia continues to attack, we will continue to adapt and moderate the necessary military support to preserve Ukraine and its future."
On Thursday, European Parliament President Roberta Metsola told Zelensky that the union's member states "must consider quickly as the next step providing long-range systems and the jets that you need to protect your liberty," according to the Evening Standard.