NATO Country Warns 'Red Lines' Must Be Crossed to Supply Ukraine With Jets
Lithuania is calling for other NATO countries to provide Ukraine with jets to bolster its defense efforts against the ongoing Russian invasion, which is set to reach the one-year mark next month.
Russian President Vladimir Putin ordered the Ukraine "special military operation" in that began on February 24, 2022, aiming for a quick victory against his smaller Eastern European neighbor.
The invasion was met with sharp rebuke from the West, including NATO-member states that have provided Ukraine with billions of dollars in aid, including the delivery of powerful missiles that allowed it to retake thousands of square miles of formerly occupied territory, blunting Russian military gains.
However, the West remains divided about providing Ukraine with more advanced weapons, as Russia warned that doing so would lead to an escalation of the conflict. U.S. President Joe Biden, for instance, has opposed sending fighter jets to Kyiv despite pleas from Ukrainian President Volodymyr Zelensky.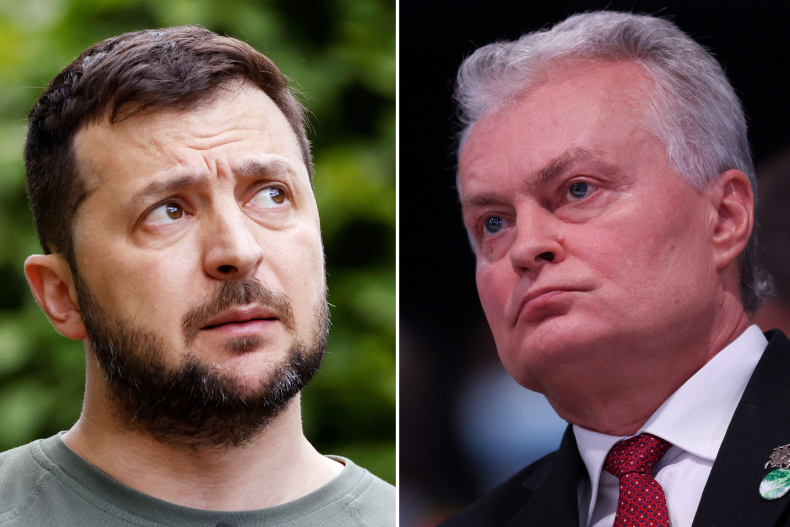 Lithuanian President Gitanas Nausėda weighed in on the debate about which weapons should be sent to Ukraine, urging his fellow NATO states to cross "red lines" to give Ukraine fighter jets.
"Because fighter jets and long-range missiles are essential military aid, and at this crucial stage in the war, where the turning point is about to happen, it is vital that we act without delay," Nausėda said in an interview with Lithuanian National Television. "So my answer to your question is that those red lines must be crossed."
Throughout the conflict, Putin and his allies have repeatedly warned the West about crossing "red lines" by providing Ukraine stronger weapons including longer-range missiles and tanks, at times hinting about the potential use of nuclear weapons.
The threats have forced the West to walk a fine line between helping Ukraine defend its sovereignty while not catalyzing an escalation of the conflict that could have severe consequences for the world.
But Nausėda argued that the West has already crossed Putin's red lines throughout the war, and should continue doing so.
"I am speaking not only about tanks. Ukraine's EU candidate status was once a taboo, a red line, too," he said. "I remember it well. Even when, say, the war broke out, Germany initially said categorically that it would only send vests, helmets and the like, but not weapons. But that red line was also passed quite a long time ago."
His remarks came after Biden reiterated that the U.S. does not plan to send Ukraine F-16 fighter jets. Polish Prime Minister Mateusz Morawiecki said on Monday that the transfer of any aircraft could only happen in agreement with NATO countries but said his country would "act in full coordination."
Dutch Foreign Minister Wopke Hoekstra said this month that the Netherlands will consider Zelensky's requests for F-16 fighter jets with "an open mind."
Newsweek reached out to NATO for comment.