Biden Rejects Zelensky's Pleas for Coveted F-16 Fighter Jets
President Joe Biden reiterated to reporters Monday that the United States will not be sending F-16 fighter jets to Ukrainian President Volodymyr Zelensky.
The Ukrainian leader has continually lobbied for Western-made fighter jets since Russia invaded Ukraine in February. While some NATO countries have recently hinted at meeting the request, the U.S. has stayed focused on providing artillery, armor and ground-based air defense systems to Ukraine, deeming them more urgent for Kyiv to protect its infrastructure.
While arriving at the White House Monday after a trip to Baltimore, Maryland, Biden was asked again if the U.S. would provide F-16s to Ukraine.
"No," he responded, according to a clip posted by Politico defense editor Dave Brown.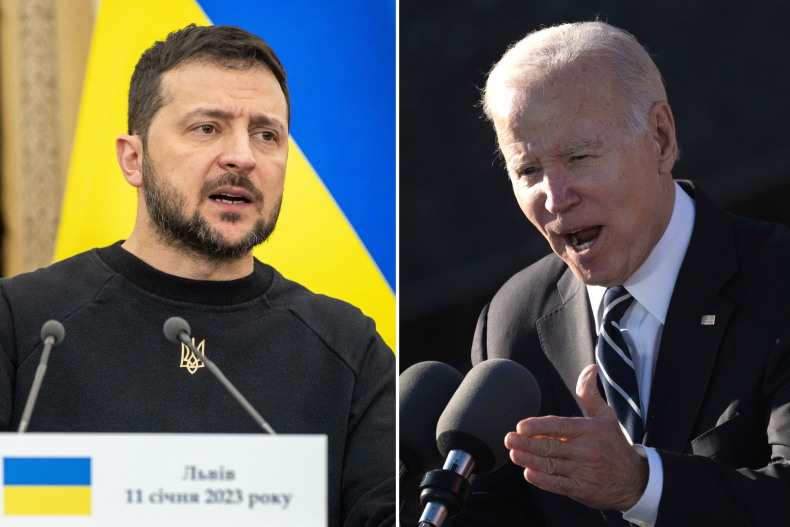 Biden's remarks followed Polish Prime Minister Mateusz Morawiecki on Monday telling reporters at a press conference that his nation would only transfer aircraft to Ukraine if the move is in agreement with NATO countries. Morawiecki added that Poland would also "act in full coordination" with any such requests.
Head of Ukraine's presidential office, Andriy Yermak, posted to his Telegram account as well on Monday, "The work on obtaining F-16 figures is ongoing. We have possible signals from Poland, which is ready to transfer them to us in coordination with NATO."
This month, Dutch Foreign Ministry Wopke Hoekstra said the Netherlands would look at a request from Kyiv for F-16 jets with an "open mind." The Defense of Ukraine Twitter account posted a video thanking the Netherlands for its military aid on Monday, adding in the caption, "P.S. And you know that we would really appreciate F-16s!"
Politico reported on Saturday that a senior Defense Department official told the outlet that they didn't think the U.S. is "opposed" to eventually sending F-16s to Ukraine, but said Kyiv has yet to make fighter jets one of its top priorities. As Politico writes, the U.S. is more focused on sending Kyiv the tools it needs for its "immediate fight" with Russia.
In the meantime, Ukraine recently got a boost to its ground forces, with Biden promising last week to send 31 U.S.-made Abrams tanks to Kyiv. The announcement came just after German Chancellor Olaf Scholz authorized 14 Leopard 2 main battle tanks in military assistance to Ukraine, and sanctioned the third-party transfer of tanks from several other nations holding stocks of Leopard 2 tanks.
Scholz, however, confirmed last week that Berlin would not be sending F-16s.
The newly promised tanks are also not expected to arrive in Ukraine soon. During his nightly address Sunday, Zelensky urged his Western supporters to "speed up" their promised defense aid, adding that Kyiv needs its backers to "open up new weapons options" as Russia makes gains among the heavy fighting in eastern Ukraine.
The F-16 fourth-generation fighter jet that Zelensky is requesting has been hailed by U.S. defense manufacturer Lockheed Martin as the "latest and most advanced F-16 on the market today."
However, military analyst Harry Kazianis recently told Newsweek that the F-16s would be the "wrong fighter jet for the moment" for Ukraine, and Frank Ledwidge, former military officer who served in the Middle East and the Balkans, suggested that there were "certain technical problems" with the fourth-generation fighter.
Ledwidge also told Newsweek that the F-16s would be very difficult to operate in Ukraine, given that they require very smooth runways and are more complex to operate than what Kyiv's forces are accustomed to handling.
Newsweek has reached out to the White House for comment.