Russian TV Discusses West Arming Ukraine With Jets: 'We Have To Get Ready'
Russian state TV guests have discussed whether Kyiv will receive fighter jets from its Western allies after NATO countries took differing stances on the matter earlier this week.
Russian state media commentator and former air defense commander, Mikhail Khodaryonok, referenced the discussions on the F-16 fighter jets and other fourth-generation aircraft.
"As for the planes, we have already heard the phrase here that the word 'no' from Western politicians and the military means 'yes, but later,'" Khodaryonok said in a clip posted to Twitter of the 60 Minutes talk show on the Russia-1 state TV channel.
"We have to get ready now," Khodarenok told the panelists on the show before Russian propagandist Igor Korotchenko added that "there will be deliveries of fighter jets."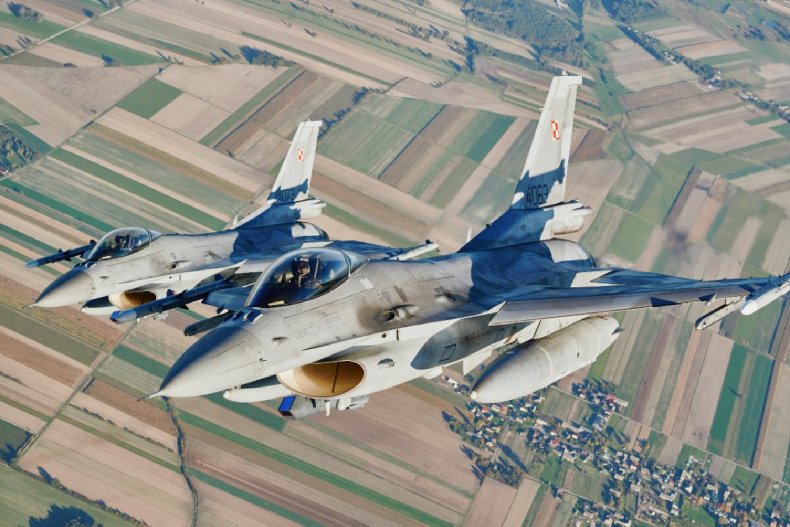 "We must proceed from this and now prepare appropriate countermeasures at the military level," he continued.
After the U.S. and Germany confirmed they would send M1 Abrams and Leopard 2 main battle tanks, Ukraine stepped up its calls for fighter jets.
Yuriy Sak, an advisor to Ukraine's defense minister Oleksiy Reznikov, said that securing the fighter jets would be the "next big hurdle" for Kyiv.
"Fourth-generation aircraft, this is what we want," Sak told Reuters, adding that Ukraine was not limiting its hopes to F-16 multirole fighter jets. Other jets mentioned in discussions around fighter jets include F-35s, France's Rafale jet, Eurofighters, and Sweden's Gripen jets.
He added to Reuters: "If we get them, the advantages on the battlefield will be just immense."
Referencing initial Western reluctance to send heavy artillery, HIMARS (High Mobility Artillery Rocket System), and main battle tanks, Sak said: "Apart from nuclear weapons, there is nothing left that we will not get."
On Monday, President Joe Biden said the U.S. would not send the single-engine F-16 Fighting Falcon jets to Ukraine.
A spokesperson for U.K. Prime Minister Rishi Sunak said "the U.K.'s Typhoon and F-35 jets are extremely sophisticated and take months to learn how to fly."
Calling the length of time needed for training on these "very complex" jets the "limiting factor," the spokesperson said the U.K. will "explore what more we can do to support Ukraine," but that it was "not practical" to send fighter jets to Kyiv.
German Chancellor Olaf Scholz also dismissed the idea, saying that the decision had just been made on Leopard 2 tanks, and for "the next debate" to begin immediately "just seems frivolous."
However, Andriy Yermak, the head of Ukrainian President Volodymyr Zelensky's office, said on Monday that the "work on obtaining F-16 fighters continues."
Writing on Telegram, Yermak said Kyiv had received "positive signals from Poland," although prime minister Mateusz Morawiecki stressed the need to "coordinate all actions" around Ukraine's defense "with our NATO partners" during a press conference on Monday.
French President Emmanuel Macron, also speaking on Monday, said that "nothing is excluded in principle" in terms of military aid, but laid out certain criteria for considering fighter jets.
The move cannot lead to an "escalation," Macron said, adding they would need "purely to aid the resistance effort," rather than run the risk of striking Russian territory.
The Ukrainian air force has largely been operating Soviet-era aircraft, including MiG-29 and Su-27. The Western-made fighters would be a significant upgrade from the aging Soviet planes.
The F-16 Fighting Falcon can travel at a speed of 1,500 mph with a ceiling of around 50,000 feet and is able to carry precision-guided missiles and bombs to attack enemy targets.
Correction 2/2/23: This article was updated to state that the Ukrainian air force has been using Su-27 aircraft, not Su-57.