Russia Boasts That Western-Trained Troops in Ukraine Have Been 'Eliminated'
Many Ukrainian fighters who were trained by Kyiv's Western backers for combat in eastern Ukraine have "already been eliminated," a retired Kremlin-backed commander in the Donbas has said.
Andrey Marochko, a retired lieutenant colonel with the Russian-backed Luhansk People's Republic in eastern Ukraine, told Russian state media outlet Tass that the officers who were trained in Western countries and "are currently on the frontlines have battle experience of less than one year."
"Most of them have already been eliminated," he said. More experienced troops "come to the contact line and dilute the unqualified personnel," he added.
But these "get disposed of by our servicemen very quickly," Marochko said.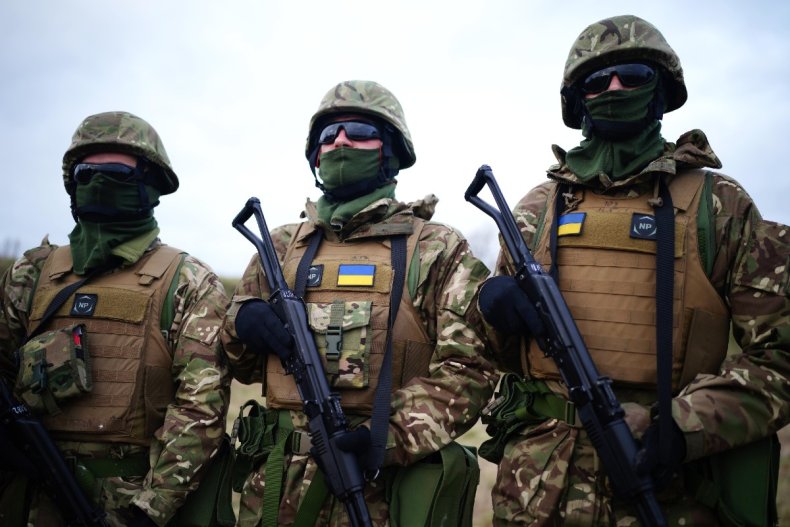 Several Western countries have committed to training Ukrainian soldiers, including on unfamiliar systems donated to Kyiv's forces.
On January 10, the Pentagon confirmed that Ukrainian soldiers would travel to the U.S. to receive instruction on Patriot air defense systems.
Pentagon Press Secretary Air Force Brig. Gen. Pat Ryder said around 100 Ukrainian soldiers will be trained at Fort Sill, Oklahoma, for "several months."
"The training will be tailored to provide relevant tactics, techniques and procedures based on the battlefield conditions in Ukraine to enable them to employ that to maximum effect once they are back in Ukraine," Ryder said.
The Defense Department announced on December 15, 2022 that the U.S. would provide combined arms and joint maneuver training to Ukrainian personnel, on top of previous training.
In April 2022, the Pentagon confirmed U.S. service members had begun training Ukrainian soldiers on key weapons systems in Germany. U.S. military personnel have trained Ukrainian troops since before the full-scale invasion of Ukraine by Russian forces in February 2022.
On Wednesday, British Prime Minister Rishi Sunak said the U.K. will be increasing the scope of its training program for Ukrainian soldiers. The U.K.'s training of Ukraine's troops has seen 10,000 soldiers "brought to battle readiness in the last six months," Downing Street said.
The U.K. will help to "upskill a further 20,000 Ukrainian soldiers this year," Sunak's office said, as Ukrainian President Volodymyr Zelensky arrived in the U.K. on Wednesday.
This training will be expanded to fighter jet pilots for the first time, a press release said, to "ensure pilots are able to fly sophisticated NATO-standard fighter jets in the future." The U.S. and U.K. previously refused to provide Ukraine with Western F-16, F-35 and Typhoon fighter jets.
The U.K. will also host "immediate" training for marines.
Ukrainian troops arrived in the U.K. for training on the Challenger 2 main battle tanks last week, and President Joe Biden has committed to training for Ukraine's armed forces for M1 Abrams main battle tanks.
Many European Union countries have launched training programs for Ukrainian service members, as has Canada.
Russian foreign minister, Sergey Lavrov, said during a press conference in December that the U.S. and NATO were "directly involved not only by supplying weapons, but also by training military personnel."
Ukraine's defense ministry has been contacted for comment.