Russia Abandoning Outskirts of Kherson Months After Losing City: Ukraine
A Ukrainian military spokesperson is claiming that Russians are beginning to depart a territory they previously occupied.
Ukraine's Southern Command spokesperson Natalia Humeniuk told Ukrainian Channel 24 that Moscow-installed proxies on Kherson's east bank are beginning to evacuate, "taking away documentation and looted things" as they leave.
Russian forces retreated Kherson in November due to Ukrainian pushback, though last month began shelling again along the Dnieper River in southern Ukraine to "degrade civilian morale," as described by the British Ministry of Defense.
Kherson oblast was one of four territories annexed by Russia last September via what the West has referred to as a sham referendum, with the others including Donetsk, Luhansk and Zaporizhzhia.
"This is a sign that another 'gesture of goodwill' is being prepared," Humeniuk said, parroting a phrase that has become routine in the Kremlin lexicon to mask previous retreats from Kyiv and Snake Island.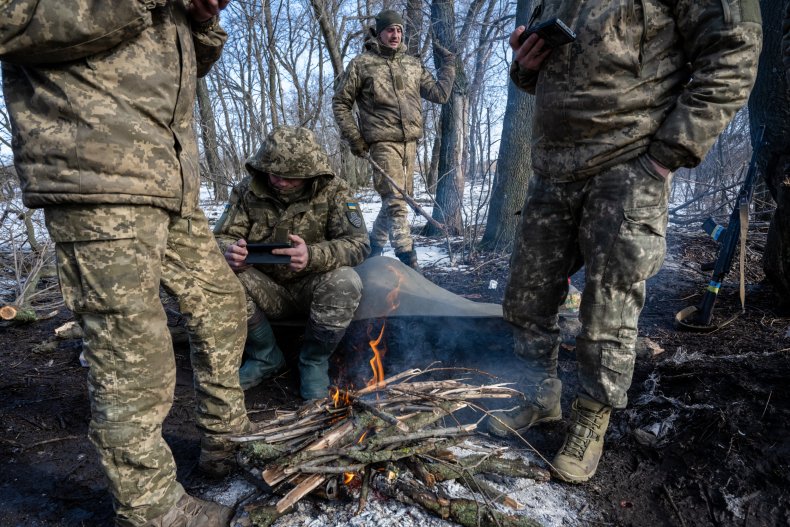 She also claimed that the Russian military is using the civilian population on the Black Sea coast in Kherson and Mykolaiv oblasts as "human shields."
"They are placing their firing positions, including MLRS (multiple launch rocket systems), right in the backyards of local residents," she said. "This makes it difficult for us to respond, but it's not completely impossible."
Ukrainian forces continue to monitor Russian maneuvers and intentions, she added, expressing optimism for "good results" soon.
Mikhail Troitskiy, professor of practice at the University of Wisconsin-Madison, told Newsweek that Russia may be hedging its bets and trying to entrench its forces in comfortable defensive positions in the Kherson and Zaporizhzhia oblasts.
"Given Ukraine's expanding weapon arsenals, it may become difficult for the Russian forces to defend the left bank of the Dnieper in Kherson Oblast, while there may be more defensible strongholds further east that Russia is building up right now," he said.
There are political implications, he added. Those include Russia showing China, and even Western supporters of Ukraine, that Moscow "is amenable to some kind of a compromise based on a territorial status quo that will leave in Russia's hands parts of the territory that Russia seized from Ukraine after February 24, 2022."
Russian expert Dmitry Gorenburg of the Center for Naval Analyses told Newsweek that Humeniuk's report is "surprising."
"As far as I know it has been relatively quiet on that front, other than regular shelling across the river," he said. "Not much fighting at all compared to the East. I think that there's always some chance of a surprise attack from that direction, but given the difficulty of crossing the river [for either side], this is a very low likelihood."
Grain export deal back on the table
Humeniuk said that a recent Russian attack in the Dnipro-Buzka estuary may be a provocation related to this week's expiration of the Black Sea Grain Initiative.
The initiative was initially brokered by the United Nations (U.N.) and Turkey in Istanbul last July in response to soaring food prices across Europe. Russia and Ukraine agreed to a deal, leading to ships being allowed again to traverse the Black Sea to export grain.
Russian Deputy Foreign Minister Alexander Grushko told Russian state-owned news agency TASS on Tuesday that the expiring deal had been extended an additional 60 days.
The agreement, Grushko said, is reliant upon "the removal of all sanctions, direct and indirect, on the supply of Russian agricultural products to international markets."
"It is not only about the actual possibility of transportation itself, the access to foreign ports for our vessels, [but also] about insurance, as well as the necessity to solve issues related directly to production, cultivation of grain in our country," he added.
U.N. officials said Tuesday that Russia's agreed-upon 60-day extension is "half the number of days agreed when [the initiative] first expired in November."
Approximately 24 million metric tons of grain have been exported since the brokerage, the U.N. stated, including over 1,600 vessel voyages through the Black Sea. Developed countries have reportedly received over 55 percent of food exports.
"The UN Secretary-General [António Guterres] has confirmed that the UN will do everything possible to preserve the integrity of the Black Sea Grain Initiative and ensure its continuity," the U.N. said in a press statement Tuesday after meeting with Russian delegates Monday in Geneva. "The UN's support to the agreements made in Istanbul is part of the global response to the most severe cost-of-living crisis in a generation."
The agreement includes the facilitation of Russian food and fertilizer exports, officials added.
As the Kremlin signals "good will" with the grain initiative, Troitskiy said the nation is also demonstrating flexibility to China and Turkey in "adjusting" its land acquisitions.
"Russia may hope to leverage China into supporting this kind of temporary solution and try to impose it on Ukraine amid hints by Beijing that it may consider arming Russia, Ukraine's likely depletion of resources, and—possibly—the waning expectations in the West of Ukraine's ability to pull off a major offensive to drive Russia out completely," Troitskiy said.
Newsweek reached out to the U.N., along with Ukrainian and Russian defense ministries, by email for comment.
Update 3/14/23, 1:51 p.m. ET: This story was updated with comment from Dmitry Gorenburg.