Russian authorities' refusal to claim responsibility for a single civilian death during its invasion of Ukraine has drawn comparisons to the country's military operations in war-torn Syria.
Despite Russia's denial that it has targeted civilians during its invasion of Ukraine, human rights organizations and the United Nations have tallied a rising death toll on the country's population. Similarly, Russian officials have denied they are responsible for causing any civilian deaths in Syria, contrary to independent tracking by nongovernmental organizations.
Between February 24 and March 15, the Office of the U.N. High Commissioner for Human Rights recorded 1,900 civilian casualties in Ukraine, including 726 people killed, among them 52 children. Most of the deaths were caused by explosive weapons in populated areas, according to the U.N. agency.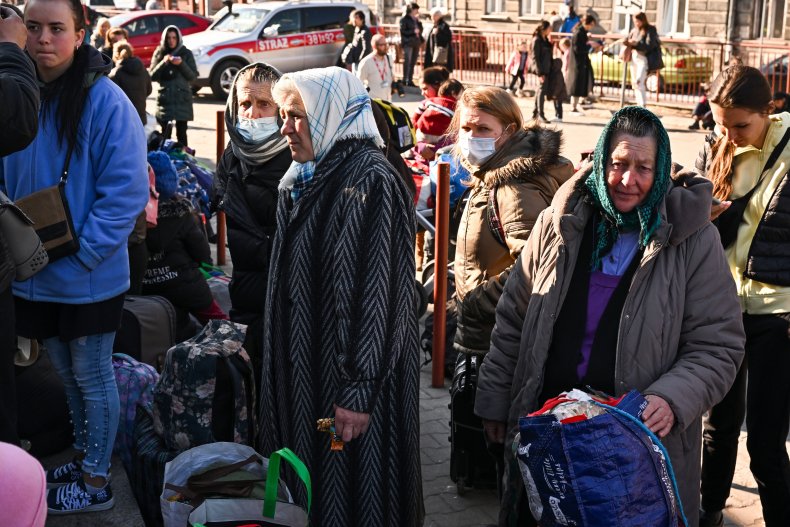 Reports have emerged that Russian forces are deliberately targeting civilian areas, including a theater in the city of Mariupol being used as a bomb shelter that had the word "children" written outside in Russian. President Joe Biden and other world leaders have accused Russia of committing war crimes.
"Russia's armed forces don't bomb towns and cities," Russian Foreign Ministry spokesperson Maria Zakharova said last week, echoing the same denial made by other officials.
Currently, Russia has not publicly accepted responsibility for a single civilian death in Ukraine, writes researcher Lily Hamourtziadou in the journal The Conversation.
Hamourtziadou wrote that Russia's posturing in the conflict with Ukraine has parallels to Syria, which has seen an ongoing civil war since 2011. Russia has backed authoritarian President Bashar al-Assad against his opponents, helping the authoritarian leader stay in power.
Since intervening in Syria in 2015, more than 45,000 airstrikes have been carried out by the Russian military, according to Airwars, a nongovernmental group documenting the country's actions in Syria and the Middle East.
Similar to Ukraine, Russian officials denied reports in 2016 that its air force bombed a hospital in Syria run by French charity Médecins Sans Frontières.
Airwars has tracked up to 23,000 civilian deaths and 41,000 injuries from Russian military action in Syria since 2015. The group said its figure is a conservative estimate, however, Russia has not accepted responsibility for any citizen deaths in Syria.
Moscow has "yet to concede a single casualty," according to the group.
Rosemary DiCarlo, the U.N.'s under-secretary-general for political and peacebuilding affairs, said that civilian deaths in Ukraine could not be denied and called for an investigation.
"Civilians are entitled to protection against the dangers arising from military operations," she said in a statement. "International humanitarian law is crystal clear."
Newsweek has reached out to the Russian government for comment.