Russia Accuses U.S. of Blocking Peace Deal So War Kills More Russians
Russian Foreign Minister Sergey Lavrov claimed on Tuesday that the United States and the United Kingdom have been exerting influence over Ukrainian negotiators to prolong the war in Ukraine with the intent of killing off more Russian soldiers.
Lavrov made the allegations during an educational forum in Moscow, according to the Russian state media outlet RT. Since Russia began its invasion of Ukraine in late February, Russian President Vladimir Putin and various Kremlin officials have publicly threatened NATO and other countries with retaliation if they intervene in the war. Meanwhile, Russia's state media has characterized the conflict as not just a fight against Ukraine but also a war against the West.
Lavrov said during the forum, according to RT, that Ukraine may have found some "acceptable principles for reaching agreements" during past negotiations with Russia, but Western allies did not support the terms.
"We have information coming through various channels that Washington and especially London 'lead' the Ukrainian negotiators and control their freedom of maneuver," Lavrov said. "They want to drag out the conflict, and it seems to them that the longer it will last, the more damage they will inflict on Russian servicemen."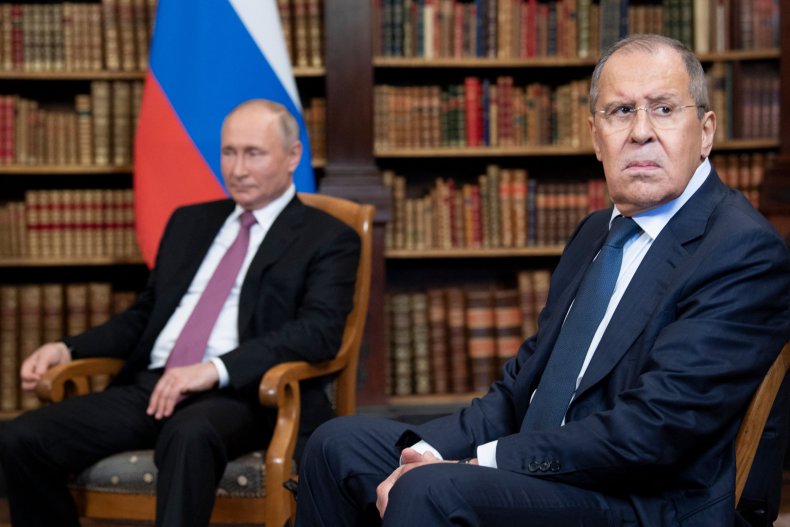 Lavrov also stated that the war in Ukraine was "declared" by the U.S. and the U.K. and "not at all between Ukraine and Russia, but between the West and Russia."
RT wrote that Lavrov claimed that although Washington and London were leading Ukraine in regard to peace talks, neither country had "put forward any proposals."
Also on Tuesday, the Interfax news agency reported that Russian Deputy Foreign Minister Andrey Rudenko said Ukraine had not recently engaged in any peace negotiations with Russia.
"No, negotiations are not going on. Ukraine has practically withdrawn from the negotiation process," Rudenko said, according to Interfax.
The news agency reported that Mykhailo Podolyak, a senior adviser to Ukrainian President Volodymyr Zelensky, confirmed that there have been no further peace negotiations between Russia and Ukraine since talks were last held in March in Istanbul.
Kremlin spokesman Dmitry Peskov also spoke at Tuesday's educational forum. TASS, a Russian state news agency, reported that Peskov accused Western governments of engaging in a "hybrid war" against Russia.
"The hybrid war is what is happening right now," Peskov said. "It is not confined to the U.S. and British advisers, who are telling the armed Ukrainian nationalists what to do and who are providing them with intelligence data, and so on and so forth. No. It's a diplomatic war and a political war. There are attempts to isolate us in the world. It's an economic war."
He added, "It is true that we keep referring to them mildly as unfriendly states, but I should say that they are hostile states because what they are doing is war."
Newsweek reached out to the Russian Foreign Ministry for comment.