U.S. Denies Helping Ukraine Target Russian Generals
The Pentagon on Thursday pushed back on a New York Times story that said the United States has provided intelligence to Ukraine that resulted in the locating and killing of Russian generals.
"We do not provide intelligence on the location of senior military leaders on the battlefield or participate in the targeting decisions of the Ukrainian military," John Kirby, the Defense Department's press secretary, told reporters.
His statement came in response to the Times story, which was published Wednesday. Citing unnamed senior U.S. officials, the story said U.S. intelligence regarding Russian military movements and targeting data was given to Ukraine in a Biden administration effort to provide real-time military intelligence to aid the Ukrainians in fighting against the Russians.
Ukrainian officials have said they have killed 12 Russian generals on the front lines, according to the Times' story.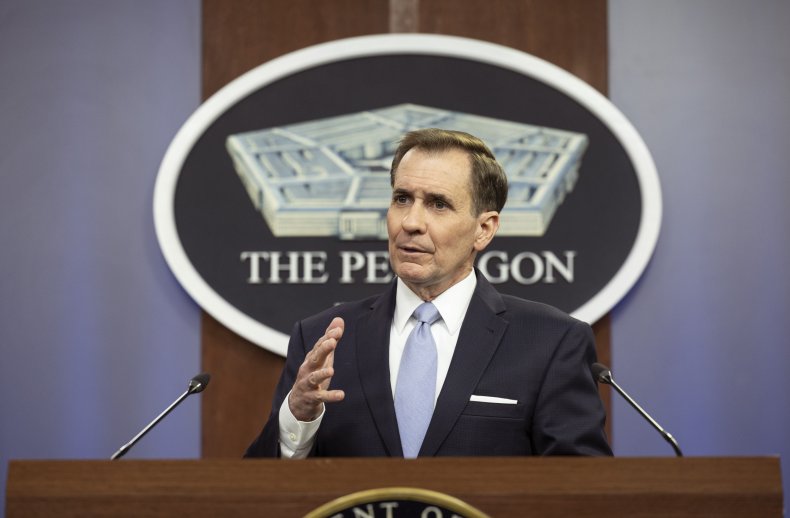 Kirby did say that the U.S. gives "battlefield intelligence to help Ukrainians defend their country." However, he added that the "Ukrainians have, quite frankly, a lot more information than we do."
"This is their country, their territory, and they have capable intelligence collection abilities of their own," Kirby said of the Ukrainian military. "Ukraine combines information that we and other partners provide with the intelligence that they themselves are gathering on the battlefield. And then they make their own decisions, and they take their own actions."
When pressed by a reporter about what intelligence the U.S. shares with Ukraine if it is not information about the location of Russian military leaders, Kirby indicated he would not discuss the matter in further detail.
Earlier on Thursday, National Security Council spokesperson Adrienne Watson also refuted claims made in the Times' story in comments she made to The Hill.
"The headline of this story is misleading, and the way it is framed is irresponsible," Watson said. "The United States provides battlefield intelligence to help the Ukrainians defend their country. We do not provide intelligence with the intent to kill Russian generals."
Kirby was also asked about an announcement from Russia's defense ministry about a recent simulated nuclear missile strike conducted in Kaliningrad, a small Russian enclave located between the European Union countries of Poland and Lithuania.
"We've decried the escalation in rhetoric by the Russians now numerous times when it comes to nuclear weapons, and it's not the behavior of a responsible nuclear power to engage in that kind of rhetoric," Kirby said. "We monitor this every single day. We're comfortable and confident that our strategic deterrent posture is well placed and robust enough to defend the homeland as well as our allies and partners."
He continued, "I think we can all agree that the specter of a nuclear conflict between the United States and Russia is good for no one, certainly not good for Russia. It's not good for us, and it's not good for Ukraine or the region. Has that exercise or has this rhetoric resulted in us changing the footprint on NATO's eastern flank? No."
Update 5/5/22, 4:25 p.m. ET: This story has been updated to include additional comments from the Defense Department's John Kirby, as well as a statement that National Security Council spokesperson Adrienne Watson gave to The Hill.