Chaos As Russia's Aircraft Carrier Admiral Kuznetsov Catches Fire: 'It Was Everyone for Himself,' Witness Says
One of the workers caught up in a blaze on Russia's only aircraft carrier has spoken of how he thought he would die during his escape.
A thick plume of smoke could be seen from the Zvezdochka shipyard in Murmansk, the home of Russia's Arctic fleet where the vessel was berthed, when the Admiral Kuznetsov caught fire on Thursday morning during repair work.
There were around 400 people on board at the time of the fire. State news agency Tass reported that at least 10 people were left injured, six of whom are in intensive care, and one is missing.
Footage of the dramatic blaze, which covered 1300 square feet, was widely shared on social media.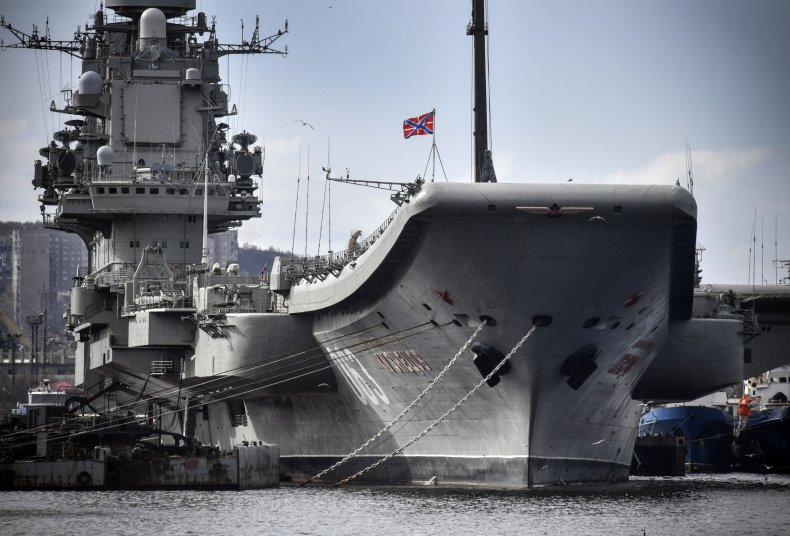 An unnamed worker on board the vessel at the time told local newspaper Severpost that he and his colleagues had smelled burning and so climbed to the upper deck, "but everything was covered in smoke," he said, adding: "You couldn't see anything past arm's length."
They tried to put out the fire on their own, but it became clear that this was not working. He was given a mask to breathe but the smoke started to seep through that as well.
"We have never had anything like it. It was everyone for himself, everyone was running as fast as they could," he said.
"Everything was filled up with smoke. I almost died there while getting out," he said, adding: "I said goodbye to my family."
In a statement on the Russian social network VKontakte, a spokesperson for the Zvezdochka shipyard said the fire broke out during welding work in one its engineering sections.
"At present, fire crews are engaged in extinguishing the fire," the statement said. "Workers aboard the ship were evacuated. There is currently no information about victims."
It is the latest piece of bad luck to hit the aircraft carrier, which the Kremlin likes to use to project an image of naval strength and conduct combat operations in the Syrian conflict.
In November 2014, a MiG-29 fighter jet crashed while trying to land on it during a mission off the Syrian coast.
In December 2016, it lost two combat aircraft in less than a month due to problems with its arresting gear.
An MiG fighter jet crashed into the sea as it approached the ship, and an Su-33 crashed as it landed when a cable broke, and the plane rolled off the deck.
Disaster also struck last October while it was undergoing repairs when the dry dock, holding the carrier, sank at the yard, sending a 70-ton crane crashing onto its deck and leaving a massive hole in the flight deck.
The 1,000-feet-long and 236-foot-wide vessel, which was launched in 1985 for the Soviet Navy, is due to return to service in 2022.
Newsweek has contacted Russia's state-owned United Shipbuilding Corporation for comment.