Kremlin Condemns Sanctions As U.S. Set To Punish Russia for Navalny Poisoning
With the U.S. reportedly set to impose sanctions on Moscow linked to the treatment of jailed opposition leader Alexey Navalny, Kremlin spokesman Dmitry Peskov has hit back at Russia being on the receiving end of international punishment.
Reuters reported that the U.S. could impose sanctions for the Novichok poisoning of Navalny, who fell ill on a flight in Siberia in August 2020 and was arrested upon his arrival in Moscow in January following his recuperation in Berlin.
Sources told the agency that the U.S. would act under the executive orders, one issued after Russia invaded Crimea, and the other issued in 2005 against the proliferation of weapons of mass destruction.
Reuters said that the Biden administration would also act under the U.S. Chemical and Biological Weapons Control and Warfare Elimination Act of 1991 and sanctions may target some individuals and involve export licenses.
The Kremlin spokesman did not address the prospect of U.S. sanctions directly, but alluded to them on Tuesday in comments reported by the newspaper Izvestia in an article headlined: "Peskov has announced it is impossible to achieve goals through sanctions."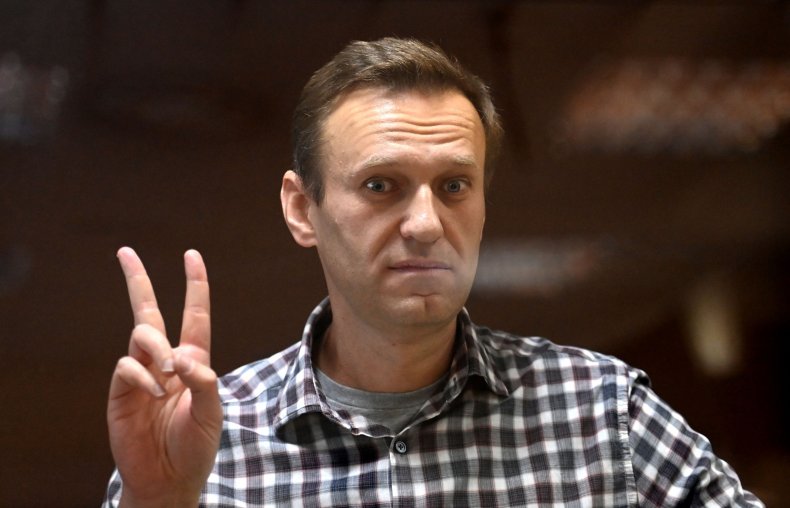 "For those who continue to depend on some kind of restrictions in the conduct of foreign affairs, it is probably time for them to think about whether they are achieving their goal by pursuing this policy, and whether it worsens interstate affairs," Peskov said, according to the publication.
Navalny was jailed last month for breaching parole terms stemming from a 2014 sentence he says was politically motivated.
His case and the campaigns by his Anti-Corruption Foundation (FBK) spurred protests across the country, and the crackdown that ensued underscores the threat he poses to President Vladimir Putin and the Kremlin.
Although the FBK has called for tough measures against three dozen officials and oligarchs close to the regime, the EU has so far only agreed to sanction four Russian officials in a largely symbolic move.
The previous Trump administration did not punish Russia after Navalny's poisoning, for which the Kremlin denies responsibility. As such, attention will be keenly turned to any measures from the Biden administration, which could come as soon as Tuesday.
After President Joe Biden took office, Moscow and Washington agreed to extend the New START treaty curbing the proliferation of nuclear weapons. However, ties remain strained on a number of issues, in particular over the SolarWinds cyberattack on U.S. government agencies last year that Washington blames Moscow for, although the Kremlin denies responsibility.
Newsweek has contacted the White House and the U.S. State Department for comment.