Russia Says It 'Will Always Stand' with Venezuela Against U.S. As Secret Talks Emerge
Russia has reaffirmed its commitment to backing Venezuela as the Latin American state faced U.S.-led attempts to oust its government. Venezuela's government also recently revealed secret talks with Washington.
Russian Foreign Minister Sergey Lavrov met Wednesday with Venezuelan Vice President Delcy Rodríguez in Moscow, where the two held the latest in a series of bilateral talks between the two countries, aimed at boosting cooperation in various fields. Lavrov recalled Caracas' hosting of the Non-Aligned Movement summit last month, where he said "participants reaffirmed their solidarity with the people and government of Venezuela in defending the norms and principles of international law, primarily those formalized by the U.N. Charter."
"We have always been and remain committed to these principles, will always stand in solidarity with you and uphold every nation's right independently choose its own development paths and to oppose any illegitimate unilateral methods of blackmail and pressure," Lavrov added.
Rodríguez hailed her "extraordinary" meeting with Lavrov. She tweeted: "We addressed our broad and diverse bilateral cooperation as well as the international agenda in defense of the U.N. Charter! Russia and Venezuela reject any form of interventionism."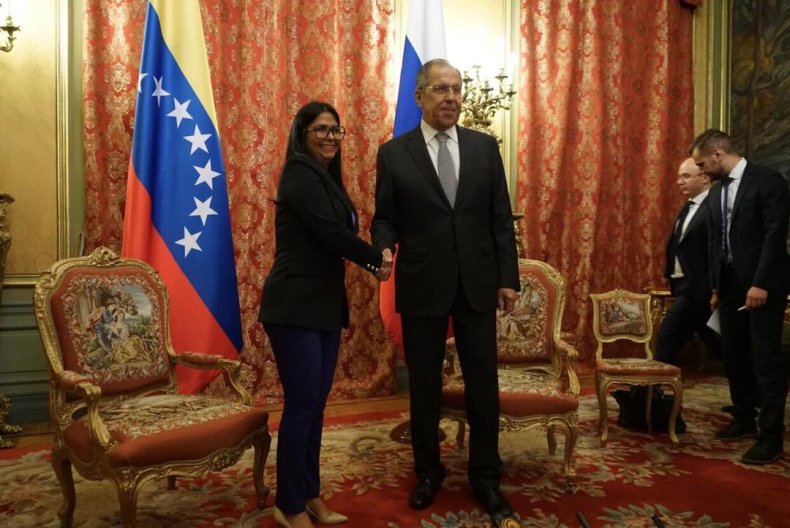 The U.S. has denied recognition to Venezuelan President Nicolás Maduro since opposition-controlled National Assembly leader Juan Guaidó declared himself the acting leader in January, accusing the current administration of corruption and election-rigging as the economy collapsed. President Donald Trump's administration has since expanded sanctions against Venezuela, further damaging its failing financial state.
The months-long political crisis has split the international community. The U.S. was joined in its campaign to push Maduro out of power by a number of allies, including much of Europe and Latin America. Leftist-led powers like Bolivia, Cuba and Nicaragua were still backing Maduro, as were Russia, China and Iran, among others.
An abortive uprising in late April failed to give Guaidó the momentum he needed to take the presidency, and his self-proclaimed administration has yet to be recognized by the United Nations, where Russia has mobilized a coalition of pro-Maduro states. The coalition has expanded to include some 120 nations belonging to the Non-Aligned Movement. Moscow has also continued to provide "military-technical" support and recently signed a memorandum of understanding to allow the two countries' navies to visit one another's ports following a recent meeting between their defense ministers.
The two countries held joint air drills over the Caribbean about a month before Guaidó made his stand, angering the U.S., which later began to invoke the 19th century Monroe Doctrine. The Monroe Doctrine was initially established to oppose European colonialism in Latin America, but during the Cold War, the doctrine became associated with Washington's efforts to suppress leftist movements across the region.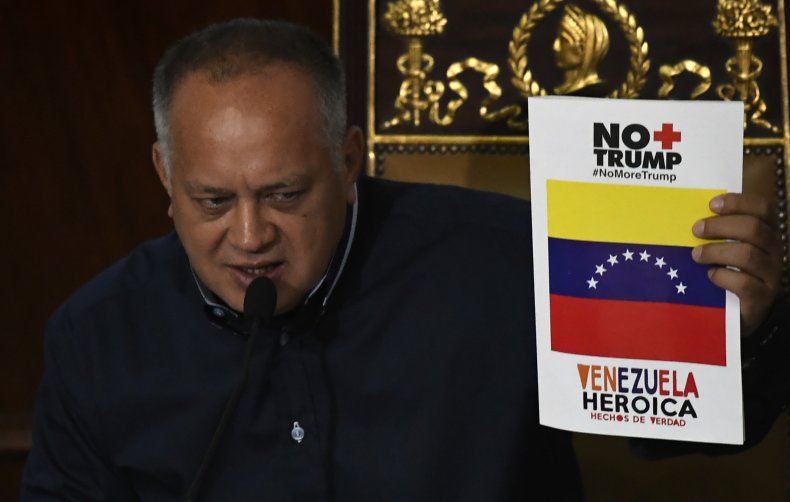 While representatives of Maduro and Guaidó have been in talks for months, media outlets Axios and the Associated Press recently reported that the influential Diosdado Cabello—leader of the pro-government Constituent National Assembly that rivals Guaidó's National Assembly—had been in talks with the Trump administration. On Tuesday, both the U.S. and Venezuelan presidents confirmed they were in contact with one another's administrations.
First Trump answered "yes" when asked during a press conference alongside the Romanian president in Washington if U.S. officials were speaking with members of Maduro's government. Without specifying who these individuals were, he said that "we're talking to various representatives of Venezuela" at "different levels," including "very high levels."
In televised remarks later that day, Maduro also revealed such talks were underway. He later tweeted: "I reaffirm that we are looking for all means of dialogue so that President Donald Trump hears the truth of Venezuela and the voice of the Bolivarian Revolution. We seek to normalize the conflict that exists with the US empire. I believe in Dialogue, I believe in Peace!"