Is Sergey Kislyak, Russia's Ambassador at the Center of the Flynn Scandal, on His Way Out?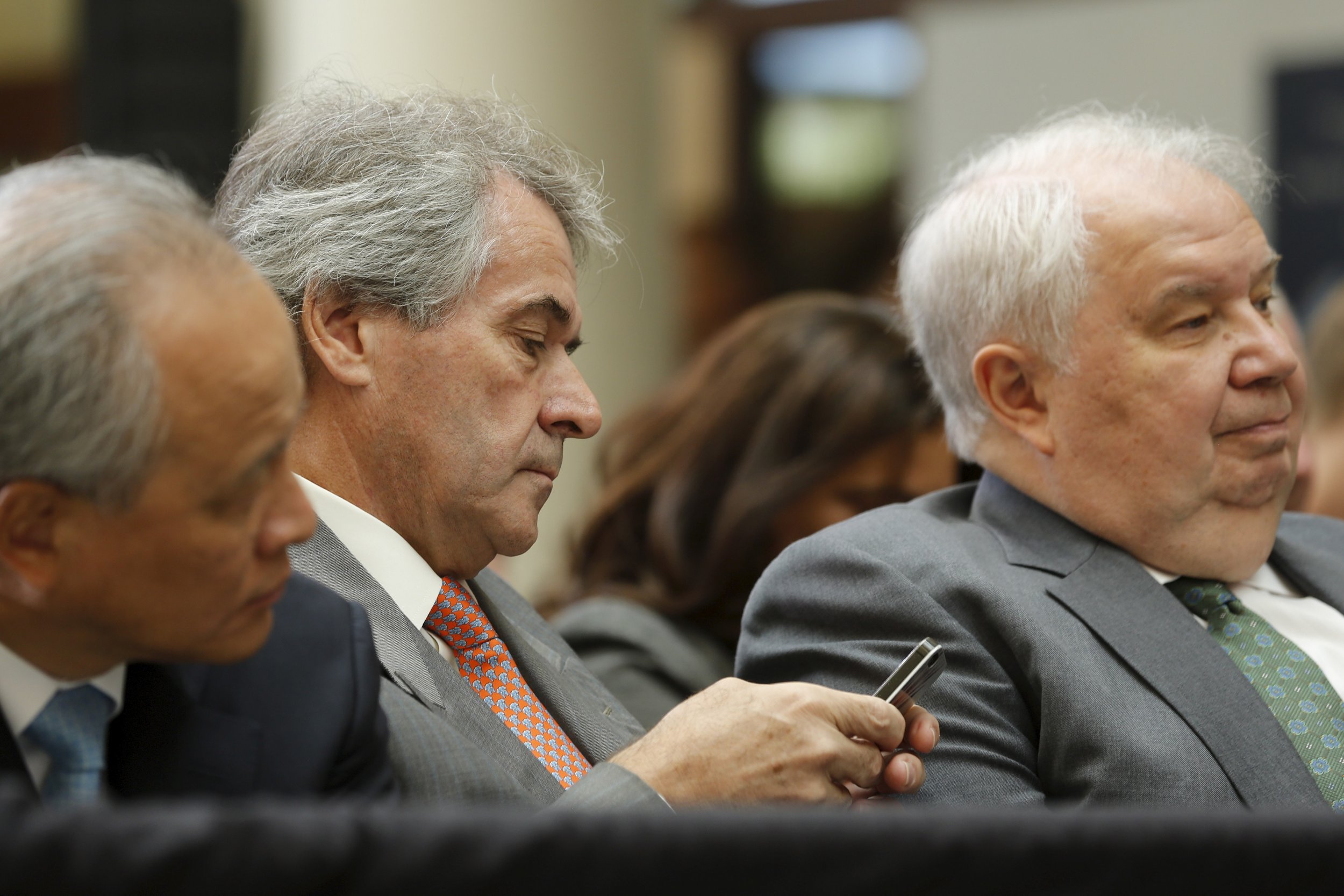 Sergey Kislyak, Russia's Ambassador to the U.S., could soon find himself out of the job as Russian state and independent media report Moscow is looking for a replacement.
Kislyak is a key figure in reports about the FBI's investigation of possible ties between members of U.S. President Donald Trump's staff and Russia. In February, Trump's National Security Adviser Mike Flynn resigned after misleading the administration about his prior contacts to Kislyak. (His contacts with Kislyak were extensive, including discussion of sanctions, something he had denied.) Though the Kremlin has refused to confirm whether or not Kislyak's sojourn in Washington is nearing its end, Russian officials have expressed concern that the Flynn controversy will impede his ability to do his job.
Read More: Russia laughs off Trump intelligence sharing reports
Senator and speaker of Russia's upper house, Valentina Matvienko said in April that the scandal surrounding Flynn affected Kislyak's role, suggesting the U.S. had "simply isolated him, creating obstacles to him carrying out his diplomatic mission."
On Thursday, rumors that Kislyak could be out as soon as July surfaced in business daily newspaper Kommersant, which cited anonymous sources in the government that said Kislyak's replacement would be confirmed by parliament by the end of May. The Kremlin spokesman Dmitry Peskov dismissed the rumors and issued a statement saying, "if and when the president signs the relevant decrees, we will announce it." The Kommersant report also said that Kislyak was being lined up for the a role in the United Nations, likely a head of counterterrorism position at under secretary-general level; this would be a new position potentially resulting from "streamlining" in the U.N.
Further media reports have suggested that the search for a replacement ambassador to the U.S. has continued. According to a parliamentary source speaking on the condition of anonymity to state news agency RIA Novosti on Tuesday, Russia's top house of parliament will consider Deputy Foreign Minister Anatoly Antonov for the role next week. Leaks about senior staff changes within the state media apparatus usually indicate at least an intention of gauging public reaction about the idea, if not reflecting a foregone conclusion.
Antonov, who is an expert in nuclear diplomacy and deproliferation, was promoted into his current role by Russian President Vladimir Putin in December 2016, after serving as a deputy defense minister. Prior to his appointment to the Ministry of Defense, Antonov headed the Foreign Ministry's security and disarmament department.
A representative for the Russian Embassy in the U.S. refused to confirm reports that Kislyak could leave his role soon, referring Newsweek to Peskov's statement that the Kremlin would announce any such change. A different spokesman played down the role scandals such as the one surrounding Flynn played in Moscow's executive decision making.
"I'm afraid 'strong media focus' based on fake news in the U.S. has zero influence on decision making process in Russia," says Nikolay Lakhonin, press secretary of the Russian Embassy.
However, a former diplomat suggests Kislyak is on his way out. "When I saw Kisylak last month he confirmed that he would be leaving soon," former U.S. Ambassador at large to the former Soviet Union, Steve Sestanovich tells Newsweek. "He's been here almost nine years—a typical stint for a Russian ambassador in Washington, but extremely long for any other diplomat. It's hard to imagine he'll be getting any more Oval Office visits in the foreseeable future."
Anders Aslund, Russia expert at the Atlantic Council, says Kislyak's departure may be coming soon but more likely as a result of his age than the Flynn scandal. He is 66 years old and his tenure in the embassy is nearing its ninth year, which is when his predecessor Yuri Ushakov moved on.
"Kislyak was going to retire because of age. He had to stay on longer than expected because of the situation in the U.S. otherwise he would have been replaced earlier," Aslund says, referring to the period of deteriorating relations under the former U.S. administration. "He stayed for longer than originally expected. Otherwise he is at retirement age."
Whether Kislyak has retirement plans remains an open question, given the reports about the position at the United Nations position.
His suggested replacement in Washington, Antonov, is "very much a career diplomat—a successful career diplomat," Aslund says. Like Kislyak, Antonov seems neutral within Russia and does not appear to be a politician "of any particular person" that wields unofficial influence in the Russian establishment, Aslund says.
Former ambassador to Georgia and Kazakhstan William Courtney, adjunct senior fellow at RAND, an American armed forces think tank, says the arrival of Antonov has been "planned for some time," likely before the Flynn scandal.
"Antonov seems like the next logical step," he says. "He is coming [to the U.S.] at a time of very strained relations—more strained that at any time since [final leader of the Soviet Union] Mikhail Gorbachev," Courtney says. Antonov's job will be made harder because of the Flynn scandal, and because of the overarching "Russia question" in the U.S. regarding ongoing investigations into possible Russian influence on the election and controversies surrounding Trump's own actions on related issues. Courtney says that among U.S. officials, "there will be more wariness to meet privately with the Russian ambassador, but the key issues he will deal with will be much broader—relating to Russian interference in general."
"Antonov will be walking into a situation which is more complex than at any time in the last 30 years given the bipartisan concern [over] Russian activities in the U.S.," he adds.
Russia's Ministry of Foreign Affairs did not respond to Newsweek's request for comment.