Russia Anchorman Known As 'Putin's Voice' Wants Moscow to Take Stonehenge
Russian state TV personality Vladimir Solovyov suggested that Russia invade the United Kingdom next, saying he'd like to see Moscow take Stonehenge.
Solovyov, who has close ties with Vladimir Putin and has been called "Putin's voice," said on his Russia-1 program, Evening with Vladimir Solovyov, that Russia could invade the U.K. next. When asked by Ukrainian political analyst Vasil Vakarov how far Russia would be willing to go before stopping, Solovyov replied, "Well, when we have to, then we will."
"Where will we stop? Well, as I was saying today, maybe Stonehenge. Liz Truss says she's the one fighting the war," Solovyov said according to The Independent.
Stonehenge, the historic landmark in England that lies in Salisbury Plain in Wiltshire, is currently being used to celebrate Queen Elizabeth II's 70th anniversary.
Truss, Britain's foreign secretary, has been at odds with Russian media since the invasion for refusing to compromise with Putin on the subject of Russia's invasion of Ukraine.
Truss told G7 and NATO leaders at a meeting in Germany at the beginning of May that "Putin is humiliating himself on the world stage. We must ensure he faces a defeat in Ukraine that denies him any benefit and ultimately constrains further aggression."
This is not the first time Russian state TV has threatened Britain or Europe in general. In April, the Putin propagandist Solovyov threatened the U.K. with the possibility of nuclear annihilation via the Sarmat, a Russian ballistic missile. Solovyov said on his show, "One Sarmat means minus one Great Britain because they've gotten totally boorish."
In another episode, accompanied on his show by journalist Margarita Simonyan, he comforted the world to the possibility of nuclear war. Simonyan said in April, "Everything will end with a nuclear strike is more probable than the other outcome. This is to my horror, on one hand, but on the other hand, with the understanding that it is what it is."
Solovyov added, "But we will go to heaven, while they will simply croak."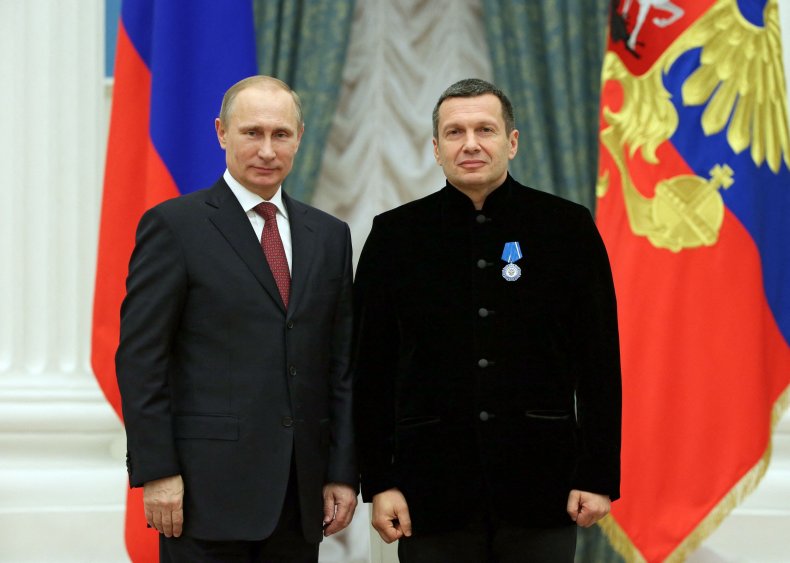 Besides threatening the U.K. on Monday, Solovyov was questioned on his show about his villas in Italy after he called Italians "fascists."
According to a roughly translated tweet, the TV host was asked why he purchased four villas in Italy if he thought Italians were fascists, to which he reportedly replied, "When I bought, the Italian people remembered and loved the Russians."
Solovyov has previously railed against the country of Italy on air after three of his villas were seized by Italian police as sanctions against oligarchs took place in response to the war in Ukraine.
Newsweek reached out to the Russian defense ministry for comment.