Russia and Ukraine: Ukrainian Troops Sent to Russian Border Amid Fears of an Invasion
Ukraine has started calling up reservists and sent troops to its border with Russia as tensions continue to simmer between the two nations.
Petro Poroshenko, Ukraine's president, announced the decision on Monday, saying it was in response to a "sharp increase in Russian forces along our borders and in occupied Crimea," British newspaper The Telegraph reported. On Sunday, the Ukrainian leader warned that Moscow had ambitions to capture the port city of Mariupol to create a corridor to the disputed Crimean peninsula.
Just over a week ago, Russia blocked three Ukranian naval ships from passing from the Black Sea to the Sea of Azov, which both countries technically share under a 2003 treaty. Moscow's forces seized Ukraine's ships and detained 24 Ukrainian sailors. Poroshenko then declared martial law in 10 regions of his country that are either in proximity to the Russian border or regions where Russian-backed separatists rebels have taken control.
Get your unlimited Newsweek trial >
According to the Ukrainian president, the Kremlin's forces have about 80,000 troops, 2,300 armored vehicles, 1,400 artillery and missile systems, 900 tanks, 500 airplanes and 300 helicopters stationed in occupied portions of Ukraine. But Russian presidential spokesman Dmitry Peskov has called Poroshenko's claims "absolutely absurd" and blamed Ukraine for "provoking tensions," Russian media reported. The Kremlin has repeatedly claimed that upcoming elections in Ukraine are the reason behind the Ukrainian president's accusations, arguing that the leader wants to distract from his low polling numbers.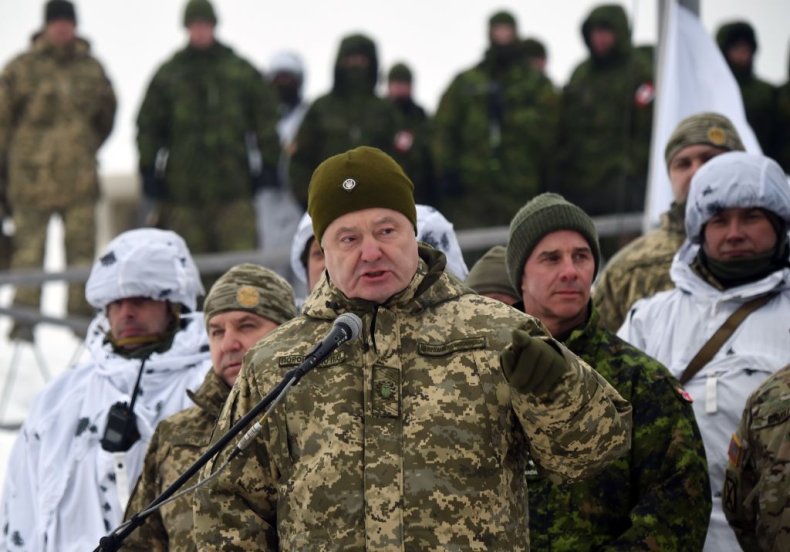 Poroshenko last week urged NATO to come to his country's aid in the conflict. Although Ukraine is not a member of the international military alliance, it is a partner. The organization's Secretary-General Jens Stoltenberg has demanded that Russia release the captured seamen as well as return the ships it has taken.
"Russia recently seized Ukrainian ships and sailors near the Kerch Strait. There is no justification for this use of force. We call for calm and restraint. Russia must release the Ukrainian sailors and ships," Stoltenberg said, Radio Free Europe reported.
Get your unlimited Newsweek trial >
Tensions have been high between Moscow and Kiev since 2014, when Russian-backed rebels took control of Crimea and several other regions of Ukraine. The Kremlin was quick to annex Crimea, claiming the territory as part of Russia.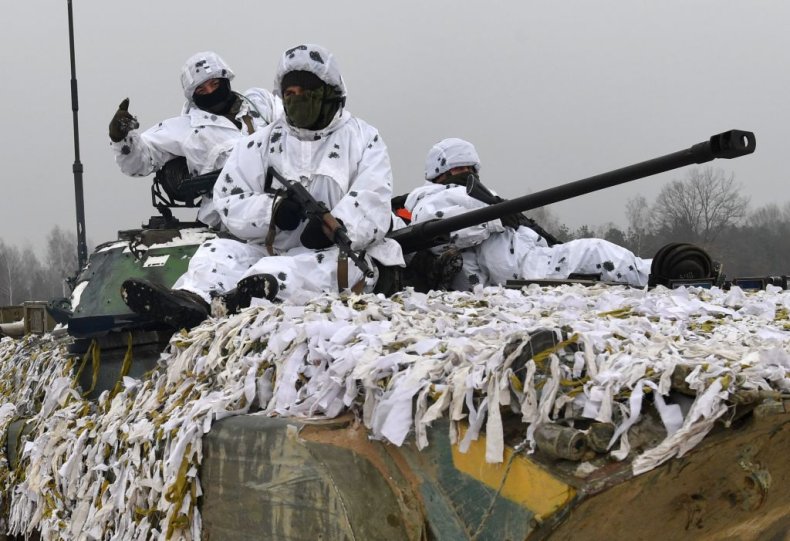 Although President Donald Trump has often voiced admiration for the leadership of Russian President Vladimir Putin and has previously appeared to support Moscow's claim to Crimea, he has provided weapons to Ukraine in the ongoing conflict. Trump also announced Thursday that a planned summit with Putin at the G20 Summit in Argentina had been canceled, citing the crisis in Ukraine.
Nikki Haley, Trump's ambassador to the United Nations, slammed Russia's actions last Monday, demanding that Moscow "immediately cease its unlawful conduct and respect the navigational rights and freedoms of all states."
Russia and Ukraine: Ukrainian Troops Sent to Russian Border Amid Fears of an Invasion | World