Russia and Vladimir Putin Tried to Interfere in Midterm Elections, Secretary of Defense Says
Russia continues to try to influence U.S. elections and even tried to "muck about" in the U.S. midterms in November, Secretary of Defense James Mattis said Saturday.
Speaking to reporters on the sidelines of the Reagan National Defense Forum in California, Mattis said that the U.S. relationship with Russia is getting worse and that U.S. intelligence agencies had seen a "continued effort" to meddle in U.S. elections and internal affairs.
"I don't know that the effort has increased but it has continued," Mattis told Fox news. "He [Putin] tried again to muck around in our election this last month, and we are seeing a continued effort on those lines."
U.S. intelligence agencies said that there was no evidence in the run up to the 2018 elections that Russia or any other foreign government had attempted to compromise the election by hacking into voting booths or attempting to alter voting records. But they also said that Russia had continued with its efforts to spread propaganda and misinformation in an attempt to influence voters.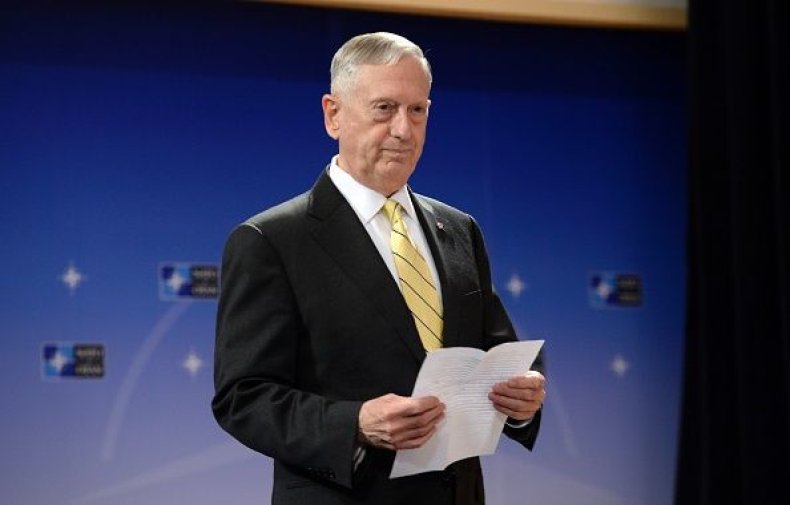 "Americans should be aware that foreign actors—and Russia in particular—continue to try to influence public sentiment and voter perceptions through actions intended to sow discord," reads a joint statement from the Secretary for Homeland Security Secretary Kirstjen Nielsen, former Attorney General Jeff Sessions, Director of National Intelligence Dan Coats, and FBI Director Christopher Wray on the day before the midterm elections.
"They can do this by spreading false information about political processes and candidates, lying about their own interference activities, disseminating propaganda on social media, and through other tactics," the statement continues.
U.S. intelligence agencies also unanimously concluded that Russia attempted to interfere in the 2016 presidential election in order to hurt the chances of Hillary Clinton's presidential campaign. Special Counsel Robert Mueller is now investigating whether members of the Trump campaign collaborated with Russia in this endeavor.
President Donald Trump has repeatedly claimed that there was "no collusion" with Russia. But on Friday, Trump's longtime lawyer and fixer Michael Cohen pleaded guilty to having lied to Congress about the timeline of Trump's efforts to establish a Trump Tower in Moscow. The President continued to push for a real estate deal in Russia until June 2016, long after his campaign for President began.
In October, Mueller's team indicted a Russian woman for having attempted to influence the 2018 midterms.
Prosecutors said that 44-year-old Elena Khusyaynova managed the funds for "Project Lakhta," which aimed to "sow discord in the U.S. political system" by spreading misinformation online about contentious political issues. It is unclear where Khusyaynova is or whether she will face justice in the U.S.
Yevgeniy Prigozhin, a Russian oligarch who is a close ally of Russian President Vladimir Putin, allegedly financed and ran Project Lakhta. Prigozhin has been nicknamed Putin's chef because he runs a catering company that works for the Kremlin.
He also runs the Russian troll factory known as the Internet Research Agency, which unleashed an army of bots to spread fake news during the 2016 presidential campaign. Special Counsel Mueller indicted Prigozhin in February for attempting to interfere in the 2016 midterm elections.
In the runup to the 2018 midterms,U.S. Cyber Command reportedly sent messages to specific Russian operatives to deter them from spreading disinformation to influence the elections, telling the actors that they had been identified and were being watched.