Moscow has lost 42 artillery systems, 47 unmanned vehicles and one of its submarines in the Black Sea over the past 24 hours, Kyiv's military said on Thursday, after Ukraine launched a missile barrage on Russia's main naval base in Crimea.
Moscow's forces have lost a total of 5,944 artillery systems in more than 18 months of war, Ukraine's General Staff said on Thursday, adding that the Kremlin's fighters have lost 4,697 drones since February 24, 2022.
In an update posted to social media, Ukraine's military said it had also taken out one Russian surface vessel over the past day, as well as what appears to be the first Russian submarine taken out of action since Russia invaded Ukraine last year. Newsweek could not independently verify Ukraine's tallies, and has reached out to Moscow's Defense Ministry for comment via email.
Throughout the war in Ukraine, experts have described the conflict as one heavily focused on artillery and the fast-paced development of unmanned technology. Drones have dominated analysis of Ukrainian operations, playing a key role in Ukrainian intelligence, reconnaissance and strike operations.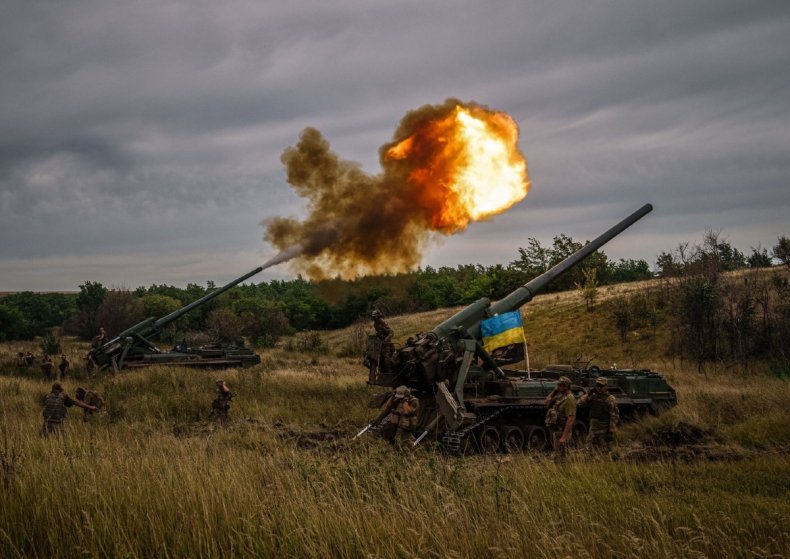 But in a dramatic attack on Wednesday, Ukraine launched 10 cruise missiles at Russia's naval base at Sevastopol, damaging two vessels in the Crimean Black Sea base of Sevastopol. Ukraine also deployed three uncrewed naval drones against Moscow's vessels in the Black Sea, Russia said.
Air defenses shot down seven of the cruise missiles, Moscow said, which were thought to have been British-supplied Storm Shadow air-launched cruise missiles, Britain's Sky News reported, citing a Western and Ukrainian source. These missiles have a range of more than 150 miles, and can be launched from Kyiv's combat aircraft.
But one Russian landing ship and a Russian submarine were damaged at the Ordzhonikidze shipyard, Ukraine's military intelligence agency told Ukrainska Pravda.
The damaged vessels, thought to be the Minsk landing ship and the Rostov-on-Don Kilo-class submarine, were undergoing repairs in Sevastopol, Russia said, adding they "will be fully restored and continue combat service in their fleets." However, this was contradicted by Ukrainian military intelligence spokesperson, Andriy Yusov, who said it was "highly likely" Russia's vessels "are beyond repair."
"It really is the biggest attack on Sevastopol since the beginning of the war," Andriy Ryzhenko, a retired Ukrainian navy captain, told Reuters.
Lieutenant General Mykola Oleshchuk, the head of the Ukrainian Air Force, said in a post to social media that he wanted to thank Ukraine's pilots "for excellent combat work."
Mikhail Razvozhaev, the Kremlin-backed governor of Sevastopol, said in a statement that a fire had broken out and 24 people had been injured.