Russia Bars U.K. Prime Minister Boris Johnson From Entering Country
Russia has banned U.K. Prime Minister Boris Johnson and other senior British politicians from entering the country and strongly criticized the U.K. for its recent actions.
The Russian Foreign Ministry issued a statement on Saturday morning saying that Johnson and 12 other British politicians had been placed on a "stop list" and would not be permitted to enter the country.
The Foreign Ministry cited what it described as "the unprecedented hostile actions by the British government" and singled out "in particular the imposition of sanctions against senior Russian officials."
Others on the list included Foreign Secretary Liz Truss, Defense Secretary Ben Wallace and former Prime Minister Theresa May.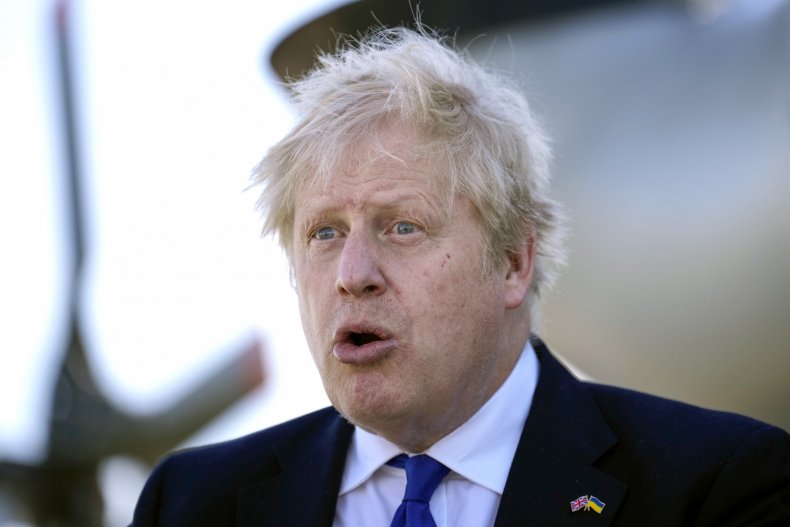 The U.K. government has been highly supportive of Ukraine since the Russian invasion began on February 24. Johnson visited the capital city of Kyiv on April 9 and described Ukrainians as having "the courage of a lion." The prime minister said President Volodymyr Zelensky "has given the roar of that lion."
The Russian Foreign Ministry accused the U.K. leadership of "deliberately aggravating the situation around Ukraine, pumping the Kyiv regime with lethal weapons and coordinating similar efforts on the part of NATO."
The U.K. announced on April 8 that it would provide a new £100 million package (around $130 million) of military aid to Ukraine that will include Javelin anti-tank systems, NLAW anti-tank missiles and other supplies.
Also included among the sanctioned politicians were Finance Minister Rishi Sunak, Deputy Defense Secretary James Heappey and the first minister of Scotland, Nicola Sturgeon.
Sturgeon is not a member of Johnson's ruling Conservative Party but is the leader of the Scottish National Party (SNP). In March, she pledged £15 million (about $20 million) in support for Ukrainian refugees arriving into Scotland.
On Wednesday, U.K. Foreign Office Minister James Cleverly spoke in Chicago about the war in Ukraine and said that Russian President Vladimir Putin had made a "strategic error" in believing his attack on Ukraine would weaken western democracies, according to the Chicago Tribune.
"He was clearly not listening to the people who should know better or didn't know better and pursued this ego-driven attack on Ukraine," Cleverly said. "And then, when the messy, untidy democracies of the liberal world saw what happened, instead of falling apart like he thought we would, we pull together because that's what we do."
Cleverly was not named in the sanctions list published on Saturday but the Russian Foreign Ministry said the list would be expanded to include other British politicians.
Russia imposed sanctions on 398 members of the U.S. House of Representatives on Wednesday in tit-for-tat measures after the U.S. sanctioned 328 members of the Russian State Duma. President Joe Biden was also banned from entering Russia in March.
Newsweek has asked 10 Downing Street for comment.
Update 04/16/22, 7:10a.m. ET: This article was updated to include more information.