Russia Begins Vaccinating 400,000 Military Personnel Against COVID
Russia has started the mass inoculation of its armed forces against COVID-19 and is scaling up manufacturing of its flagship vaccine amid a record number of new daily cases.
Russian defense minister Sergei Shoigu said on Friday that 2,500 military personnel had already been vaccinated and tens of thousands more would receive the jab by the end of the year.
"In accordance with the instructions of the president, the vaccination of military personnel against the new coronavirus infection has begun. In total, it is planned to vaccinate more than 400,000 servicemen," he told a military department meeting, according to the news agency Tass.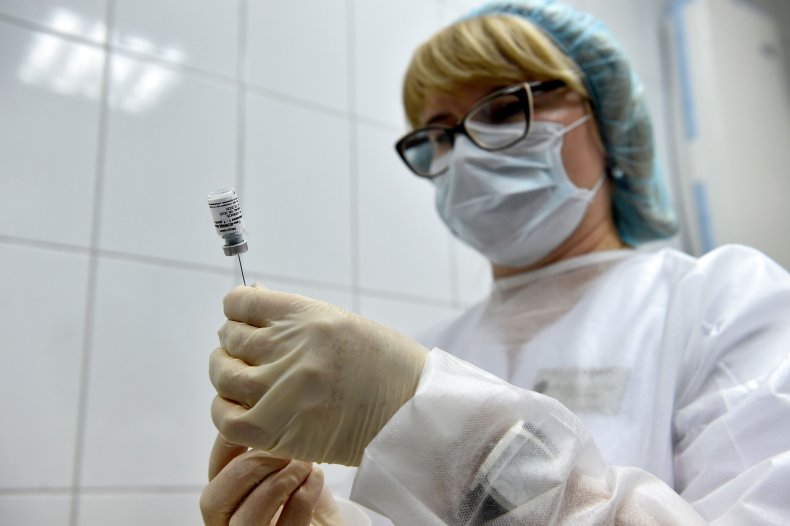 Shoigu added that 500 military personnel had been involved in a COVID-19 experiment in which they were tested with plasma containing a high number of antibodies. He said it "has already shown its effectiveness in severe forms of the disease."
Russia is working on several COVID vaccines and the government has touted the most prominent—Sputnik V, developed by Gamaleya Research Institute—as having 95 percent effectiveness.
The institute said in a statement patients would need two doses that would be available for $10 each, making it "cheaper than mRNA vaccines with similar efficacy levels." This is a reference to the vaccines being developed by Pfizer/BioNTech and Moderna. Sputnik V will be free for Russian citizens.
On Friday, it was announced that Indian pharmaceutical company Hetero would manufacture more than 100 million doses of Sputnik V under a deal with Russia's RDIF sovereign wealth fund, Reuters reported.
Siberia's Vector Institute is developing a vaccine called EpiVacCorona, but it said additional shots would be required up to 10 months after the first two jabs and then every three years. The institute said on Friday it could produce up to 5 million doses of its vaccine each year.
Russia's announcement in August that it was the first country to approve a vaccine sparked concerns over transparency and whether the development had been rushed.
It comes as Russia confirmed a record 27,543 infections in a day on Friday as hospitals struggle to cope with a second wave of the virus. With more than 2 million infections, Russia is the fifth most affected country in the world, behind the U.S., India, Brazil and France.
Anastasia Rakova, deputy mayor of Moscow, which is the epicenter of the disease, said up to 1,700 new patients were being hospitalized each day. "The situation with coronavirus in Moscow remains very tense," she said.
The graphic below provided by Statista gives a snapshot of coronavirus cases around the world this week.