Russia Optimistic That Joe Biden Will Extend New START Nuclear Weapons Deal
The Kremlin has welcomed the suggestion by the incoming U.S. administration that it wants to extend the bilateral arms control treaty that expires within days of Joe Biden taking office.
Biden's choice for secretary of state, Antony Blinken, has said the administration "will seek to extend" the New START treaty, also called START-3.
The agreement signed in 2010 restricts Russia and the U.S. to deploying no more than 1,550 nuclear warheads and limits the missiles and bombers that deliver them. It lapses on February 5 amid concerns that no agreement before then could fuel a new arms race.
The terms of the treaty allow for it to be extended for five years with the agreement of the U.S. and Russian presidents.
"He'll have to make a decision as president about what duration he would seek," Blinken said on Tuesday, hinting that the U.S. might try to extend the deal by less than five years.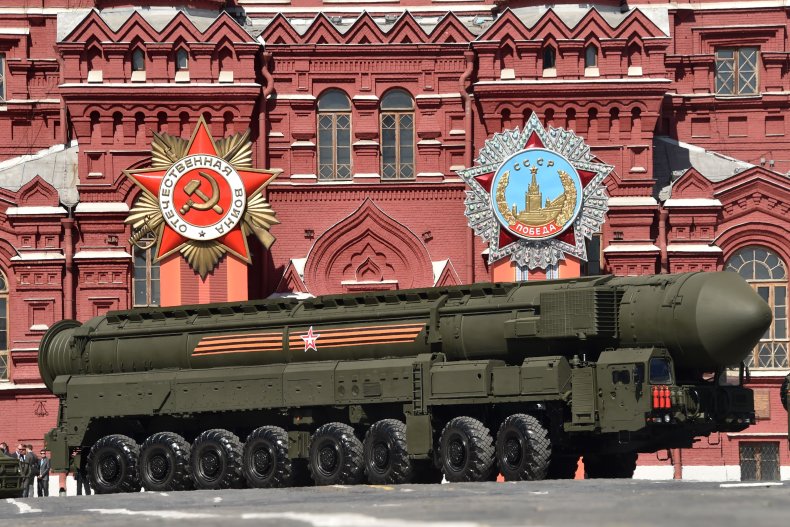 After Blinken's comments, Kremlin spokesman Dmitry Peskov said on Wednesday that "it is only possible to welcome" an extension.
He added: "Russia and the president of Russia have consistently advocated the preservation of this most important cornerstone document from the point of view of global strategic stability and security," Tass reported.
On November 30, nearly 30 U.S. arms control experts urged Biden to agree to a full five-year extension without conditions. The bilateral deal is an early challenge for the 46th president as he enters office with relations between Russia and the U.S. at a historic low.
The deputy chief of Russia's Security Council, Dmitry Medvedev, who signed the treaty in 2010 during his term as president, said he was "optimistic" a deal could be struck on New START, although he accused Biden of "harsh, even aggressive" rhetoric toward Moscow in an op-ed for news agency Tass last week.
Medvedev's comments signify the tensions that Biden will have to navigate in the early days of his presidency. The former leader of the Soviet Union, Mikhail Gorbachev, said this week the relationship between Russia and the United States was "of great concern," but suggested that an early agreement on the arms deal could help.
"It is necessary to extend New START, and this is real, the more so since Biden advocated this during his election campaign," Gorbachev wrote in an op-ed published on Wednesday by Tass.
He said it was essential "not so much in terms of the scale of reductions, but in terms of stability and control." He said inspections, notifications and consultation mechanisms were "very important, they must not be destroyed."
"And after the treaty has been extended, we must move on. In two or three years' time, a more ambitious treaty can be negotiated," Gorbachev added.
Mathieu Boulègue, a research fellow on Russia and Eurasia at the Chatham House think tank in London, said extending New START was "a more than welcome move."
"It preserves what little is left of the Cold War arms control regime and aims to bring more transparency in a dwindling strategic stability environment, " he told Newsweek.
"The extension is not the sign of a 'reset' with Russia, nor does it mean that the new U.S. administration will try to create an overture towards the Kremlin.
"This simply means Russia and the U.S. can work sufficiently well on issues of strategic concern when they affect the core of national security despite the state of bilateral relations."