Russia's Defense Ministry has said one of its vessels fired warning shots at a British Royal Navy ship because it had violated Russian waters.
Moscow's claim, which has been denied by Britain's Ministry of Defense, came on a day when Russian President Vladimir Putin criticized NATO's military buildup near his country's borders, which he said could lead to "unpredictable incidents."
Moscow said in a statement that just before midday on Wednesday, HMS Defender, operating in the northwestern part of the Black Sea, had "crossed the state border of the Russian Federation and moved 3 kilometers (1.86 miles) into the territorial sea near Cape Fiolent," according to Russian state news agency Tass.
It said that a Russian border guard patrol ship "conducted warning fire" and a Su-24M aircraft "carried out preventative bombing," along the route of the British vessel which "left the territorial sea of the Russian Federation at 12.23 p.m."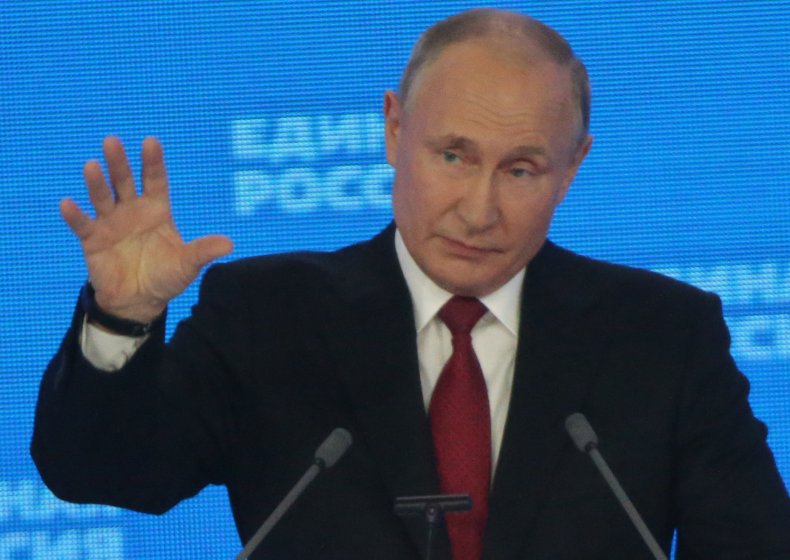 However, the British defense ministry said in a statement that "no warning shots have been fired at HMS Defender."
"The Royal Navy ship is conducting innocent passage through Ukrainian territorial waters in accordance with international law," it added.
"We believe the Russians were undertaking a gunnery exercise in the Black Sea and provided the maritime community with prior-warning of their activity.
"No shots were directed at HMS Defender and we do not recognise the claim that bombs were dropped in her path."
Meanwhile, a BBC correspondent on board HMS Defender said the British vessel had been harassed by the Russian military.
The outlet's defence correspondent, Jonathan Beale, described how there had been hostile radio warnings and aircraft had buzzed the vessel from overhead, with the British crew getting ready for the possibility of a confrontation.
Beale reported that the captain had said the vessel was seeking safe passage through an internationally-recognized shipping lane as it headed to Georgia.
Beale said that two Russian coast guard ships had shadowed HMS Defender and tried to force it to change course, getting as close as only 300 feet away.
"There have been at times more than 20 aircraft above the warship and there have been warnings from Russian coastguard vessels and indeed we have heard shots fired, we believe they were out of range," he said.
Moscow claims Crimea and its waters, illegally annexed from Ukraine in 2014, are Russian territory. A Downing Street spokesman said that HMS Defender "was taking the most direct and internationally recognized route between Ukraine and Georgia."
The U.K. ambassador has been summoned to Russia's Foreign Ministry over the incident which add to tensions in the Black Sea region with Moscow likely to have considered a British ship so close to its waters as a provocation.
In April, Russia test-fired a supersonic anti-ship cruise missile ahead of NATO military exercises in the region. Moscow looks to defend its Black Sea assets including Crimea, which it annexed in 2014, and the Sea of Azov, where the Kerch Strait has been closed to non-Russian ships until late October.
Also on Wednesday—a day after he called NATO a "relic of the Cold War" in an op-ed in German newspaper Die Zeit, Putin took another opportunity to criticize the alliance.
"We cannot but be concerned about the ongoing build-up of NATO's military capabilities and infrastructure near Russian borders," Tass reported.
He said that the alliance "refuses to constructively consider our proposals to de-escalate tensions and reduce the risk of unpredictable incidents," in a video message to the Moscow conference on international security.
However, Putin did express a note of optimism, saying in his video message that Russia was committed to resolving differences through dialogue and that he hoped common sense "will prevail in the end."
Newsweek has contacted the U.K. and Russian Ministries of Defense for comment.
Update 6/23/21, 11:30 a.m. ET: This article was updated with additional information.