Vladimir Putin Accuses U.S. Of Organizing Coup in Ukraine
Russian President Vladimir Putin has said the 2014 overthrow of Ukraine's then-President, Viktor Yanukovich, was the result of a coup organized by the U.S. and backed by the rest of Europe.
Yanukovich was removed from office following an uprising by his country's opposition, spurred by his rejection of a trade deal with the EU in favor of closer ties with Moscow.
In an op-ed in the German newspaper Die Zeit to mark the 80th anniversary of the Nazi invasion of the Soviet Union, which ushered the Red Army's entry into World War II, the Russian president reiterated the position of the Kremlin and Yanukovich—a Putin ally— that the revolution had been facilitated by the West.
Putin wrote that the west had promoted "mutual distrust" with Moscow following the end of the Cold War with NATO expansion in which post-Soviet and eastern European countries were given a choice to side with the West or with Russia.
"In fact, it was an ultimatum," Putin wrote, "the consequences of such an aggressive policy can be seen in the example of the Ukrainian tragedy of 2014," he said which Europe had "actively supported."
"Why did you need to do this?" he said in the piece which was also released on the Kremlin website. "Why did the United States organize a coup?" he wrote.
"Why did the countries of Europe weakly support it, provoking a split in Ukraine itself and the withdrawal of Crimea from its composition?" he added, in his description of Moscow's annexation of the peninsula that year.
Newsweek has contacted Ukraine's ministry of foreign affairs for comment.
Putin also took aim at NATO which has been carrying out large-scale military exercises such as the annual Sea Breeze drill in the Black Sea. In turn, Russia has carried out its own drills and sparked alarm when it built up troops along its border with Ukraine.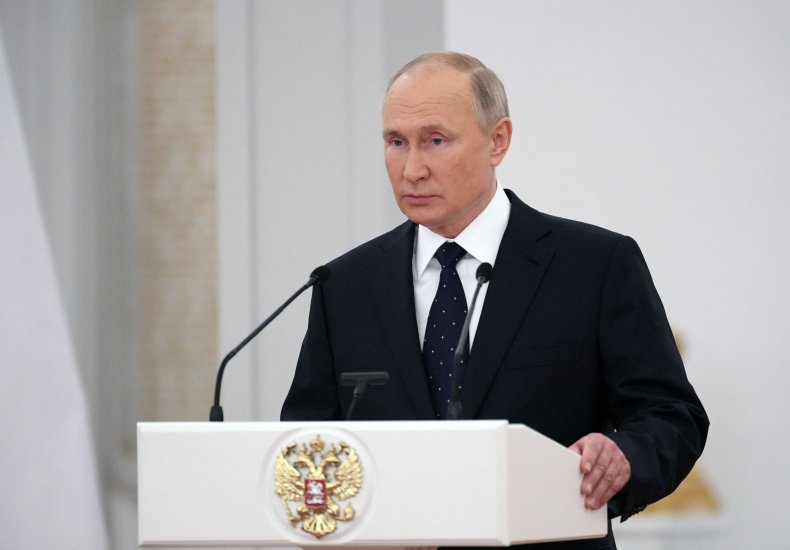 "We hoped that the end of the Cold War would be a common victory for Europe," Putin said in the article.
"But a different approach has prevailed based on the expansion of NATO, a relic of the Cold War." He said the addition of 14 new countries to the alliance, including post-Soviet republics, had dashed hopes "for a continent without dividing lines."
"Russia stands for the restoration of a comprehensive partnership with Europe," Putin said in the piece in which he praised the role that Soviet soldiers and the country's population played in defeating the Nazis in what Russians call the Great Patriotic War.
To mark Tuesday's anniversary, Putin laid a wreath at Moscow's Tomb of the Unknown Soldier outside the Kremlin walls in a ceremony attended by veterans and Russian Armed Forces officers.
He said at the ceremony that Nazi Germany had been defeated by "the spiritual unity, solidarity and mass heroism of the Soviet people."