Russia Vows to 'React If Necessary' to Increased NATO Activity in Ukraine
Russia has vowed to monitor NATO developments in eastern Ukraine and "react if necessary" to protect its military interests in the region, as the transatlantic alliance prepares for its annual Sea Breeze drill in the Black Sea at the end of the month.
Moscow's defense spokesman, Major General Igor Konashenkov, made the comments on Wednesday, ahead of the NATO exercise set to take place between June 28 and July 10. Sea Breeze will bring together forces from Ukraine, the United States, Canada, the U.K., the Netherlands, Romania, Bulgaria, Greece, Turkey, Latvia and partner nations.
Although NATO says the drill is not aimed at Russia, Moscow has warned that the military exercise extends well beyond what it calls Ukraine's own Black Sea zone.
"The Defense Ministry of the Russian Federation will closely follow the preparations for and the course of the Ukrainian-American exercise Sea Breeze with the involvement of NATO countries and will, if necessary, react appropriately to the developing situation in the interests of ensuring Russia's military security," Konashenkov said in a statement published through TASS, the Russian news agency.
The 30-nation alliance plans to engage up to 4,000 military personnel, 40 combat ships and vessels, 30 aircraft and more than 100 motor and armored vehicles in the Sea Breeze exercise, according to the Russian Defense Ministry.
The drill will be held "amid the Western countries' incessant accusations of Russia's alleged efforts to build up its military potential in the country's southeastern frontiers," Konashenkov added.
Tensions between Moscow and Kyiv have been high since Russia seized Crimea from Ukraine in 2014 and backed a pro-Russian separatist movement. NATO suspended co-operation with Moscow in response to the Ukraine crisis.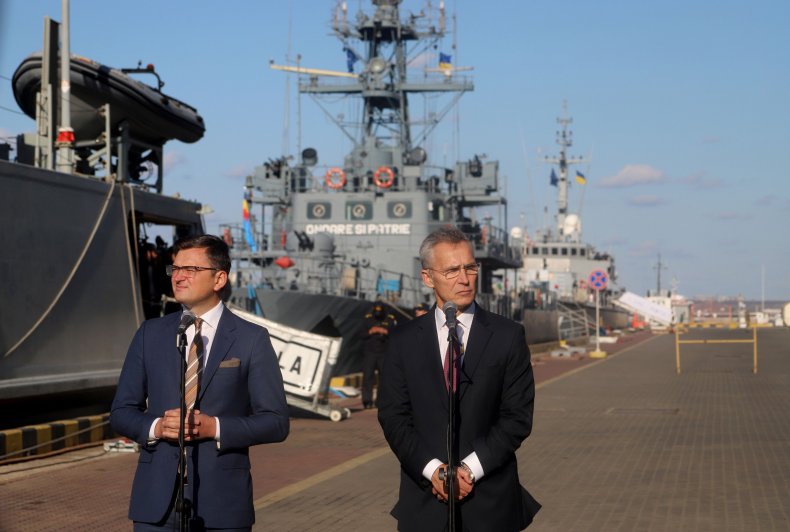 On Monday, Russia's defense minster Sergei Shoigu announced that his military would form 20 new units in the country's west this year to counter what it says is a growing threat from NATO. Shoigu cited a growing number of flights by U.S. strategic bombers near Russia's borders, deployments of NATO warships and increasingly frequent drills by alliance forces. The minister said military units in western Russia had commissioned about 2,000 new pieces of weaponry this year.
Reacting to the news, NATO Secretary-General Jens Stoltenberg told reporters on Tuesday that one of the main reasons the alliance had increased its capability in the region was because Russia "has been willing to use military force against neighbors in Georgia, in Ukraine."
Ukraine will be high on the agenda when U.S. President Joe Biden meets his Russian counterpart Vladimir Putin for a summit in Switzerland on June 16.