Russia Nuclear Bombers Fly Near Alaska, U.S. Jets Follow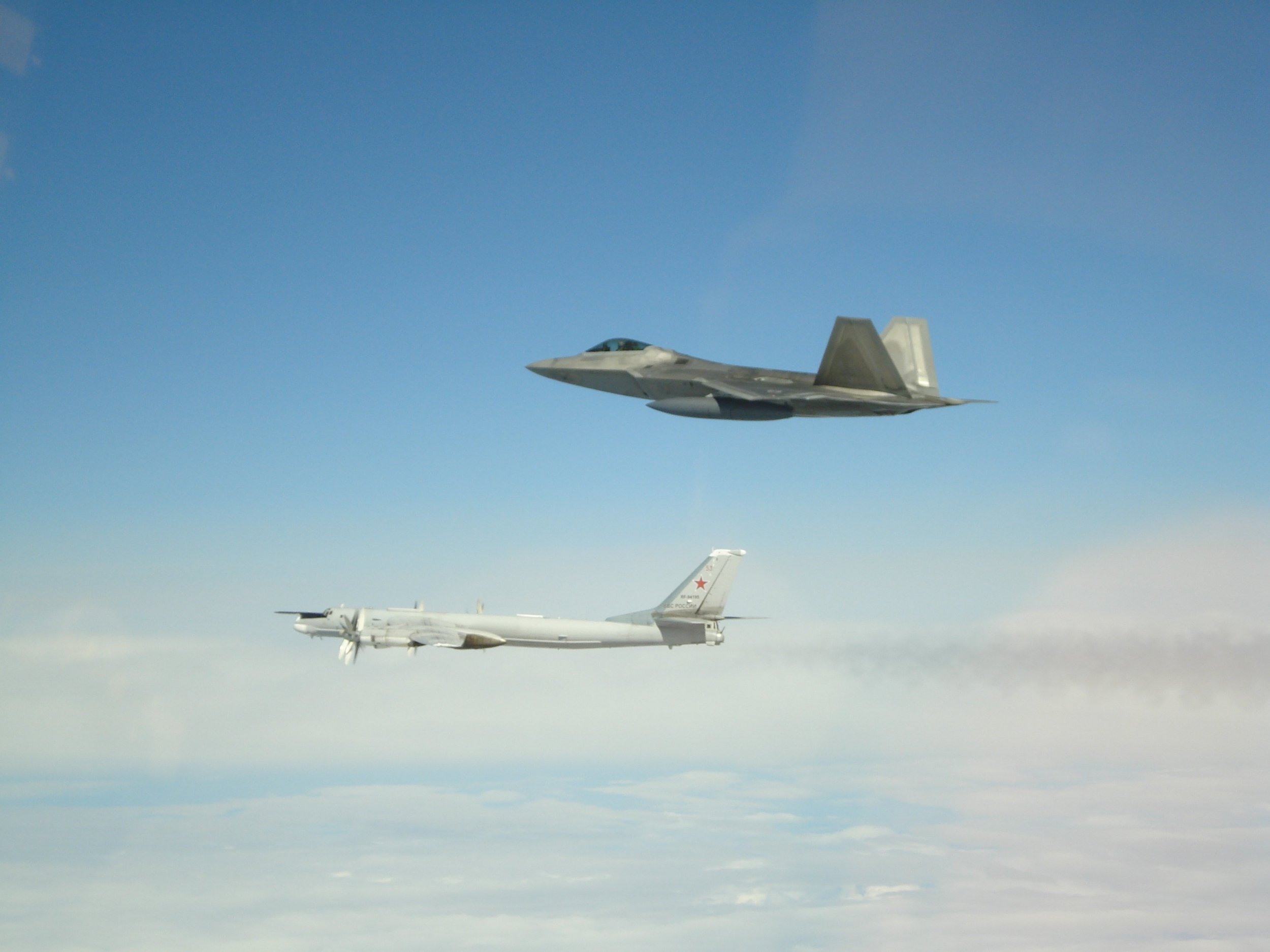 Nuclear-capable Russian bombers flew off the coast of Alaska, prompting U.S. Air Force fighter jets to intercept them.
The Russian Defense Ministry said Tuesday in a statement that "four Tu-95MS strategic missile carriers of the Russian Aerospace Forces made scheduled sorties over the neutral waters of the Chukotka, Bering and Okhotsk seas, as well as along the western coast of Alaska and the northern coast of the Aleutian Islands." The entire flight lasted longer than 12 hours and "at certain stages of the route, Russian aircraft were escorted by F-22 fighter jets of the USAF."
The ministry said "long-range pilots make regular flights over neutral waters of the Arctic, North Atlantic, Black and Caspian seas and Pacific Ocean" and that such flights were "carried out in strict accordance with the International Airspace Management System without violating the borders of other states."
The incident was confirmed in a separate post to social media by the North American Aerospace Defense Command (NORAD), which provided surveillance via an E-3 Sentry airborne early warning and control aircraft. The post additionally mentioned the presence of Russian Sukhoi Su-35 fighter jets, accompanying the bombers, which entered Alaska's Air Defense Identification Zone, but remained in international airspace.
"NORAD fighters intercepted Russian bombers+fighters entering Alaskan ADIZ May 20. 2x Tu-95s were intercepted by 2x F-22s; a second group of 2x Tu-95+2x Su-35 was intercepted later by 2 more F-22's; NORAD E-3 provided overall surveillance," NORAD's official account tweeted. "The aircraft remained in int'l airspace."
"Our ability to deter and defeat threats to our citizens and vital infrastructure starts with detecting, tracking, and positively identifying aircraft our airspace. We are on alert 24 hours a day, seven days a week, 365 days a year," Air Force General Terrence J. O'Shaughnessy, Commander of NORAD, was cited as saying in a follow-up tweet.
Mainland Alaska and mainland Russia are only roughly 55 miles apart, and the two share a chain of islands known as the Aleutian Islands, meaning such incidents were not unprecedented. In January, two U.S. F-22s and two Canadian CF-18 intercepted a Russian Tupolev Tu-160 strategic bomber off the coast of Alaska, and, at least twice last year, F-22s intercepted Russian Tu-95s and other aircraft in the same region.
Russia also scrambled its own jets toward U.S. aircraft near its own airspace, and such was the case in March when two Russian Sukhoi Su-27s were sent to meet a U.S. B-52H bomber over the Baltic Sea, where both Russia and members of the U.S.-led NATO Western military alliance have coastlines. Earlier that same month, a Russian Su-27 was scrambled to intercept an RC-135 spy plane also over the Baltic Sea.