Two Nuclear Capable Russian Aircraft Approached American Airspace Before Being Intercepted By U.S., Canadian Fighter Jets
Two nuclear-capable Russian aircraft encroached close to American airspace on Friday, forcing Canadian and U.S. fighter jets to scramble and intercept the planes.
The Russian Tu-160 Blackjack strategic bombers entered an area patrolled by Canada's Royal Air Force on Friday, close to Alaska, The Independent reported. The North American Aerospace Defense Command (NORAD) revealed the incident on Saturday, saying that two U.S. F-22 and two Canadian CF-18 intercepted the Russian planes, escorting them away from the zone.
"NORAD's top priority is defending Canada and the United States," General Terrence O'Shaughnessy, the NORAD commander, said in a statement, according to Radio Free Europe. "Our ability to protect our nations starts with successfully detecting, tracking, and positively identifying aircraft of interest approaching U.S. and Canadian airspace," he added.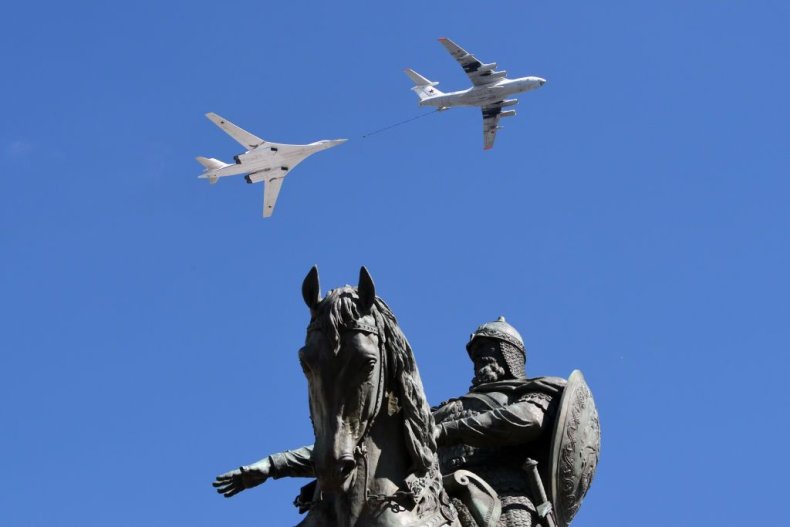 The Russian Defense Ministry said the mission was a routine scheduled flight over neutral waters.
"Crews of two Tu-160 strategic bombers completed a scheduled flight over neutral waters of the Arctic Ocean on Saturday and practiced refueling," the ministry said, Russia's Tass news agency reported. "The flight took over 15 hours," it added.
Similar encounters have increased between NATO aircraft and those of the Russian military in recent years, according to Radio Free Europe. Under President Vladimir Putin's leadership, Russia has worked to expand its military power and pushed back more strongly against the U.S. and NATO.
Tensions remain high between Washington and Moscow over a range of international issues. The U.S. is also poised to officially withdraw from the Cold War-era Intermediate-range Nuclear Forces Treaty, which was signed in 1987 between former President Ronald Reagan and the Soviet Union's Mikhail Gorbachev. Washington and NATO have alleged that Moscow's 9M729 nuclear-capable cruise missile system violates the terms of the deal. Russia has disagreed and refused to destroy the defense system.
"This is part of a pattern where Russia is investing in, modernizing, exercising and testing nuclear weapons," NATO Secretary General Jens Stoltenberg told Reuters earlier this month. "I think the whole idea is for Russia to try to be able to reestablish a sphere of influence where they can try to intimidate and control some of their neighbors," he said.
Meanwhile, the Doomsday Clock, which is overseen by the Bulletin of the Atomic Scientists and was created in 1947 to track how close the world is coming to nuclear annihilation, remains set at just two minutes from midnight—or Armageddon.
"There is nothing normal about the complex and frightening reality we are describing today," Rachel Bronson, president and CEO of the Bulletin of the Atomic Scientists, said in a press release last week. "Though unchanged from 2018, this setting should be taken not as a sign of stability but as a stark warning to leaders and citizens around the world."
Correction (01/29/19, 1:10 p.m. EST): The headline for this story has been corrected. The Russian aircraft came near U.S. airspace but did not enter it.