Russia is developing an array of autonomous weapons platforms utilizing artificial intelligence as part of an ambitious push supported by high-tech cooperation with neighboring China.
The extent to which Russia has prioritized AI in modernizing its military was featured in a report entitled "Artificial Intelligence and Autonomy in Russia," which was published Monday by the CNA nonprofit research and analysis group located in Arlington, Virginia.
The report's authors worked closely with the Pentagon's Joint Artificial Intelligence Center to produce what the organization called "the first major piece of US research that articulates contemporary Russia's main initiatives, achievements, and accomplishments in AI and autonomy efforts and places those initiatives within the broader technological landscape in Russia."
"Russian military strategists have placed a premium on establishing what they refer to as 'information dominance on the battlefield,'" the report stated, "and AI-enhanced technologies promise to take advantage of the data available on the modern battlefield to protect Russia's own forces and deny that advantage to the adversary."
While there are significant challenges and some reservations toward ceding critical decision-making capabilities to artificial intelligence and away from human minds, trends clearly signal that Russian efforts to introduce these advanced capabilities are well underway. And critical input is coming from China, which the report identified as "the key partner for Russia in the sphere of high technology in general and artificial intelligence in particular."
This cooperation, part of a broader strategic partnership fostered by Russian President Vladimir Putin and Chinese President Xi Jinping, has only strengthened despite efforts by the United States to target its top near-peer competitors with various sanctions.
Samuel Bendett, who served as an adviser for the report and is a member of the CNA Center for Autonomy and AI, said much of Moscow and Beijing's collaboration took place outside of the defense sector.
At the same time, their growing military ties have opened the door for more comprehensive work together.
"Most of the effects of this relationship are seen in the civilian sphere—in the high-tech sector and academic cooperation in R&D space," Bendett told Newsweek. "At the same time, there is evidence of growing bilateral contacts in the military in general, such as the participation in strategic-level exercises such as Vostok, where command and control cooperation took part."
As an example of the heightened level of trust between two countries who have a history of feuds in past decades dominated by complex Cold War politics, he highlighted Russia's work in helping China build an early warning system for missiles.
The prospect of incorporating AI here "bears watching, as both countries seek to bolster their C4ISR [an acronym referring to command, control, communications, computers, intelligence, surveillance and reconnaissance capabilities], and as both nations announce a growing number of bilateral military exercises and drills," Bendett said.
But as the joint projects enshrined in Putin and Xi's historic pact accelerate, senior research scientist Jeffrey Edmonds notes it's becoming more difficult to discern exactly what the two powers are actually doing.
"From the Russian perspective, the rapprochement between the two countries has been one of the most consistent trends in Russian foreign policy for several decades," Edmonds told Newsweek. "What we are seeing is that defense cooperation is deepening, but also seemingly becoming more secretive."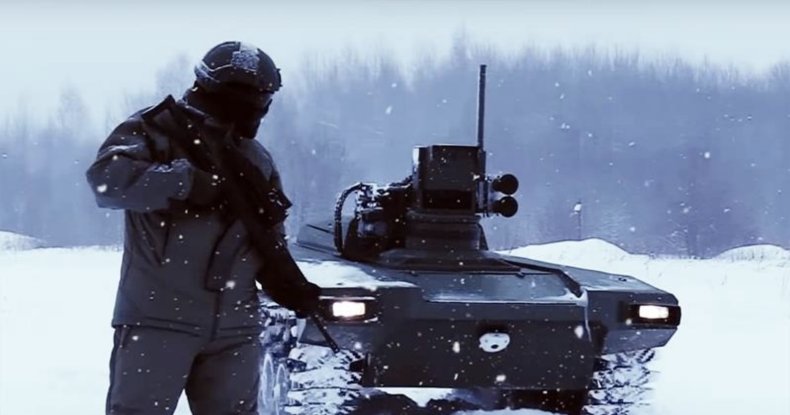 Bendett and Edmonds' report includes a list of some two dozen platforms being developed by the Russian military incorporating some degree of AI or autonomy. These include vehicles based on land, air and sea as well as specialized mines, and even an anthropomorphic robot said capable of dual-wielding firearms, driving cars and traveling to space.
Also listed were AI-linked additions to the Russian military's information management and decision-making complexes, defense apparatuses and logistics, and training and military manufacturing systems.
The report came just days after Russian Defense Minister Sergei Shoigu announced that the country had begun manufacturing robots with autonomous militarized capabilities.
"The serial production of combat robots has begun," Shoigu said during Friday's Knew Knowledge online marathon, according to the state-run Tass Russian News Agency. "What has emerged are not simply experimental, but robots that can be really shown in science-fiction films as they are capable of fighting on their own."
He also referenced the development of "what is called tomorrow's weapons," for which he said "large-scale work is underway."
Perhaps most notable among Russia's transforming arsenal is the array of nuclear-capable weapons Putin introduced in a fiery March 2018 speech touting technology that could outsmart and outmaneuver even the world's most advanced defense systems. These include the Avangard hypersonic boost-glide vehicle, the torpedo-armed Poseidon underwater unmanned vehicle and the Kinzhal hypersonic air-launched missile.
The CNA report discussed the varying degrees to which these platforms have been said to also include AI and automated features, making them even more dangerous while adding new development hurdles toward fielding such capabilities. Given the relatively limited economic resources available to Russia, these challenges are not insignificant, as the report notes.
And while CNA cites a recent Moscow Institute of Physics and Technology report saying that revenue generated by AI-related activity in Russia was growing at a rate 10 times faster than the country's GDP, this number paled in comparison to that of China, which was funding AI research at a level 350 times higher than that of Russia, and was second only to the U.S. in employment in the AI sector.
This is just one of many areas in which the two countries have found mutual interest and opportunity.
"Though Russia is somewhat disadvantaged by the relative simplicity and smaller size of its economy, the two countries have a de facto non-aggression pact and a host of technical cooperation agreements," the CNA report found. "Defense cooperation continues to increase between the two countries, along with technology exchanges, in a relationship whose implications continue to grow for U.S. strategy."
The degree to which Russia and China were both racing to acquire new AI capabilities has alarmed some U.S. policymakers. In 2018, the National Security Commission on Artificial Intelligence was established in order to examine the threat landscape when it comes to competitors weaponizing AI.
The commission's final report, released this March, found that the U.S. military's "technical prowess is being challenged, especially by China and Russia," and outlined how the two countries were actively pursuing an AI race that threatened to eclipse the Pentagon's own AI abilities without sufficient action. The recommended course of action included not only an increase in U.S. resource allocation on the issue, but also areas of diplomacy and cooperation to reduce the risk posed to all by setting rules and promoting transparency.
Bendett notes that some of these initiatives already exist.
"There are actually a good number of bilateral AI-related efforts with the United States by Russia and China," he told Newsweek. "Both would rather prefer to keep this cooperation going and to grow it, if possible, given the central importance of the United States to global AI RDT&E space," using an acronym referring to research, development, test and evaluation.
He referred to AI-specific cooperation between Russia and China as being "at the beginning stages, with many efforts less than 5 years old," while "the United States still gets to shape the AI R&D debate, and both Russia and China recognize that."
Still, Edmonds notes that the scope of Russia's work with China has already outsized that of its collaboration with the U.S., as "there are more AI cooperation/business ties between Russia and China than between Russia and the U.S." At this rate, he argued, it's hard to imagine that Washington could break this bond even if it tried.
"I think any strategies by the U.S. to drive a wedge or push Russia and China apart are incredibly difficult and hard to conceive," Edmonds told Newsweek. "I'm also not sure that greater cooperation in AI is really something that will impact the current trajectories."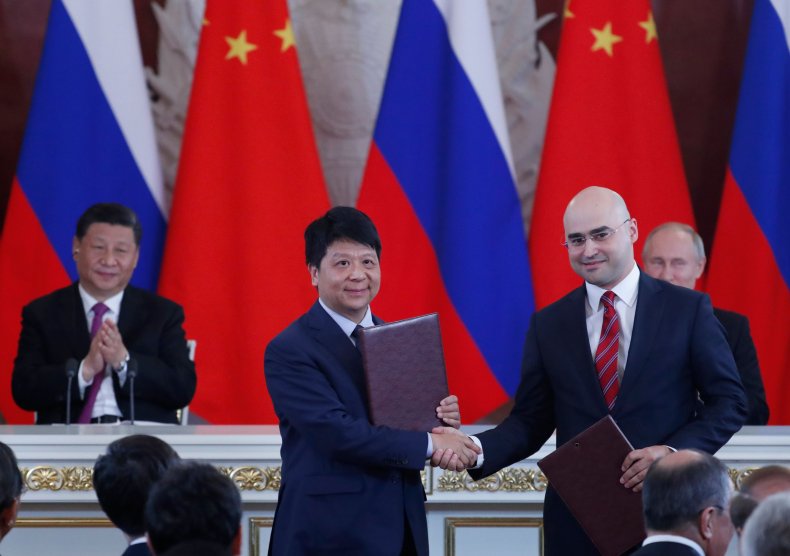 The CNA report explores the limited degree to which Russia and the U.S. already cooperate on AI-related efforts, specifically pointing out collaboration between Moscow's Skolkovo Institute of Science and Technology on one end and the Massachusetts Institute of Technology and credit card company Visa on the other. Russian institutions have additionally collaborated with counterparts in other countries including South Korea, the United Arab Emirates, Japan, India, Israel and Saudi Arabia.
A worsening climate of bilateral ties between Washington and Moscow has had negative effects on opportunities for both countries to work together, however, and the opposite has been true for the blossoming relations between Russia and China.
"Overall, in the context of increasing tensions with the United States, China and Russia have clearly made an agreement to expand their technological cooperation, with artificial intelligence playing a key role in their plans for the future," the CNA report found.
And while some analysts have predicted a potential cooling of Moscow and Beijing's warm ties, the report concluded that "there have been no signs of any such divisions to date," and in fact, the trajectory of their joint work has been increasingly positive even in the face of COVID-19.
"On the contrary, the China-Russia relationship has continued to grow and deepen over the last year, even as the pandemic has shifted priorities increasingly toward the biomedical sphere," the CNA report found.
During Xi's June 2019 summit alongside Putin in Moscow, the Russian leader declared the years 2020 and 2021 to be "Years of Scientific, Technical and Innovation Cooperation" between the two nations. This message has been reaffirmed with plans announced earlier this year to build a lunar station together, and the launch of construction of new units at two Russian-built nuclear power plants in China last Wednesday.
At the virtual ceremony, the first online interaction of the year for the heads of state, Putin took note of the fact that 2021 would also mark the 20th anniversary of the countries' Treaty of Good-Neighborliness, Friendship and Cooperation.
"Since the signing of this treaty, Russia and China have achieved great success in strengthening our multidimensional cooperation and mutual trust across all areas without exception: politics, international affairs, trade and the economy, cultural and humanitarian exchanges," Putin said at the time. "It can be said that Russia-China relations have reached their highest level in history."