China is looking to expand its strategic partnership with neighboring Russia in high-level talks set to take place just days after the debut dialogue with U.S. President Joe Biden's team turned tense.
As the dust settled from Chinese Communist Party Central Foreign Affairs Commission Director Yang Jiechi and Foreign Minister Wang Yi's confrontational encounter with U.S. Secretary of State Antony Blinken and White House national security adviser Jake Sullivan in Alaska last Thursday, Russia's own top diplomat arrived in China on Monday for a two-day visit.
Ahead of these discussions, Russian Foreign Minister Sergey Lavrov extolled the direction of ever-warming ties between Moscow and Beijing in an interview with Chinese media.
Lavrov warned that "the objective trend for a rise of a truly multipolar democratic world is being hindered by some Western countries led by the United States, which would like to preserve their domination of the global economy and international politics at all costs and to force their will and their demands on each and all."
He claimed that China and Russia are offering a viable alternative as together they "are promoting a constructive unification agenda."
"We want the architecture of international relations to be fair, democratic, capable of ensuring stability and based on broad interaction of states and their integration associations," Lavrov said, "just as we are doing together with our Chinese friends by promoting integration in Eurasia."
These points were welcomed in Beijing by Chinese Foreign Ministry spokesperson Hua Chunying, who said their relationship was more important than ever.
"The more unstable the world is, the more China and Russia need to advance our cooperation," Hua said. "For a long period, the U.S. and the West wantonly interfered in other country's domestic affairs by using democracy and human rights as an excuse. Such moves created troubles in the world and even became the source of instability and war."
She said that China and Russia "always stand together in close cooperation, firmly reject hegemony and bullying practice, and have become a major force for world peace and stability."
In the face of historic challenges resulting from the COVID-19 pandemic, Hua said that "it is fair to say that China-Russia relations withstood the test and emerged stronger with our friendship becoming even closer."
She predicted that this renewed collaboration will continue to expand.
Lavrov's visit, Hua said, "will further cement the sound momentum of the high-level bilateral relations and bring the two countries closer in the strategic collaboration on international affairs."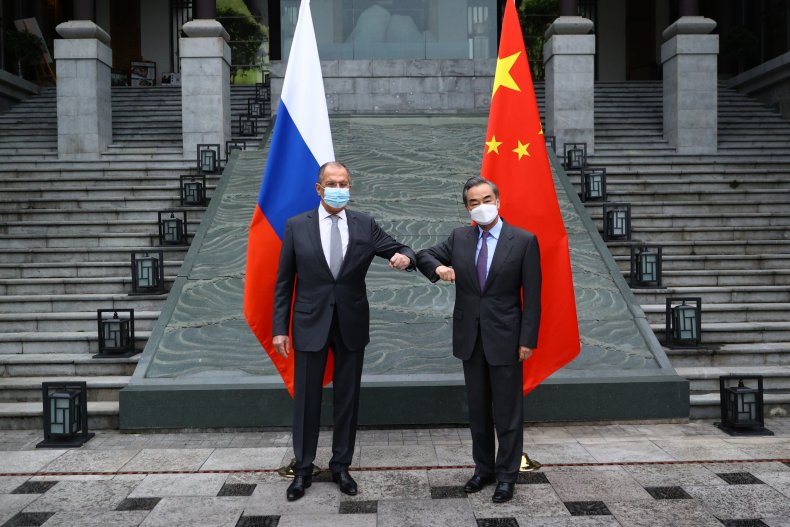 Hua said the agenda would include "in-depth communication on a wide range of important topics including bilateral relations, coordination in international and regional issues and high-level exchanges between China and Russia."
The Russian Foreign Ministry issued a statement on the meeting Monday, touching upon specific areas of international concern such as the United States, the 2015 Iran nuclear deal known officially as the Joint Comprehensive Plan of Action (JCPOA), and key hotspots of unrest in Asia.
"The ministers informed each other about Russia's and China's relations with the United States," the ministry said. "They also discussed a number of current issues of the global agenda, including cooperation within the United Nations and other international organizations, the situation in Afghanistan and Myanmar, and problems around the Joint Comprehensive Plan of Action (JCPOA)."
The meeting was said to have taken place "in a confidential, friendly atmosphere, and confirmed the unity of approaches to the topics discussed."
These cooperative conversations between China and Russia follow immediately on the heels of contentious interactions between both countries and the U.S.
The Chinese team in Anchorage reacted strongly to the Biden administration's raising of sensitive issues of China's sovereignty and alleged human rights abuses. The U.S. side also charged China with "coercion" of the international community through economic and political pressure, an accusation Hua said Monday was more befitting of Washington than Beijing.
"Both the two peoples and the overwhelming majority of countries, including people in U.S. ally countries, hope to see peaceful co-existence of China and the U.S.," she said. "The two countries can share more common friends. We hope the U.S. can show the confidence and demeanor of a major country, and stop coercing other countries into choosing sides and into interfering in China's internal affairs and undermining China's interests."
Blinken told reporters on Friday that he and Sullivan were fully aware going into the discussions that "there are a number of areas where we are fundamentally at odds, including China's actions in Xinjiang, with regard to Hong Kong, Tibet, increasingly Taiwan, as well as actions that it's taken in cyberspace."
"And it's no surprise that when we raised those issues clearly and directly, we got a pensive response," he said.
Biden also stirred outrage in Russia after agreeing with the characterization of President Vladimir Putin as a "killer" during an interview with ABC News, in which he said Russia would "pay a price" for alleged interference in the 2020 U.S. election. Moscow responded by recalling its ambassador, and Putin challenged Biden to a live discussion, an offer that has apparently not yet been accepted.
"As far as I understand, the U.S. side is not ready," Kremlin spokesperson Dmitry Peskov told reporters Monday, according to the state-run Tass Russian News Agency.
The Russian Foreign Ministry also weighed in on Monday.
"We regret to note that the American side has not supported the proposal made by President of Russia Vladimir Putin to U.S. President Joe Biden to hold a live-broadcast discussion on March 19 or 22, 2021, on the problems that have accumulated in bilateral relations, as well as on the subject of strategic stability," the ministry said. "One more opportunity has been missed to find a way out of the deadlock in Russian-U.S. relations created through the fault of Washington. Responsibility for this lies entirely with the United States."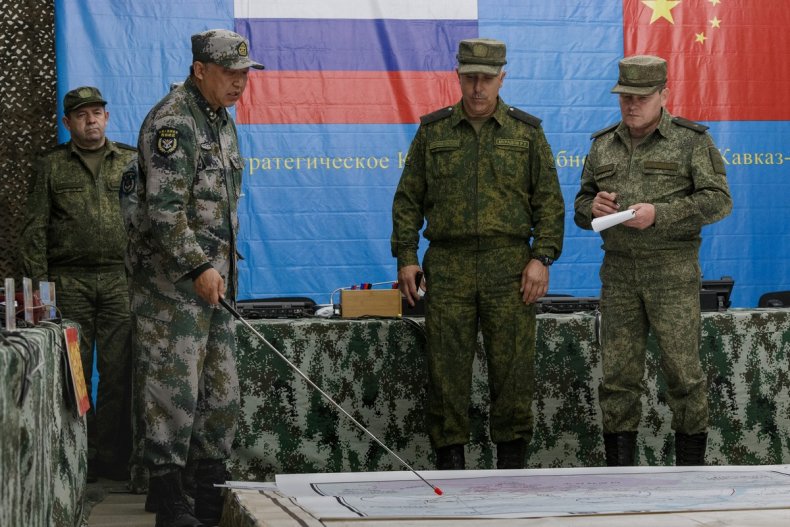 China and Russia have so far shunned the idea of establishing a formal military alliance, though the two have significantly expanded their collaboration across various fields, including defense, economics and politics. The two have increasingly supported one another in areas of mutual interest, and joined 15 other signatories to establish the "Group of Friends in Defense of the Charter of the United Nations," which shared with Newsweek its call for additional members earlier this month.
The two countries are also set to celebrate this July the 20th anniversary of the signing of the Treaty of Good-Neighborliness and Friendly Cooperation, which Hua said Monday would serve as an "opportunity to carry forward the spirit of the treaty and advance China-Russia comprehensive strategic partnership of coordination for a new era at greater scope, in wider areas and at deeper levels."
"The two sides will join hands in building a model of international relations featuring strategic trust, mutually beneficial cooperation, close people-to-people ties, fairness and justice," she said. "Together, the two sides can make greater contribution to upholding world peace and stability."
The U.S., on the hand, has bolstered its commitment to existing military alliances, such as the NATO Western military bloc, for which Blinken was set to emphasize support after leaving for Belgium on Monday. The Cold War-era coalition has accused Russia of aggressive moves, something Moscow denies.
In Asia, where the Biden administration dispatched Blinken along with Defense Secretary Lloyd Austin to meet with allies and partners ahead of the Alaska talks with China, the U.S. has shored up a new regional grouping known as the Quadrilateral Security Dialogue which also includes Australia, India and Japan. The foursome has increased cooperation across Asia, including in the South China Sea, much of which Beijing claims as its own.
The Biden administration has increasingly lashed out at China over its domestic affairs, issuing sanctions against officials over changes in the administration of semi-autonomous Hong Kong and over alleged human rights abuses directed toward the Muslim Uighur community in Xinjiang.
Washington and Beijing have also traded stern language regarding the status of Taiwan, a self-ruling island claimed by China, but which maintains informal military and political ties to the U.S.