Russia Challenges U.S. Military in Mediterranean by Asserting Foothold in Syria, Libya
Russia has further asserted its footholds in Syria and Libya, challenging the U.S. military presence in the Mediterranean with recent moves designed to advance Moscow's interests in the region.
Russia was set to receive additional real estate and sea property in western Syria under the orders of President Vladimir Putin, according to an agreement published Friday by the Russian government's online legal portal. The document showed that the Russian leader instructed his Defense Ministry to sign a protocol to the existing 2015 agreement with Damascus granting Moscow control over an airbase in Hmeymim, located near the coastal city of Latakia, for at least 49 years free of charge.
The initial agreement was signed as Russia began to support Syrian President Bashar al-Assad against an insurgency that received backing from the United States and regional partners. Assad now faces the final rebel-held province of Idlib as the U.S. focuses on fighting the Islamic State militant group (ISIS).
But Moscow and Washington's rival interests continue to play out in and around Syria. On Tuesday, the Sixth Fleet accused Russia of intercepting a U.S. Navy P8 surveillance aircraft with two Russian Su-35s acting in "an unsafe and unprofessional manner" over the eastern Mediterranean. The statement said it was the third such encounter since last month.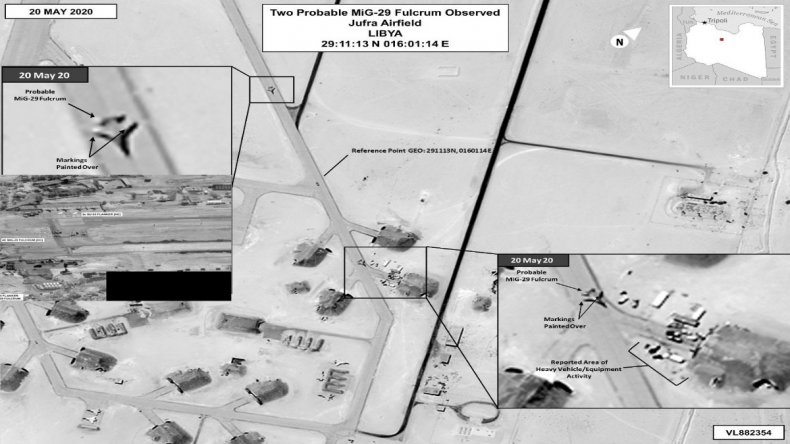 That same day, U.S. Africa Command announced it "assesses that Moscow recently deployed military fighter aircraft to Libya in order to support Russian state-sponsored private military contractors" operating on behalf of Libyan military leader Field Marshall Khalifa Haftar's bid to oust the United Nations-backed government in Tripoli.
"Russia is clearly trying to tip the scales in its favor in Libya. Just like I saw them doing in Syria, they are expanding their military footprint in Africa using government-supported mercenary groups like Wagner," AFRICOM commander Army General Stephen Townsend, said in the statement.
Townsend said Moscow could now no longer deny it was playing a larger role in Libya's civil war as the command shared images of what it said were MiG-29 and Su-24 aircraft transported from Russia to Syria, where they were repainted to mask their origin.
Another senior military official, U.S. Air Forces in Europe and Africa commander Air Force General Jeff Harrigan warned the next step after Russia assuming control of coastal Libyan bases would be setting up anti-air capabilities, creating "very real security concerns for Europe's southern flank."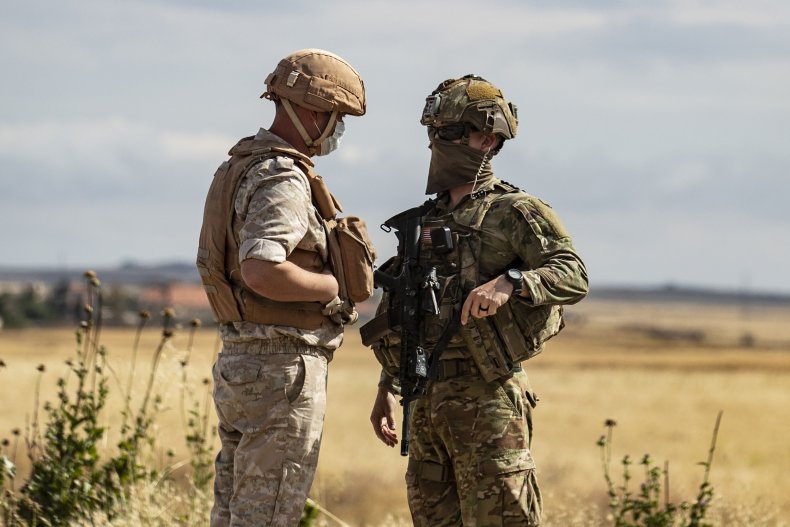 NATO launched the 2011 bombing campaign that helped insurgents overthrow longtime Libyan leader Muammar el-Qaddafi, eventually leading to the formation of two rival governments now at war. Haftar's Tobruk-based administration has reportedly received support from Russia, the United Arab Emirates and France, while the U.N.-endorsed government is directly backed by Turkey.
Syria's turmoil also began in 2011 as protests devolved into civil war. With Damascus having largely defeated the opposition, the next most powerful faction today is the U.S.-supported, mostly Kurdish Syrian Democratic Forces administering the northeast. The U.S. and Russia have been forced here to interact along overlapping lines of control.
U.S. and Russian patrols come into semi-regular contact with one another in northeastern Syria, leading to sometimes tense confrontations between the two militaries. The U.K.-based, pro-opposition Syrian Observatory for Human Rights reported Thursday that Russia set up a new base in the village of Qasr Deeb village near Al-Malikiyah in the far northeastern corner of Syria's Al-Hasakah province bordering Turkey and Iraq.
Trump has ordered his troops to focus on maintaining control of oil fields in eastern Syria and the U.S.-led coalition spokesperson Colonel Myles B. Caggins III denied reports that the Pentagon had set up Patriot surface-to-air missile systems in Syria.