U.S. and Russian Dueling Roadblocks Create Friction Near Syria's Oil and Gas Regions
U.S. and Russian forces have blocked or attempted to block one another's movements along the strategic M4 highway that connects major towns and cities running parallel to the border with Turkey, the Syrian Observatory of Human Rights, a United Kingdom-based monitor with ties to Syria's exiled opposition, has reported.
For more than one week, the organization has reported near-daily incidents mainly in rural Al-Hasakah, a resource-rich province where both a U.S.-led coalition and Russia and its allies hold positions.
The overlapping lines of control have still reportedly produced frictions, however. The Syrian Observatory for Human Rights said Wednesday that "tensions have continued to increase significantly in recent days between U.S. and Russian forces in the north-eastern regions of Syria."
In most cases, the U.S. has reportedly forced the Russian side to turn back on the M4. However, in at least one scenario earlier this month it was Russian and allied Syrian forces that blocked access for U.S. armored vehicles. The Syrian Democratic Forces have reportedly intervened in some instances to defuse the situation.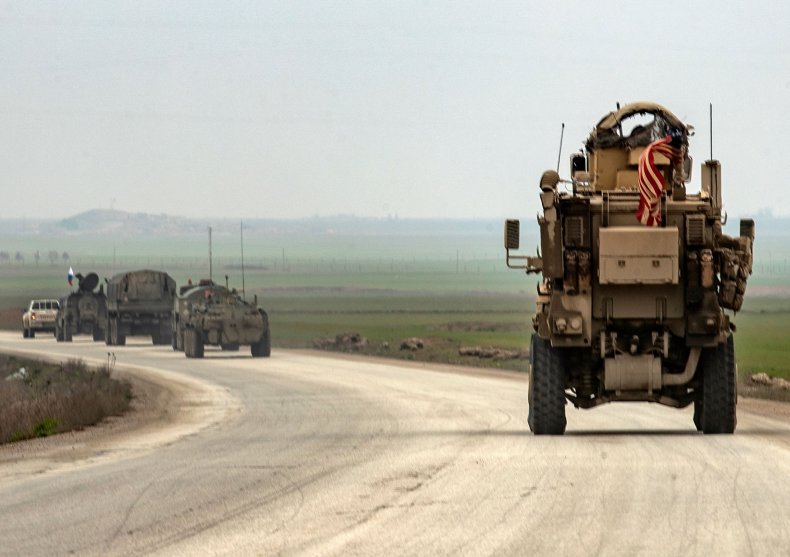 Russia backs the Syrian government in the country's near-nine-year civil war and has deployed patrols to northeastern Syria to prevent conflict with Turkey, which in October launched a new offensive against Pentagon-backed, mostly Kurdish Syrian Democratic Forces, a move that led the U.S. to pull away toward oil and gas reserves further east. Despite their opposing goals, Moscow and Washington have maintained communication to avoid mishaps.
"In Syria, the Coalition deconflicts military operations with other regional forces, in order to keep our troops safe," spokesperson U.S. Army Colonel Myles B. Caggins III said in a statement sent Wednesday to Newsweek.
"We seek to deconflict our movements through pre-existing communication channels and interlocutors, in order to prevent unnecessary and unplanned military interactions, and de-escalate between forces when necessary," he added.
President Donald Trump's October decision to withdraw troops from certain Syrian positions and focus on oil and gas fields led the Syrian Democratic Forces to strike a security deal with the Syrian government and its Russian guarantor. The Russian and Syrian militaries then bolstered their presence across the northeast, where skirmishes between Kurdish fighters and a Turkish-backed offensive continue despite the presence of international forces.
Though Trump claimed control of Syria's oil and gas reserves that fell within the Syrian Democratic Forces' areas of self-administration, the Syrian government has reserved control over the entirety of these resources. Last month, the Syrian parliament approved contracts for oil and gas deals with two Russian companies, potentially accelerating the feud over this part of the country.
Mohammed Hassan, a Syrian Kurdish fixer and journalist who was at the scene of one incident between U.S. and Russian forces near the city of Rmelan on Tuesday, told Newsweek that both sides were looking to extend their influence over an area known to Kurds as Rojava.
"I think that American troops, they want to come back to the Kurdish areas on the M4 Road," Hassan said. "It's a strategic road in north and eastern Syria, always the American troops they put some of their forces on the road in front of the Syrian regime and the Russian forces."
"The Russian forces, too, they want to control many areas such as Rmelan city, it's an oil area, including oil and gas, so the Russians, too, they tried to reach these areas and to reach to the border between KRG⁠—the Iraqi Kurdistan⁠—and northern Rojava," he continued. "The situation now is quiet, but I think under the table the Americans and the Russians, they have an agreement about north and eastern Syria.
"The future here is unclear," he added.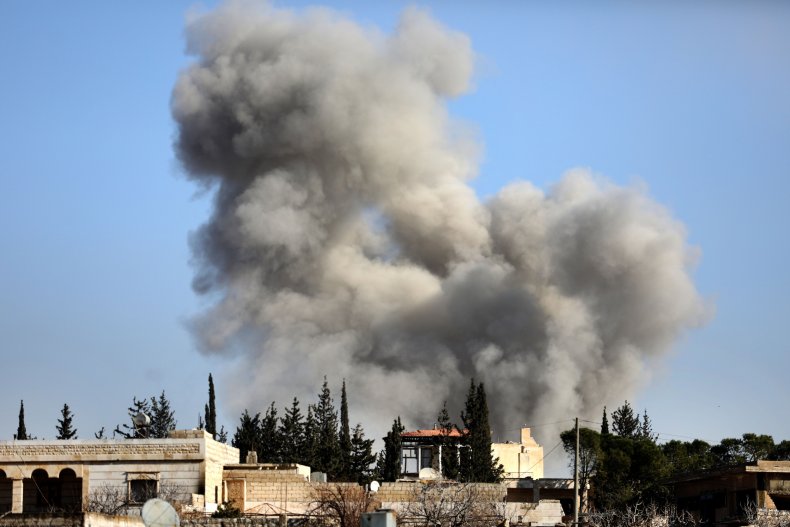 The latest uptick in U.S.-Russian encounters comes also two years since clashes between the U.S.-led coalition and its Syrian Democratic Forces on one side and pro-Syrian government forces on the other in eastern Deir Ezzor province left scores of fighters dead, including what Trump and Secretary of State Mike Pompeo have described as hundreds of Russians fighting on behalf of private military companies.
The Syrian Democratic Forces continue today to rely on the Pentagon's backing, but Moscow and Damascus have called for a total U.S. withdrawal from Syria as the coalition's 2014 intervention was not coordinated with the government. Turkey has somewhat split with the U.S. as the two were originally united in their goal of backing the 2011 rebel and jihadi uprising against Syrian President Bashar al-Assad but the U.S. went on to instead back the Syrian Democratic Forces' battle against the Islamic State militant group (ISIS) in 2015.
The Syrian military, aided by both Russia and Iran, has also fought ISIS, along with the insurgency now primarily backed by Turkey since Western and Arab countries withdrew their support. Opposition forces sponsored by Ankara hold key border positions but the only fully rebel-backed region was northwestern Idlib, a province dominated by the jihadi Hayat Tahrir al-Sham coalition.
Russian President Vladimir Putin and Turkish President Recep Tayyip Erdogan declared support for an Idlib ceasefire earlier this month, but violence here continued with reports Wednesday of new Syrian air force strikes and insurgent artillery attacks.