Russia Intercepts Navy Jet in Syria, May Sell Missile System to Iraq in Power Play With U.S.
Russia intercepted a U.S. jet off the coast of Syria and is considering the sale of an advanced missile system to Iraq amid heightened regional tensions to push back against the United States' military presence in the Middle East.
The U.S. 6th Fleet announced Monday that "Russian pilots flew in an unsafe and unprofessional manner while intercepting a U.S. Navy P-8A Maritime Patrol and Reconnaissance Aircraft" on Sunday in the second such incident in just four days. The latest encounter involving a Russian Su-35 involved two consecutive intercepts over the course of 100 minutes, the Navy said. It also criticized the second because the Russian aircraft allegedly conducted "high-speed, high-powered maneuver that decreased aircraft separation to within 25 feet, directly in front of the P-8A, exposing the U.S. aircraft to wake turbulence and jet exhaust."
In its own statement, the Russian Defense Ministry said Monday that its equipment "detected an air target performing a flight towards Russia's military facilities in the Syrian Arab Republic." As a result, "a fighter jet from the air defense alert quick reaction force of the Hmeymim air base was scrambled to identify the target," Moscow's military said, according to the state-run Tass Russian News Agency.
Both sides noted the P-8A distanced itself to avoid confrontation after the Su-35 approach. The Navy Chief of Information Office criticized the Russian jet's actions, tweeting: "Show more professionalism. Fly with more regard for safety. The life you save might be your own."
Such brushes between the two rivals were not uncommon as U.S. and Russian aircraft operate in overlapping theaters around the world. With the Pentagon's global posture under additional strain due to the novel coronavirus pandemic and more assertive steps by competing regional powers, Moscow has sought to expand its influence.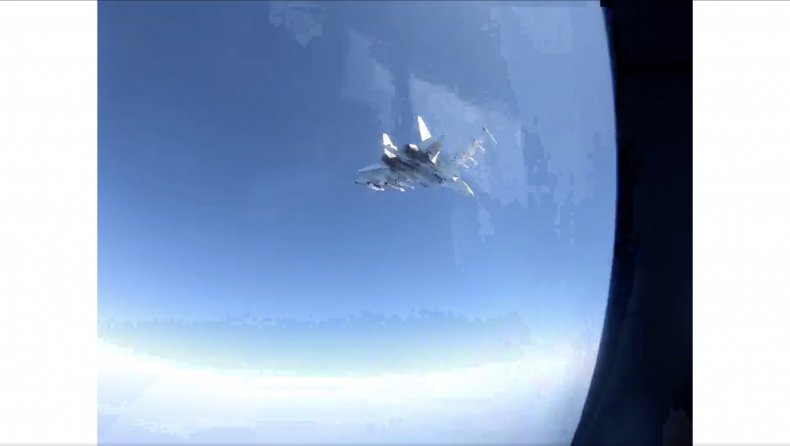 Washington and Moscow support opposite sides in Syria's nine-year civil war. The U.S. initially joined a number of partnered countries backing insurgents fighting to overthrow Syrian President Bashar al-Assad but in 2015 teamed up with the Kurdish-led Syrian Democratic Forces to focus on battling the Islamic State militant group (ISIS). Around this same time, Russia officially intervened on behalf of Assad, supporting him and allied, Iran-aligned militias against rebels and jihadis.
The two campaigns were largely successful, leaving most of Syria under the control of two rival administrations that have so far failed to reconcile. The U.S. and Russia operate near one another at land, air and sea, occasionally leading to tense encounters, however, the Pentagon has scaled down its presence as Kurdish fighters clashed with Turkey, allowing Moscow to step up its gains.
Russia's victories in Syria have caught the attention of neighboring Iraq, where the U.S. has also begun to minimize its presence after fighting ISIS. For years, Baghdad officials have contemplated accepting offers of additional assistance from Moscow and, amid worsening unrest between the U.S. and Iran, Iraqi lawmakers have officially recommended the country acquire Russia's advanced S-400 surface-to-air missile system.
Iraq's state-run Al-Sabah newspaper reported Saturday that the parliament's Security and Defence Committee has submitted to caretaker Prime Minister Adel Abdul-Mahdi a study recommending the government purchase the S-400. Baghdad is in the process of attempting to form a new government and lawmaker Badr al-Zayadi was quoted as saying any major weapons purchases would wait until this transition was finalized, though he argued such a move was necessary to ensure a wider range of geopolitical partnerships.
"The approval to acquire this sophisticated system requires large financial allocations as well as a political decision in order to diversify the sources of weapons as to not rely on the Western camp, but also head towards the Eastern camp as well," Zayadi told the publication.
Other committee members such as Mohammed Reza, Abdul Khaleq al-Azzawi and Karim al-Eilaw,i as well as Iraqi ambassador to Iran Saad Jawad Qandil, have told media outlets in recent months that buying the S-400 or its predecessor, the S-300, was a possibility for Baghdad in recent months. The Iraqi military has relied heavily on the Pentagon since the 2003 U.S.-led invasion that overthrew the former leader Saddam Hussein, but new unrest has strained these ties.
Discussions surrounding Iraq's native defenses have resurfaced since a spike in tensions in January, when the U.S. killed the head of Iran's Revolutionary Guard Quds Force and a leading Iraqi militia official at Baghdad International Airport, prompting a retaliatory Iranian missile strike and calls for a U.S. military withdrawal. The U.S. continued to clash with Iraqi militias supportive of Iran but the Pentagon has in recent months handed control of facilities to Iraqi forces, citing success in the fight against ISIS as well as coronavirus concerns.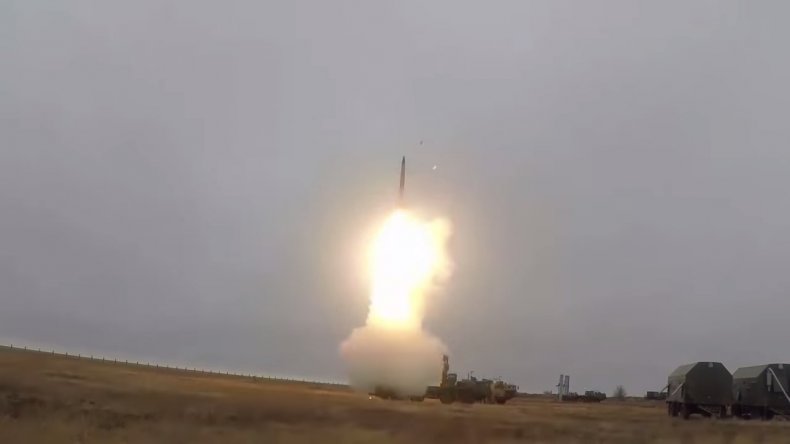 The White House has already threatened Iraq with sanctions should it push to expel U.S. troops, and purchasing the S-400 could also trigger such economic restrictions. Washington has banned other countries from buying certain Russian weapons as part of the 2017 Countering America's Adversaries Through Sanctions Act.
The U.S. channeled this law in 2018 to punish China for acquiring the S-400, but has yet to sanction India or Turkey for purchasing the advanced system, although Washington has suspended the latter's participation in the F-35 program. Saudi Arabia, another close U.S. security partner involved in the U.S.-Iran dispute, has also expressed interest in buying the S-400, as well as the U.S. Terminal High Altitude Area Defense (THAAD) anti-missile system.
The U.S. has set out to deploy additional anti-missile and anti-aircraft capabilities to Iraq, Saudi Arabia and other areas in the Middle East amid heightened hostilities involving Iran, which conducted a U.S. Navy interception of its own, sending armed fast attack craft to circle Fifth Fleet warships transiting the Persian Gulf on Wednesday. The Islamic Republic has developed its own offensive and defensive missile systems during a decade-long United Nations ban on arms imports but this embargo was set to expire in October. Tehran has already eyed deals with Moscow, which has sought to portray itself as a premier diplomatic force in the region.
"We consider unacceptable attempts to use Iraqi territory as an arena for settling accounts between other countries," Russian Foreign Ministry spokesperson Maria Zakharova said Friday in reference to U.S.-Iran tensions during a news briefing. "We believe that such actions are contrary to international law, violate the sovereignty of Iraq and damage its national interests."
In Syria, Russia has already deployed the S-400 system near the coast at Hmeymim and has joined Damascus in calling for an immediate withdrawal of U.S. troops operating without the approval of the central government still sanctioned by Washington due to accusations of war crimes. Despite conflicting positions in Syria and elsewhere, President Donald Trump and his Russian counterpart Vladimir Putin have continued to vow coordination on international affairs including in back-to-back telephone calls earlier this month.