Iraq is in talks to purchase a Russian surface-to-air missile system in a bid to update the country's own defense infrastructure amid heightened tensions between the United States and Iran, which have exchanged hostilities on Iraqi soil.
Iraqi ambassador to Iran, Saad Jawad Qandil, said Monday that buying the S-300 anti-aircraft and anti-missile system "is on the table of discussions between Russia and Iraq, and it is possible for Iraq to buy this system," according to Russia's state-run Sputnik News Agency. The news came just days after Russia's RIA Novosti outlet cited Iraqi parliamentary security and defense committee chair Mohammad Reza announcing the resumption of Baghdad's efforts to buy the system.
"Iraqi-Russian relations are very good in light of Baghdad's keenness on good relations with all neighboring countries," Qandil said Monday, explaining that "Iraq is keen to diversify arms sources, and we have armament contracts with Russia."
The S-300, however, is banned by Iraq's top international partner, the U.S., which threatens to sanction countries seeking to buy Russian weapons. Washington and Baghdad's own ties have been severely tested as President Donald Trump increasingly takes on Iran and allied Iraqi forces in a deadly bout that pushed Iraqi lawmakers to vote for the withdrawal of all foreign forces.
In response, the U.S. has signaled it was not going anywhere.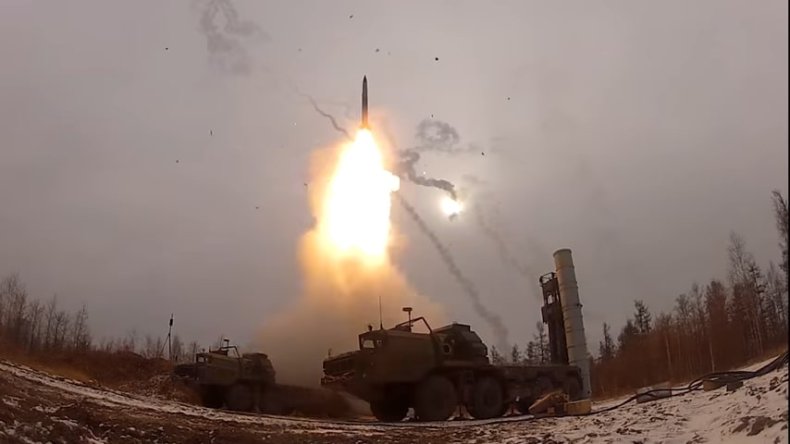 The U.S. and Iran have long used Iraq as a battleground for their rival agendas, with U.S. troops facing off with Shiite Muslim militias for years after the 2003 U.S.-led invasion that overthrew Saddam Hussein and stirred a Sunni Muslim insurgency as well. Washington and Tehran then found themselves both backing Baghdad in the fight against the Islamic State militant group (ISIS) in 2014, only temporarily putting their four-decade dispute on hold.
The defeat of ISIS and the Trump administration's 2018 exit from a nuclear deal have led to renewed U.S.-Iran tensions in the Middle East and especially Iraq, where unclaimed rocket attacks have harassed military positions housing U.S. and other international forces. After one such strike last month killed a Pentagon contractor, the U.S. conducted strikes that killed 27 people at border positions of Kataib Hezbollah, one of the Iran-backed Shiite Muslim groups comprising the Popular Mobilization Forces that was formed to battle ISIS.
Pro-militia protesters stormed Washington's embassy in Baghdad over New Year's, further fueling tensions that escalated dramatically with the U.S.' assassination last week of Iranian Revolutionary Guard Quds Force commander Major General Qassem Soleimani, Popular Mobilization Forces deputy chairman Abu Mahdi al-Muhandis and their entourage near Baghdad International Airport. Both Iraq and Iran condemned the unilateral U.S. operation and Iraqi lawmakers voted to end the presence of international forces, including that of the United States.
Trump threatened Iraq with sanctions if it tried to push U.S. troops out and, though a letter sent by the Pentagon to its Iraqi counterpart appeared to announce preparations for a U.S. exit, Joint Chiefs of Staff chair Army General Mark Milley later deemed the document a "draft." Iraqi caretaker Prime Minister Adel Abdul-Mahdi has reiterated the call for the U.S. to depart, even as Iran conducted its own unilateral operation on Iraqi soil to avenge its slain military leader.
Iran launched a salvo of missiles Tuesday against two sites housing U.S. and foreign troops. Tehran signaled this to be the end of its direct strikes on U.S. forces, but Soleimani's successor, Major General Esmail Qaani, has cast his direct support for partnered, regional militias viewing the U.S. as an occupying power in Iraq as well as in neighboring Syria.
In a statement published Friday, State Department spokesperson Morgan Ortagus appeared to reject the Iraqi government's calls for a U.S. withdrawal, saying that "America is a force for good in the Middle East" and that the Pentagon's presence was necessary "to continue the fight against ISIS" as well as protect "Americans, Iraqis, and our coalition partners."
"At this time, any delegation sent to Iraq would be dedicated to discussing how to best recommit to our strategic partnership—not to discuss troop withdrawal, but our right, appropriate force posture in the Middle East," Ortagus said, calling for "a conversation between the U.S. and Iraqi governments not just regarding security, but about our financial, economic, and diplomatic partnership."
That same day, Iran acknowledged that it had inadvertently shot down a Ukrainian passenger jet hours after Tuesday's missile strikes on Iraq. As Newsweek first reported Thursday, Ukraine International Airlines Flight 752 was hit by a Tor-M1 surface-to-air missile system, another Russian defense system owned and operated by Iran, which possesses the S-300 as well.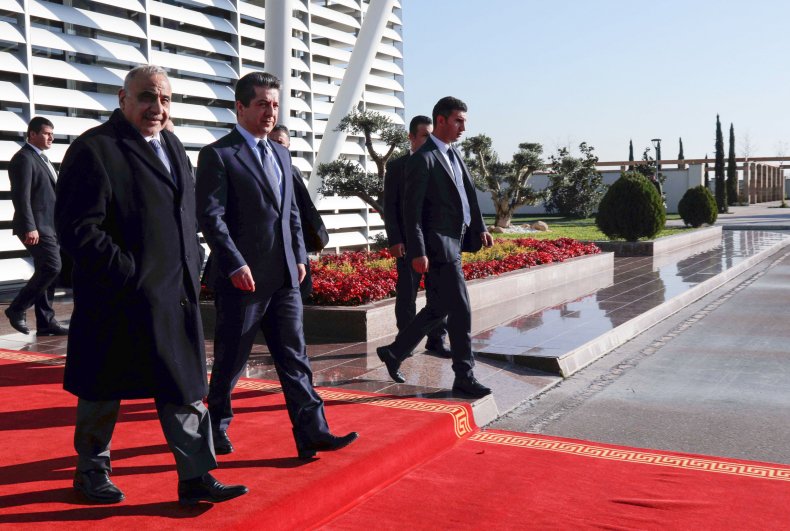 With tensions soaring, the Iraqi government's eagerness to avoid more unrest has reportedly been met with more threats from the U.S. side. Citing Iraq officials, The Wall Street Journal reported Saturday that the State Department went as far as to threaten to shut down Baghdad's account at the Federal Reserve Bank of New York should U.S. forces be unwelcome.
The U.S. already wages a "maximum pressure" campaign designed to isolate Iran economically and diplomatically and could attempt to do the same to Iraq. Alexander Sherin, the first deputy chairman of the defense committee of Russia's lower house of parliament, told Russia's Federal News Agency on Monday that such U.S. actions only highlighted the need for Iraq to acquire its own defenses, such as the S-300 or even the more advanced S-400 system.
"They, apparently, just realized there that they are an occupied country, which does not have the right to any independent actions," Sherin said. "The attack on a high-ranking military leader on their own territory without any prior notice was a clear blow to their international authority."
He questioned, however, whether or not Iraq would be able to purchase the weapons if the U.S. was to freeze the country's assets, or if Baghdad had the political will to go through with such a transaction while under pressure from Washington. The Trump administration has already sanctioned China for its acquisition of the S-400 and other Russian military equipment, though the U.S. has yet to do the same in response to Turkey and India's S-400 deals.