U.S. and Russia Wage New Arms Race to Counter China as Mattis Seeks Influence in Southeast Asia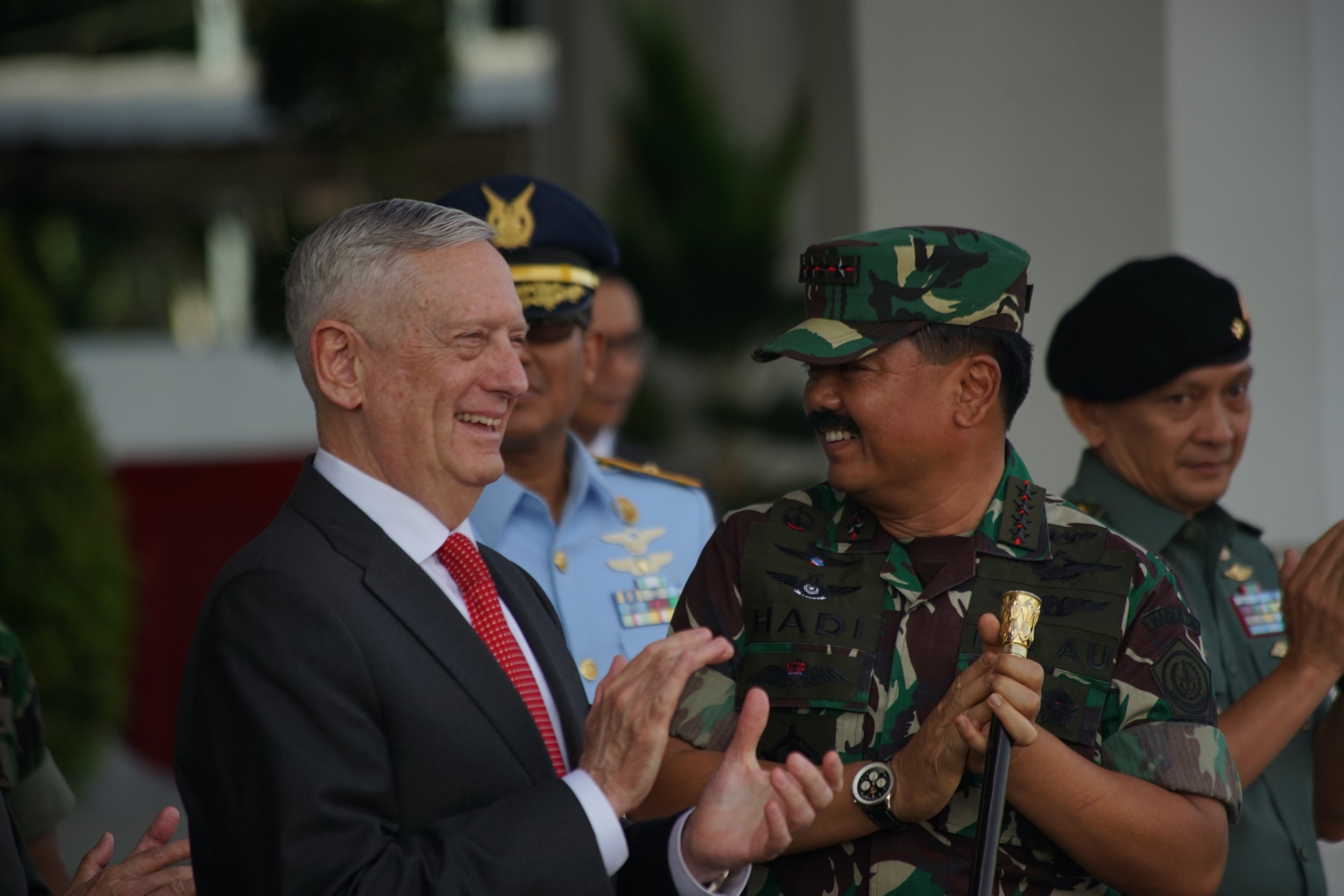 There are two parts to Defense Secretary James Mattis's trip to the Far East this week to woo countries away from Russia and China: charm and arms.
As President Donald Trump talks (and tweets) about an "America First" foreign policy that will have us "winning" again, it falls to officials like Mattis to convince countries to lean toward the United States and away from their close neighbor China and ever-present arms maker Russia.
So, for starters, Mattis has been smiling—a lot. On the just-concluded Indonesian swing of this trip, he kept grinning during a demonstration by Indonesian troops that included both snake blood and men rappelling from helicopters with German shepherds strapped to their chests. And he smiled later as he left Indonesia on the cusp of an agreement to sell 48 F-16 fighter jets the world's biggest Muslim nation.
Mattis landed in Vietnam on Wednesday with a similar challenge, this time showing up a day after Russia's defense minister made his best pitch for Russian weapons in Hanoi. The timing makes Mattis something of a de facto secretary of state.
"What we're looking for here is that small nations get the same respect, the same regard, as large nations," Mattis said. He was describing the trip to reporters earlier on the flight from Washington aboard his E4-B aircraft, which is outfitted to run a nuclear war and is affectionately known as the "doomsday plane." "Every nation matters, and there cannot be any bullying or shredding of trust toward others."
Washington is concerned that China, in the midst of a land grab for every rock in the South China Sea, will come to dominate the smaller countries that rim that body of water, and that Russia will become their arms dealer of choice.
"They're going to fill in vacuums if the U.S. isn't there," said Deputy Assistant Secretary of Defense for South and Southeast Asia Joe Felter, who joined Mattis on the trip. "We look at China and Russia as competitors, and certainly some of their actions should give these countries a reason for concern."
U.S. officials said Indonesia is shopping for partners, part of a long-standing strategy to buy weapons from a range of countries to keep Indonesia from becoming committed to any. But officials are working hard to close a big fighter purchase, a deal they think could cover as many as 48 aircraft valued at $4.5 billion. Vietnam is also talking about more weapons, although the officials said no big deals were near completion.
Mattis's trip comes as Trump has sought to increase U.S. arms sales to help offset trade deficits and boost the U.S. economy. His plan includes both changing U.S. export rules to make it easier to sell to foreign countries and an aggressive sales pitch overseas to buy from the U.S., already the world's largest weapons exporter.
The Obama administration had undertaken its own push to reform the arms export system as part of a "pivot to the Pacific," but concerns about human rights abuses slowed some sales. The Trump administration made its own pivot, exporting bombs to Saudi Arabia, for example, after the Obama team stopped delivery because of civilian casualties in Yemen.
Trump also pulled the U.S. out of the Trans-Pacific Partnership, an Obama-era trade deal that might have bolstered smaller East Asian economies. Supporters of the pact said that easier trade with the U.S. would give the smaller nations of the Pacific Rim more independence from China. Trump moved to withdraw from the agreement less than a week into his presidency.
Other countries in the deal reacted angrily to Trump's decision.
"The United States is not an island," said New Zealand's then–prime minister, John Key. "It can't just sit there and say it's not going to trade with the rest of the world."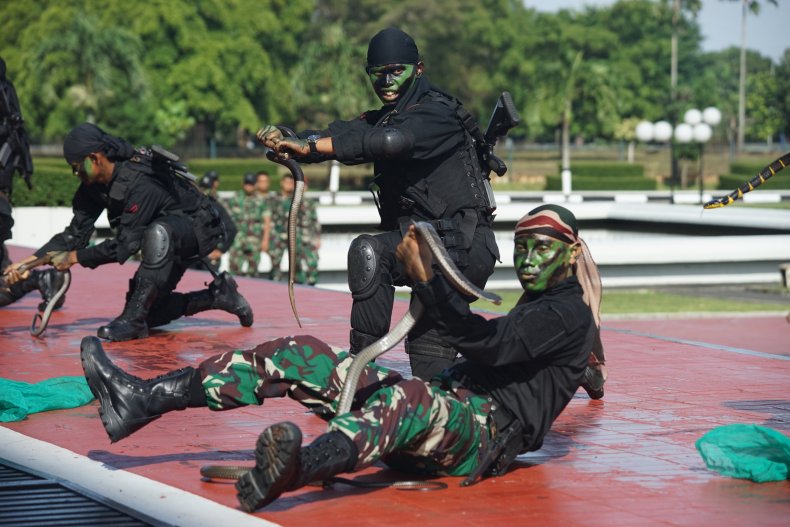 Individual trade pacts are pending, but Trump's national security strategy, released in December, indicates the administration wants to return the focus to East Asia. The policy statement focuses heavily on competition with China and Russia and describes the need to work closely with allies in the region to foster economic ties to offset China's growth.
Hence Mattis's trip.
"That's a document, that's a paper," Felter told reporters. "Secretary Mattis, the United States secretary of defense, traveling to Indonesia and Vietnam, dropping in on Indonesia and Vietnam demonstrates that priority."
Beyond discussions about joint military training and selling weapons, Felter said, Mattis's broader goal was to show smaller nations that the U.S. remains committed to its place as the world's last superpower, despite Trump's "America First" rhetoric.
"What they want is to be reassured that the Indo-Pacific region is a priority for the United States," he said. "That we are present in the region. That we have no intention of withdrawing."
American leadership is seen as vital in the region, partly because countries are concerned by China's aggressive efforts to build runways and military facilities on various contested shoals in the South China Sea. This is part of China's attempt to claim as much territory as possible in a shipping zone where about a third of the world's cargo travels, according to some estimates.
Earlier in the trip, Mattis said he was confident that Indonesia will want to work closely with the U.S.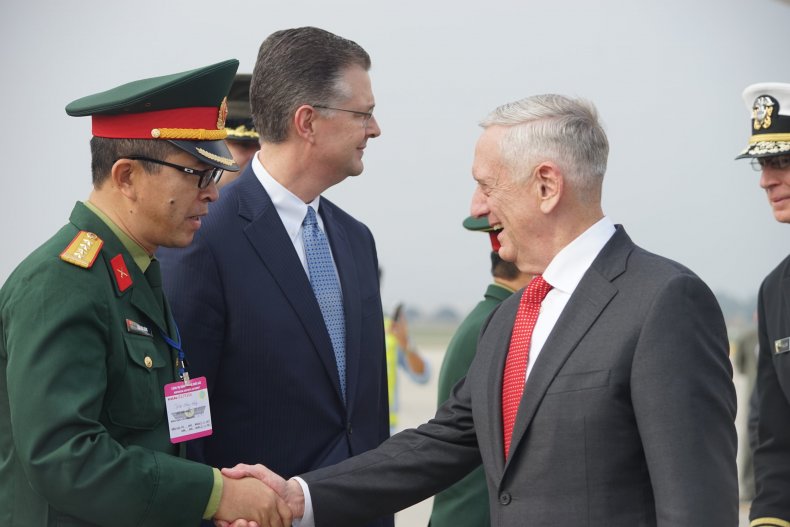 "Indonesia has its own interests and its own relations," he told reporters. "I think when two countries are democracies, they share a lot in common right away. We're a democracy, Indonesia is a democracy, and I think that is a strong bedrock for our relationship."
Vietnam, which has more than 1,000 miles of coastline on the South China Sea, is particularly economically dependent on that body of water and supports U.S. efforts to ensure free movement.
"That's just the reality of geography. It doesn't take a Rhodes scholar to figure that out," said Mattis, who landed there on Wednesday.
He added that he planned on thanking Vietnam's government for helping maintain sanctions on North Korea, with Vietnam turning away inexpensive coal shipments that could help power its burgeoning economy.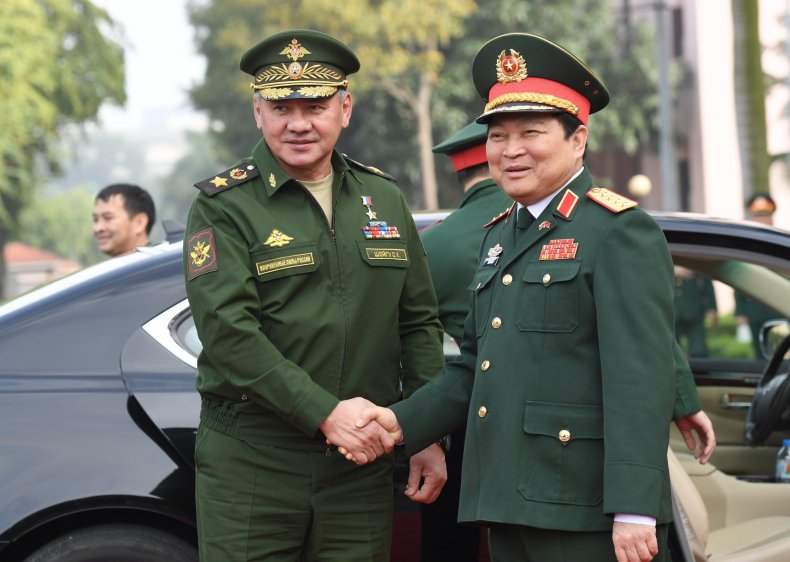 Mattis arrived in Vietnam a day after Russian Defense Minister Sergei Shoigu left the country following a visit spent lauding the power of Russian weapons that have been tested in Syria as part of Russia's campaign to support President Bashar al-Assad's war against rebel groups.
Shoigu talked about the long-standing ties between Russia and Vietnam, which date back to Russia's support of North Vietnam during the Vietnam War.
Indonesia also buys a lot of military hardware from Russia, with the major competitor for the large F-16 fighter being the Russian-made Su-35.
So, yes, Mattis is overseas to encourage weapons sales and draw several countries closer to the U.S., but his efforts never fail to include a charm offensive. Hence the smiles after seeing an Indonesian display featuring a soldier playing with a cobra a couple of feet in front of him, which caused visible concern among members of his security detail.
Afterward, Mattis was still buzzing about the display—which provided a metaphor for his trip.
"The snakes, did you see them tire them out?" he asked reporters. "They grab them, the way they were whipping them around. A snake gets tired very, very quickly."