Russia and China have launched a new international gas pipeline days after they completed their first cross-border road bridge, signifying the latest projects between powers set on accelerating cooperation.
Presidents Vladimir Putin of Russia and Xi Jinping of China both oversaw via teleconference Monday the first operation of the "Power of Siberia" pipeline, which the Kremlin said runs roughly 1,864 miles and has the capacity to deliver 38 billion cubic meters of gas a year from Russia's Chayandinskoye and Kovyktinskoye fields to northeastern China. The pipeline currently reaches as far as Jilin and Liaoning, but was reportedly projected to eventually extend into Beijing and Shanghai.
"This step takes Russian-Chinese strategic energy cooperation to a qualitatively new level, and brings us closer to the goal we set with President of China Xi Jinping to increase bilateral trade to $200 billion by 2024," Putin said.
"The eastern branch of the Russian-Chinese gas pipeline is a landmark project of bilateral energy cooperation," Xi said. "It serves as an example of deep integration and mutually beneficial cooperation between our countries."
Both men noted that this year marked the 70th anniversary of relations between Russia and China, two nations whose growing partnership has sought to transform the East amid strained ties with the West.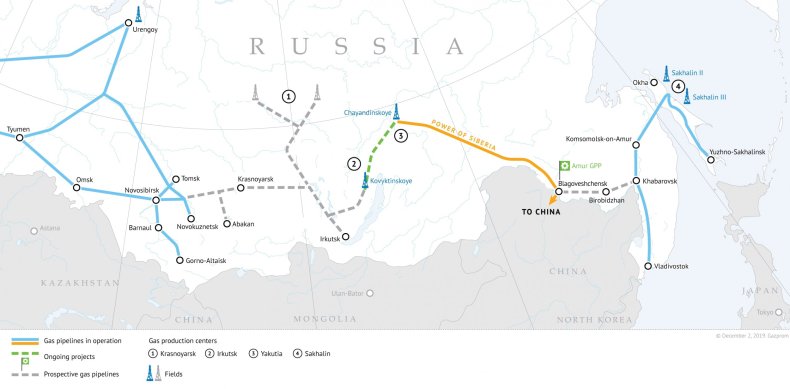 The United States has set out to curb attempts by Russia and China to extend their influence abroad by sanctioning state-affiliated entities of the former and engaging with the latter in a multibillion-dollar trade war. Both Moscow and Beijing have also accused Washington of trying to intervene in their internal affairs, leading to further tensions.
While Russian and Chinese interests were far from entirely aligned and even at times at odds, they have continued to pursue win-win endeavors. Just days before the "Power of Siberia" pipeline was inaugurated, the two countries oversaw the completion of a roadway bridge over the Amur River connecting Russia's Blagoveshchensk and China's Heihe.
"The international bridge is not just a new highway between the border cities of Blagoveshchensk and Heihe, which will certainly give a powerful impetus to the development of trade relations and tourism," Development of the Russian Far East and Arctic Minister Alexander Kozlov said at the time. "The first bridge between Russia and China is a symbol of friendship between our peoples, trust, a symbol of aspiration for the future."
He called the bridge "a project that fundamentally changes the usual picture and, of course, contains a huge impetus for development in general for changing the structure of the region's economy, the entire Far East." Amur Region Governor Vasily Orlov described it as "a new international transport corridor."
The Russian ministry said the 3,543-foot bridge would begin operation next year and was expected to carry about 55,000 passengers a day.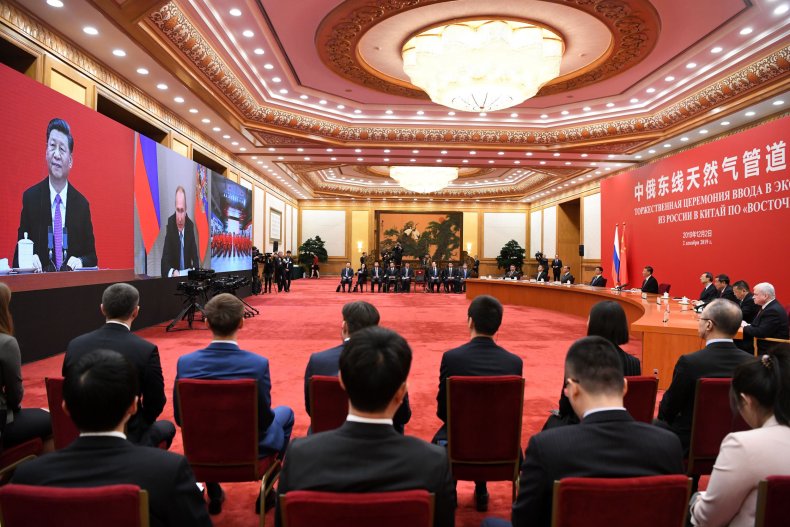 Xi also met in person Monday with Putin's national security chief, Nikolai Patrushev at Beijing's Great Hall of the People in Beijing, where the teleconference with Putin—who was in the Black Sea city of Sochi at the time—took place. The Chinese leader took the opportunity during his talk with his Russian counterpart to criticize what he saw as increased interference from the West.
Russia is widely seen as the top defense competitor with the U.S., and China was ranked as its main economic rival. While Washington remained far ahead of Moscow in terms of military might, Beijing was set to become the world's top economy in a matter of years—and by some measures, it already was.
The massive disparity in Russia and China's economies has led to some difficulty in sparking significant trade, though this has begun to change in recent years. The new pipeline between the two nations was anticipated to bring Russia more much-needed Chinese capital, adding to significant revenue brought in from gas sales to Europe, a dynamic that has long given Moscow a strategic edge over the U.S.-led NATO military alliance.
Moscow has also engaged in more and more joint military exercises with Beijing and has begun jointly developing a missile warning system with its neighbor.