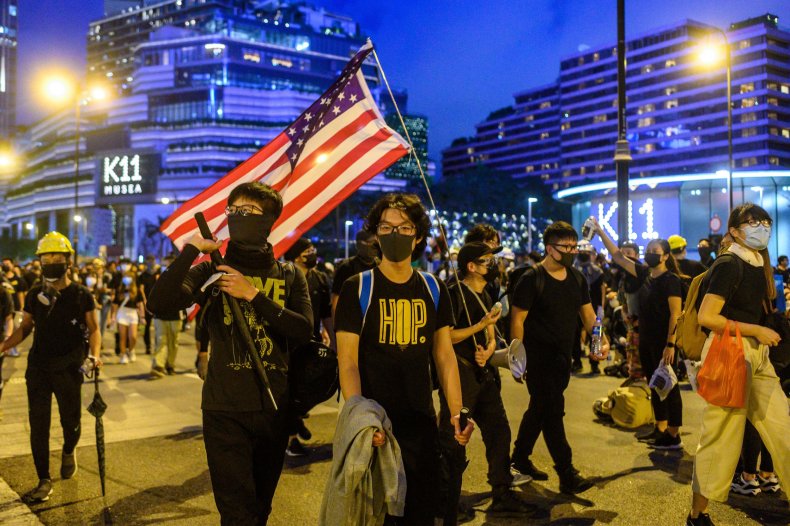 Russia and China have called on the United States to stop promoting protests that have sprung up in both countries, considering it a violation of their sovereignty.
Washington's embassy in Moscow has been warning U.S. citizens not to attend "unauthorized" protests in Russia, but last week included a map showing the planned demonstration route as the start time of a scheduled rally among unregistered opposition candidates in Moscow.
The statement said "U.S. citizens should avoid the protest route," but the decision to include such specific information in English and Russian was viewed by the Russian Foreign Ministry as a tacit advertisement for the gathering, where scores were ultimately arrested.
The ministry said Friday it summoned senior U.S. diplomat Tim Richardson over the affair, during which it was "emphasized that we regard the placement of the scheme for holding an illegal event drawn up by the organizers as agitation in favor of participating in it and a call to action, which is an attempt to intervene in the internal affairs of our country."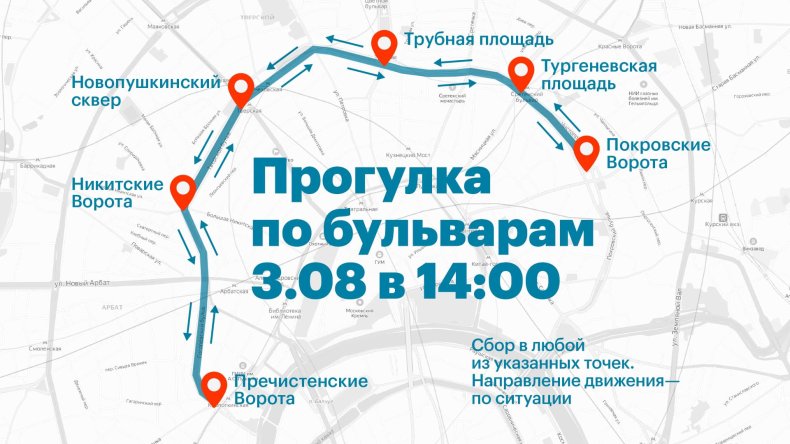 Washington has frequently criticized the Moscow's handling of demonstrations and has at times endorsed the demands of Russian protesters. Following the crackdown on the rally over the weekend, a State Department spokesperson told Newsweek U.S. officials were "concerned" about the arrest and "reports of excessive force by police."
"The people of Russia, like people everywhere, deserve free and fair elections, transparent and accountable governance, equal treatment under the law, and the ability to exercise their rights without fear of retribution," the spokesperson added at the time.
The Russian Foreign Ministry also spoke Thursday with German chargé d'affaires Beate Grzeski over the "inadmissibility of the actions" of the Deutsche Welle media outlet, which "expressed themselves in a direct appeal on social networks to Moscow residents to participate in unauthorized mass actions." Deutsche Welle has previously rejected the allegations, claiming they were connected to the arrest of one of the outlet's correspondents during a previous opposition rally last month.
It wasn't just Russia facing unrest encouraged by the West, China has been rocked by months of mounting protests in the special administrative region of Hong Kong. The demonstrations began earlier this year after news broke of a proposed bill that could see residents of semi-autonomous Hong Kong extradited to face courts or sentencing handed down by the central government in Beijing.
Rallies began gaining momentum in late March and have since expanded into a major issue for the densely-populated, economic powerhouse as violence between protesters and police escalated. Beijing has used the appearance of U.S. flags at protests and meetings held by Vice President Mike Pence, Secretary of State Mike Pompeo and White House national security adviser John Bolton with opposition figures like media entrepreneur Lai Chee-Ying and politician Martin Lee as evidence of Washington's involvement.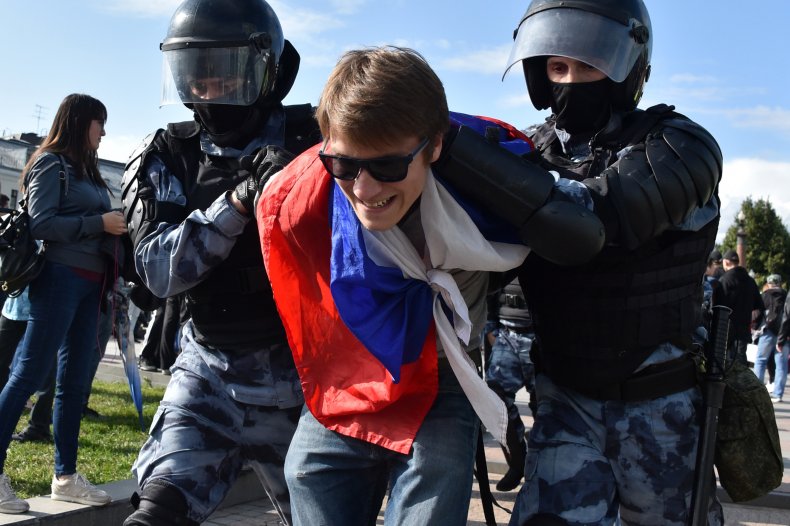 On Thursday, pro-communist Hong Kong newspaper Ta Kung Pao published a photograph of a woman identified as U.S. political counselor Julie Eadeh speaking with student activists including pro-self-determination Demosisto party leader Joshua Wong in a hotel lobby. The Chinese Foreign Ministry's Hong Kong Commissioner's Office then "urgently summoned a senior official at the U.S. Consulate General to lodge stern representations, expressing strong disapproval and firm opposition, and requiring clarification."
State Department spokesperson Morgan Ortagus responded to these events by saying telling reports that "leaking an American diplomat's private information, pictures, names of their children" was something that "a thuggish regime would do," though she did not explain what other information was released by the Chinese side.
Firing back at these remarks Friday, Chinese Foreign Ministry spokesperson Hua Chunying said that "the frequent U.S. interference in Hong Kong affairs will surely be met with firm opposition and strong indignation from all Chinese people including those in Hong Kong."
"The spokesperson of the U.S. Department of State should, first of all, reflect on her words rather than criticize and smear the Chinese government using the media reports as an excuse. She is just trying to shift blames by deliberately misinterpreting the truth, and taking this as a clumsy pretext to cover for the US interference in China's internal affairs," Hua said.
"This spokesperson has gone so far as to take interference in others' internal affairs as routine work for their diplomats around the globe and applaud such practice. How could the world enjoy peace when the U.S. is doing so?" she added. "Hong Kong is China's Hong Kong. The Chinese people cannot be insulted or bullied. We urge the U.S. to abide by international law and basic norms governing international relations and immediately stop interfering in China's internal affairs."
Washington views Moscow and Beijing as its two top competitors on the world stage and has attempted to portray them as irresponsible world actors. Russia and China, on the other hand, have grown closer in recent years as they attempted to counter U.S. attempts to expand its international military and economic dominance.
The U.S. has a long history of intervening in the affairs of countries across the globe, though it has accused Russia and China of doing the same, especially when it came to cyberwarfare and the spread of so-called "fake news." Despite setting out to forge better ties with Russian President Vladimir Putin and Chinese President Xi Jinping, President Donald Trump has found himself increasingly alienated from the two.
On Friday, the U.S. issued two more protest alerts in Moscow and Yekaterinburg, but omitted the map, simply saying that "U.S. citizens should avoid" the demonstrations and the area they were set to take place in.