Russia and China Say U.S. at Fault for Iran's Nuclear Activities, But Praise Donald Trump on North Korea
China and Russia say the United States is responsible for Iran's low-enriched uranium stockpile reaching levels beyond those set by a 2015 nuclear deal abandoned last year by President Donald Trump, but praised the U.S. leader for his efforts to forge peace with North Korea.
Following a report by the International Atomic Energy Agency suggesting that Iran's enriched uranium stocks had exceeded the nuclear agreement's limits, Chinese Foreign Ministry spokesperson Geng Shuang expressed "regret" at Tehran's decision during a press conference Tuesday, but ultimately concluded "that the U.S.' extreme pressure is the root cause of the current Iranian nuclear tension." He also noted that the "Iranian side has repeatedly stressed that it is willing to stay in a comprehensive agreement, and the measures it has taken are reversible."
Geng called on all "parties to proceed from the overall situation and in the long-term, exercise restraint, jointly safeguard comprehensive agreements and avoid escalating tensions."
Back in Moscow, Russian Foreign Minister Sergey Lavrov expressed a similar sentiment during following talks with his Irish counterpart, noting how one of the more recent packages of U.S. sanctions on Iran unleashed in May "forbade anyone to buy excess low-enriched uranium and heavy water from Iran," essentially banning countries from following the United Nations resolution supporting the nuclear deal and allowing Tehran's stockpile to grow. He also noted how a long-awaited European initiative to bypass U.S. restrictions emerged Friday largely without teeth.
"We urge our Iranian counterparts to show restraint, in no way give in to emotions and abide by key provisions," Lavrov said, calling also on "European colleagues to fulfill their promises and commitments and make the mechanism they create become truly effective."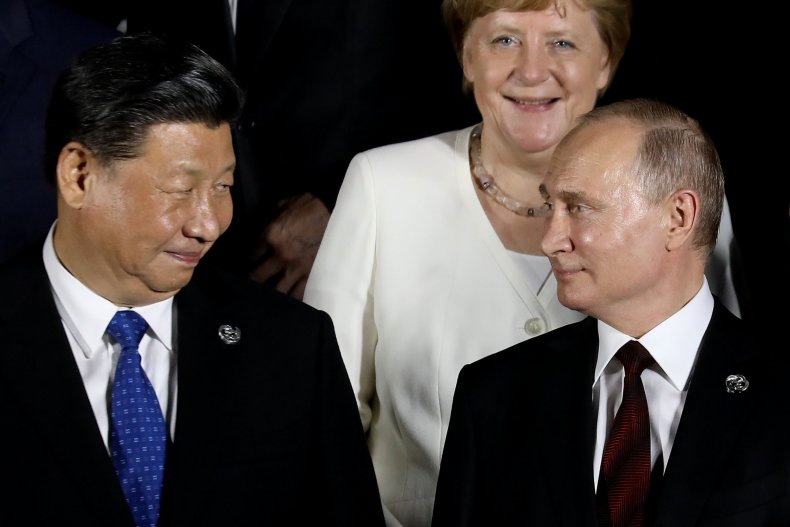 China and Russia joined the European Union, France, Germany and the United Kingdom in endorsing the landmark deal between the U.S. and Iran, which agreed to significantly curb its nuclear activities in exchange for international sanctions relief. Trump, however, argued the accord did not go far enough in address Iran's alleged support for militant groups and its ballistic missile development, as well as in blocking its path to obtaining nuclear weapons⁠—something Tehran has always denied seeking.
Despite pleas from the deal's other signatories, Trump pulled out last year and began launching layer upon layer of strict sanctions as part of his "maximum pressure" approach toward ascertaining a new deal with Tehran, which has refused any new negotiations as long as the U.S. continued to engage in what Iranian officials have referred to as "economic terrorism." Beijing and Moscow have already vowed to defy such measures from Washington, but the EU and its trio of members party to the agreement have struggled.
The EU promised last year to form a special trade vehicle designed to allow its members to do business with Iran and at the same time avoid punitive measures from the U.S. This channel was finally made operational Friday, but it was largely limited to facilitating humanitarian-related transactions, which the U.S. sanctions did not explicitly restrict in the first place.
Iranian Deputy Foreign Minister Abbas Araghchi called the move "positive" and "a step forward," but warned that "it is still not enough and it is still not meeting Iran's expectations."
Upon news of Iran's uranium enrichment Monday, a chorus of hawkish top administration officials criticized the Islamic Republic on Twitter. Secretary of State Mike Pompeo warned that the "regime uses its nuclear program to extort the international community and threaten regional security," while White House national security adviser John Bolton argued that there "is no reason for Iran to increase its enrichment unless it's part of an effort to reduce the breakout time to produce nuclear weapons" and Vice President Mike Pence stated that the "U.S. will continue to apply maximum pressure until Iran halts its uranium enrichment."
A cryptic statement by White House Press Secretary Stephanie Grisham asserted that there "is little doubt that even before the deal's existence, Iran was violating its terms."
Iranian Foreign Minister Mohammad Javad Zarif defended his country's actions by noting that the deal's signatories were all informed well ahead, further noting that "As soon as" France, Germany and the U.K. "abide by their obligations, we'll reverse." Trump himself, however, focused Monday on a separate, nuclear-related issue, one that's actually earned him praise among the international community.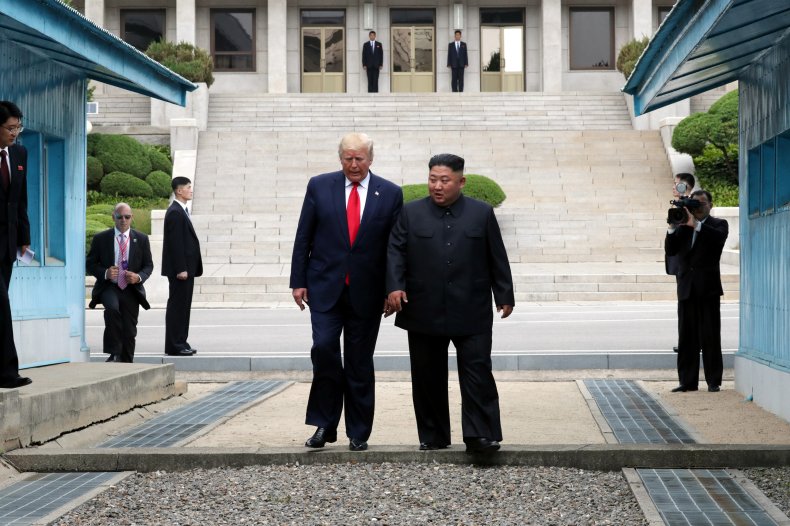 Trump offered a self-congratulatory message on his recent meeting with North Korean supreme leader Kim Jong Un in the form of a Fox News op-ed by the Center for the National Interest's Harry Kazianis, who then told Newsweek the president should adopt a "similar" strategy with Iran. In the third encounter between two men in positions that had never come face-to-face prior to last year, Trump once again made history by crossing the border into North Korea, accompanied by Kim himself.
The once bitter enemies have initiated, yet recently struggled to advance, an unprecedented peace process by which North Korea would abandon its nuclear weapons in exchange for peace, security and international sanctions relief. Washington and Pyongyang have taken several good faith measures, but have yet to strike any deal and their last top-level summit February in the Vietnamese capital of Hanoi ended with both sides blaming one another for the impasse.
In the months since, however, Kim made his debut visit to Moscow to meet with Russian President Vladimir Putin and hosted Chinese President Xi Jinping for a particularly amicable summit in Pyongyang. Putin and Xi have supported Trump's efforts to denuclearize the Korean Peninsula in exchange for peace, but have called on him to do more. Prior to Trump's meeting with Kim on Sunday, the president had an opportunity to discuss the situation in North Korea with his Chinese and Russian counterparts at the G-20 summit in the Japanese city of Osaka.
Following talks with his Mexican counterpart, Chinese Foreign Minister Wang Yi told reporters Tuesday that, during talks between Chinese and U.S. heads of state, Xi "encouraged flexibility on the U.S. side in moving toward the Democratic People's Republic of Korea, including timely relief of sanctions." Wang called Trump and Kim's historic border encounter "an important step in the right direction," saying "the Chinese side welcomes and supports this and looks forward to the future of the Korean Peninsula to send more good news to the world."
The Russian Foreign Ministry too offered its support the previous day, emphasizing "that normalization of relations between the United States and North Korea, as well as between North Korea and South Korea, as is envisaged by the Russian-Chinese roadmap, is an essential part of the solution to the nuclear and other problems of the Korean Peninsula."