Russia Closes Consulate in Seattle, Asks for Tips on Which U.S. Diplomats to Expel
The Russian Embassy in the U.S. has responded to the mass expulsion of Moscow's diplomats from several countries, by asking for tips on social media about cutting American missions on its own soil.
The U.S. was among several countries to kick out a handful of Russian diplomatic staff in solidarity with the U.K., which holds Russia responsible for the mysterious poisoning of a former spy and his daughter. Russian-born Sergei Skripal—who once served as a double agent for the U.K.—was poisoned in Salisbury, alongside his daughter, earlier this month. The Kremlin has denied all culpability, while London has been adamant that—based on the nature of the substance and Moscow's precedent for violently punishing dissidents and turncoats—Russia was to blame.
Related: As Europe readies response against Russia, Poland arrests alleged spy for Moscow
The U.S., Germany, France and other partnering nations have unveiled plans to cut the size of Russia's diplomatic missions on their soil. Washington's commitment was the biggest one numerically, kicking out 48 diplomats and an additional 12 who are part of Russia's delegation to the United Nations in New York. As part of this drawdown, the U.S. will also be closing Russia's consulate in Seattle, citing its proximity to a U.S. Naval base as a prime concern.
Notifying its Twitter followers of the news, the Russian Embassy in the U.S. published a poll, asking "What U.S. Consulate General would you close in Russia, if it was up to you to decide?" with three options listed.
The Russian government has not yet taken action against the expulsion of its diplomats. However it does not have a record of accepting such actions without repercussions, as it matched the U.K.'s initial expulsion of 23 Russian diplomats with 23 expulsions of its own and the closure of the British Council in St. Petersburg earlier this month.
It has also curbed the U.S. mission in response to the White House's diplomatic sanctions against 35 individuals believed to have assisted in election interference. After a brief delay, Moscow ordered that the U.S. cut its embassy and consular staff by 755 people in July last year.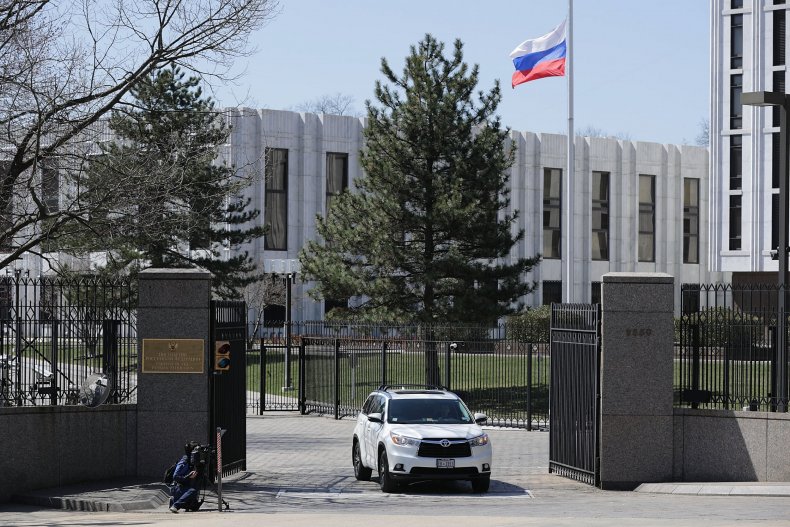 In an official statement on Monday, Russia's Ministry of Foreign Affairs called the new expulsions an "unfriendly step" that runs against the needs of an investigation.
"The provocative gesture of the so-called solidarity of these countries with London, which blindly followed the British authorities in the so-called 'Skripal case' and which never got around to sort out the circumstances of the incident, is a continuation of the confrontational policy to escalate the situation," the statement read. "It goes without saying that this unfriendly move by this group of countries will not go unnoticed, and we will respond to it."