Russia's Neighbors 'Summon' Ambassadors as Poland Arrests Suspected Spy
Poland has arrested an alleged Russian spy as the country and three other neighbors of Russia reportedly summoned Moscow's ambassadors for talks during a crucial decision time for Europe's relations with the Kremlin.
Russia's embassy in Poland confirmed that its top diplomat, Sergey Andreyev, had been called into Poland's foreign ministry—a measure used to air sudden grievances with any country's actions—while Russian state media and the BBC cited unnamed diplomatic sources who said Estonia and Lithuania had taken similar actions. Russian state news agency Itar-Tass reported that Latvia had also summoned its Russian ambassador.
None of the embassies responded to Newsweek's request for comment about the reason for the ambassadors' summoning.
Related: Russia Accuses Britain's Top Diplomat of Being "Poisoned by Hatred" Over Putin-Hitler Comparison
Russia is currently facing further fallout with the EU over allegations it is behind the poisoning of a former Russian intelligence officer and his daughter, who now live in the U.K. The Kremlin denied any involvement in the incident, while the British government is adamant that Russia is the most likely suspect given the nature of the substance used and its precedent of punishing Russian dissidents and double agents abroad. The U.K. responded by expelling 23 Russian diplomats, prompting Moscow to kick out 23 British diplomats and close the British Council in St. Petersburg.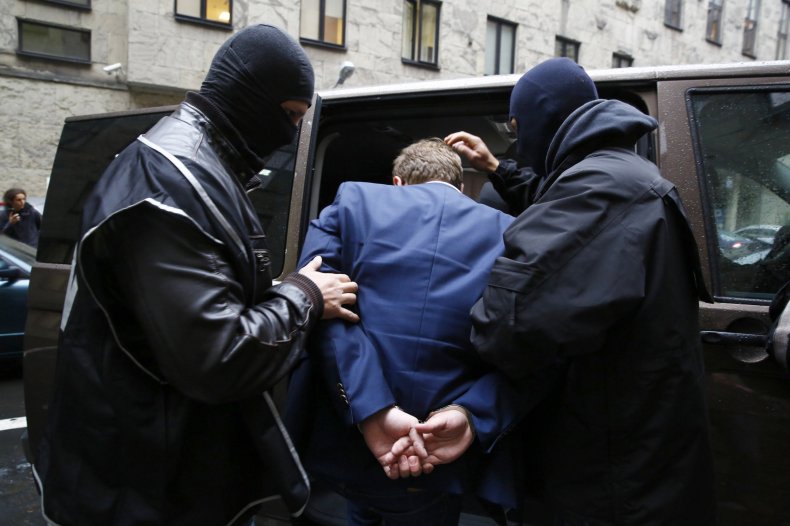 France, Germany and other EU countries have pledged solidarity with the U.K. but have yet to announce further official action. Whether they and other members of the 28-member bloc will also expel diplomats or take other punitive action is expected to be determined by Monday afternoon.
News of the diplomatic summons came as Polish authorities announced the arrest of a suspected Russian spy on their own territory. The suspect, identified only as "Marek W." by Poland's TVP news channel, was arrested Friday and will be kept in custody for three months. News of his detention only broke on Monday.
The man "was an official involved in projects of key importance to the Polish energy sector," said Stanisław Żaryn, spokesman for Poland's special services, in a translation provided by Polish public broadcaster Polskie Radio. "He had access to key information on energy projects that the Polish government is conducting ... this was very damaging activity."
Russia's relationship with the EU at large has deteriorated since annexing Crimea in 2014, and Poland and the three Baltic states to its northeast have been among the most hawkish, expressing fears that Moscow could attack them next. Poland has repeatedly detained and charged suspected Russian spies in its ranks since then.
Poland strongly opposed the construction of a major Russian pipeline to Germany known as Nord Stream 2, which would bypass Polish territory and deliver Russian gas straight to Germany across the Baltic Sea. The various Baltic states and Ukraine, which has repeatedly quarreled with Russia over its role as a transit state for its energy exports, also oppose the deal. The United States State Department also expressed concern that the pipeline would undermine the energy security of Europe but has yet to enforce sanctions over the project.
Asked about the arrest, Kremlin spokesman Dmitry Peskov said he had no information "at all" about it and could not comment.