Can Russia's Combat Robots Compete With U.S. Abrams Tanks?
Russia's "Marker" combat robot is unlikely to be able to stare down Western-supplied main battle tanks, despite claims from its developer, Newsweek has been told.
Last month, the former head of the Russian space agency Roscosmos said the "Marker" combat robots would be tested in the Donbas region of eastern Ukraine.
Dmitry Rogozin, who is now the head of the "Tsar Wolves" military advisor group, said on his Telegram account on January 15 that the "Marker" would undergo a "baptism of fire" in Ukraine after testing at Russia's Vostochny Cosmodrome.
"Several units" would be tested in the annexed regions, state media outlet TASS reported. The "Marker" is an AI-enabled unmanned ground vehicle (UGV) and is one of several UGV projects in development in Russia.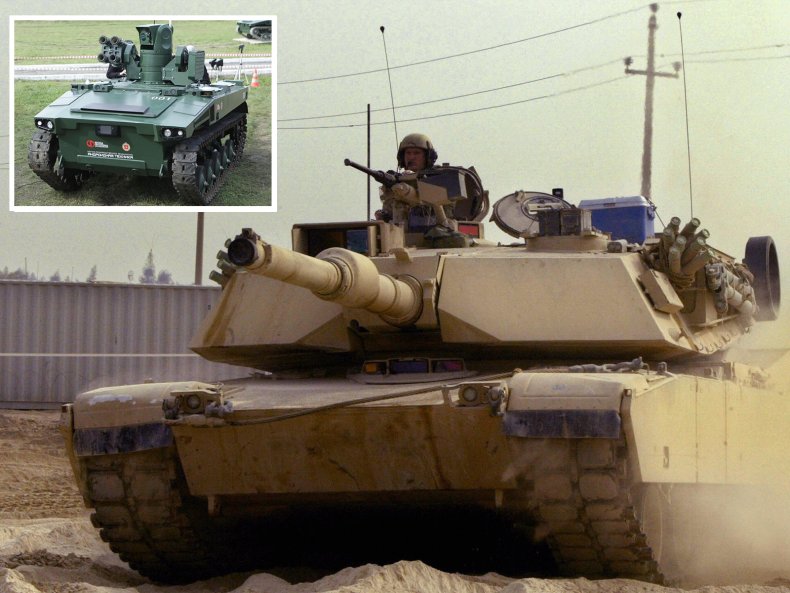 Alongside a picture posted to Telegram on January 29, Rogozin said that four unmanned "Markers" were on their way to eastern Ukraine. On Thursday, Rogozin said the arrival of the "Markers" had been completed "on schedule," adding: "We are starting to upload target images, work out combat algorithms as part of a group of combat robots, and install powerful anti-tank weapons."
In an excerpt of an interview with state outlet RIA Novosti, posted to Telegram on January 26, Rogozin claimed that the combat version of the "Marker" can "automatically determine" enemy equipment through an electronic catalog.
"For example, as soon as deliveries of Abrams and Leopard tanks to the Ukrainian troops begin, the "Marker" will receive the corresponding electronic image and will be able to automatically detect and hit American and German tanks," Rogozin said.
But Samuel Bendett, of the Center for Naval Analyses, cast doubts on Rogozin's claim that the "Marker" would be able to take on the likes of the M1 Abrams and the Leopard 2 main battle tanks in a conflict zone.
He told Newsweek that although Rogozin is "boasting that 'Marker' is going to be armed with anti-tank missiles to go up against Abrams and Leopards," the tanks will be part of combined arms operations.
The "Marker" may be a platform capable of carrying anti-tank weapons and large-caliber machine guns, but Rogozin's statement becomes "less realistic" when you consider that the sophisticated tanks are "not going to be operating on their own," Bendett argued.
"So 'Marker' isn't just going to roll up to a tank and shoot it," he said. Bendett suggested that Ukrainian forces will likely be "hunting" for the UGV with unmanned aerial vehicles (UAVs), providing another obstacle for the "Marker."
Bendett previously told Newsweek that "Marker" had been designed to "replace a soldier in dangerous missions, and to make missions more effective."
"The whole point of building such systems is to make them expendable," Bendett added, although the technology is still in its "initial stages."
Since the tests in Ukraine were announced, it has been unclear just how close the combat robots will be to the front lines.
"They aren't necessarily going to be ready for the very complicated environment of a Ukraine battle space," Bendett said.