Russia Compares U.S. Election Meddling Comments to Nazi Propaganda
The U.S. State Department has likened Russian spy operations worldwide to "a beast from the deep sea," prompting the Russian Embassy to compare the statement to Nazi propaganda from World War II.
State Department spokeswoman Heather Nauert coined the phrase during her press briefing on Tuesday, as she was addressing the latest expulsion of Russian diplomats. The U.S. and dozens of other countries announced cuts to Russian diplomatic staff on their territory in response to the mysterious poisoning of ex-Russian spy Sergei Skripal in the U.K. this month. London has blamed Russia for the serious condition that Skripal and his daughter are now in, while the Kremlin has denied any responsibility.
Related: Russia says the United States is blackmailing countries to kick out Moscow's diplomats
Asked if the expulsion meant that the upcoming midterm elections in the U.S. would be safer from Russian interference than the election in 2016, Nauert refused to confirm it. She stressed the expelled diplomats, believed to be Russian spies, could have worked in myriad areas, not necessarily on upsetting elections. Russian operations in the U.S. and elsewhere is more comprehensive than that, she explained.
"Russia has long arms," she said. "Russia has lots of tentacles. We imagine that they will continue to have an interest in our elections but also many other nations' elections as well."
Journalists in the room chuckled at Nauert's muddled metaphor of a beast with both arms and tentacles, before she doubled down, calling Russia "a beast from the deep sea."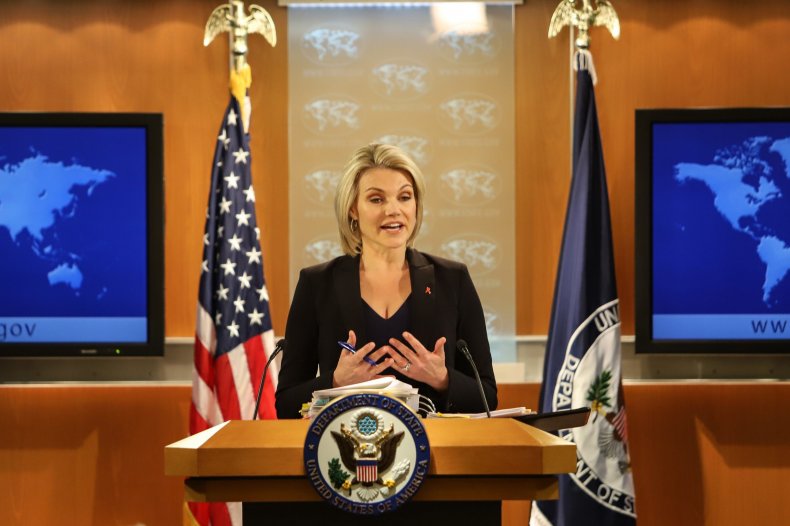 The Russian Embassy in Washington did not take the comparison well, citing Nauert in a Twitter post with an attached image of an anti-communist propaganda poster published by Germany's Nazi party in 1940. The picture, embodying the Soviet philosophy as a spider-like creature, sprawled across the globe, is an example of the propaganda effort the Nazi Party engaged in, leading to eventually attacking the Soviet Union, despite a nonaggression treaty between the two.
The Washington embassy was not the only one to cast up memories of the war after the international decision to expel more than 120 Russian diplomats, suspected of espionage. Following a report that the U.K. could go further than diplomatic action and inspect hundreds of Russian visas as a way of cracking down on additional financial influence, the Russian Embassy in London also took to Twitter. Singling out one nationality in this way "went out of fashion in 1945," the embassy's official account stated.
The Kremlin has portrayed itself as the bulwark against Nazi and fascist ideologies since Soviet times and in recent years, Russian President Vladimir Putin has encouraged this view of Russia's legacy. Today, most Russians believe the Soviet Union could have defeated Nazi Germany without the help of the Western allies. The anniversary of Victory in Europe Day is Russia's' second biggest holiday.