Russia Is 'Definitely Concerned' Over U.S. Plans to Send Troops to Syria Oil Fields
Russia has expressed reservations at the United States' plan to maintain a military presence near Syria's oil fields, even as President Donald Trump planned to pull troops out of the country's northern territory.
Trump ordered earlier this month the withdrawal of troops from Syria's latest battlefield that saw two U.S. partners—NATO ally Turkey and the mostly Kurdish, Pentagon-backed Syrian Democratic Forces—at war. However, the president has recently stated his intention to secure the country's eastern oil fields.
While the stated intention was to guard the resource from once again falling into the hands of the Islamic State militant group (ISIS), such a move would also prevent a reclamation of these sites by the Syrian government, an ally of Iran and Russia.
As Newsweek first reported Wednesday, one such U.S. plan involved the deployment of one half of an Army armored brigade combat team battalion, including some 30 Abrams tanks, alongside the Syrian Democratic Forces in eastern Syria. The Wall Street Journal then reported Thursday that such a move may include around 500 troops, all of whom Moscow felt were blocking Damascus' claim to its own natural resources.
"We are definitely concerned about the fact that signals from the White House can imply the same approach aimed at maintaining conditions for continuing multi-component pressure on the legitimate authorities in Damascus," Russian Deputy Foreign Minister Sergei Ryabkov said Friday, according to the state-run Tass Russian News Agency. "That's where we do not see eye-to-eye with the U.S. on the approach to this situation, and it cannot be otherwise."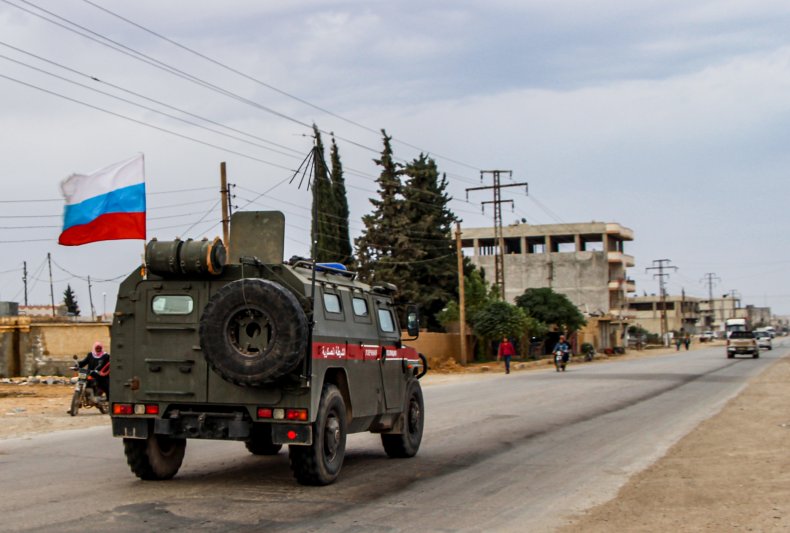 The U.S. and Russia have both come to back rival faction in Syria's multi-sided civil war, with the former having repeatedly shifted its approach. Former President Barack Obama supported a 2011 rebel and jihadi uprising against Syrian President Bashar al-Assad. The U.S later realigned itself with the Syrian Democratic Forces that, in a campaign inherited by Trump, went on to defeat ISIS across stretches of northern and eastern Syria, where the Kurdish-led militia established a self-ruling administration.
Around this same time in 2015, Russia entered the war on behalf of Assad, seeking to bolster a Soviet-era ally against ISIS and an increasingly Islamist rebellion. The government also began to gain ground, reclaiming all but the jihadi-dominated outpost of northwestern Idlib province and the other northern lands under Syrian Democratic Forces control.
Russia and Iran went on to negotiate with Turkey, which still backed the opposition, in trilateral talks mostly boycotted by the U.S. Turkish President Recep Tayyip Erdogan has twice ordered invasions of northern Syria alongside allied local insurgents in order to defeat outlawed Kurdish militias, and earlier this month pursued his latest operation that coincided with the U.S. exit.
The Syrian Democratic Forces quickly struck a deal with the Syrian government in hopes of fending off the Turkish incursion. And while the U.S. managed to convince Turkey to establish a ceasefire, that arrangement was succeeded by a more comprehensive one between Ankara and Moscow. Both would mandate the withdrawal of the Kurdish People's Protection Units (YPG), the primary component of the Syrian Democratic Forces, from the border.
Even with Syrian troops deploying alongside Syrian Democratic Forces at major positions and along the border with rival Turkey, the U.S. has continued to refuse recognition of Assad's continued rule, accusing him of war crimes. And, while previous reporting has indicated that the Syrian Democratic Forces have an arrangement in selling oil to the Syrian government, Trump appeared set on maintaining control of these resources.
Trump has openly suggested a mass migration of Kurds from their ancestral homelands in northern Syria to predominantly Arab eastern Syria. While Turkey has stated its intention in resettling mostly Arab refugees in northern Syria, both it and Russia have denied disenfranchising local Kurdish communities.
"The rights of all parties implementing the agreements will, of course, be respected," Russian Foreign Minister Sergey Lavrov said at a press conference alongside his Norwegian counterpart. "Let me remind you that these Russian-Turkish agreements were supported and approved by the President of Syria [Bashar] Assad and the leader of the Kurdish self-defense forces."
Syrian Democratic Forces commander Mazloum Kobane has accepted the deals brokered by both Washington and Tehran with Ankara. He continued, however, to accuse Turkish forces and allied Syrian factions of carrying out aggressions in spite of the temporary peace pact.
Assad himself has regarded his arrangement with the Kurds as a "national" and "constitutional duty." At the same time, he has vowed to retake all of Syria's land, through diplomacy or force, if necessary.